Pilot project raises hope for red rice
Rakesh Lohumi
Tribune News Service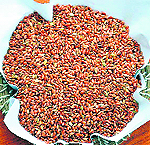 Shimla, April 20
The success of the pilot project implemented under the World Bank-funded Mid Himalayan Watershed Development Project has raised new hopes for saving the endangered red rice, a traditional Himalayan variety which has been confined to a few pockets in the state.
A pilot project implemented in the Dhullara panchayat in the Bhatiyatt area of Chamba has resulted in a significant increase in the area under the "rakthashali" as the variety, known for its medicinal properties, is called in ayurveda. The white-tipped rice with red bran, dating back to more than 3,000 years, was widely grown in the hills until four decades ago. However, it started losing ground when farmers started switching over to the new high-yielding varieties of wheat, rice, maize and other cash crops in the wake of the Green Revolution.
The area under the variety has been declining. It has got reduced to just around 1,000 hectares now and it is being grown mainly for its religious significance. Only a few families in the Basolda area of the Dhullara panchayat were growing it when the project authorities selected it for the pilot project. Apart from low yield, lack of irrigation and market were found to be the main reasons for its decline, says RK Kapoor, Chief Project Director.
The pilot project addressed all these issues by building check dams to create the irrigation facility, by setting up a local federation of farmers to take care of marketing and ensuring quality seed and farm know-how under the guidance of Chaudhary Sarwan Kumar Agricultural University, Palampur.
After two years of efforts, the yield had increased and more importantly the area under red rice had more than doubled from 10 bighas to 22 bighas, he said. The local people were also educated about its medicinal properties.
However, the most important aspect was marketing for which the farmers were organised into "Kalimata", a self-help group, and linked with the Federation of Self-Help Groups for marketing. The federation sold red rice in the famous Minjar Fair of Chamba at Rs 45 per kg in its first effort. The price has now increased to Rs 60 per kg despite local husking due to which its red outer layer could not be retained. Otherwise, the price could have been much higher.
Arrangements were being made for proper shelling to retain the outer red bran and market it in attractive packing with the help of the federation. Once this was achieved, it could be sold at Rs 80 to Rs 100 per kg, Kapoor explained. There was much demand for it as it not only took care of modern lifestyle diseases but also slowed down the process of aging. Once marketing infrastructure was in place, red rice cultivation would be started in more panchayats, he said.