Bids invited for pre-feasibility study
Shimla, April 12
The State Infrastructure Development Board has invited bids for undertaking pre-feasibility study of the proposed aerial transportation system, aimed at facilitating the to and fro movement of apple, vegetable and other goods in the upper parts of Shimla district to save time, money and keep the roads free from traffic congestion.
Sobha Singh Art Gallery thrown open to public after restoration by experts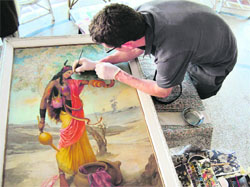 Palampur, April 12
The Sobha Singh Art Gallery at Andretta, 11 km from here, has been thrown open to the public after conducting a critical appraisal and restoration work on some of the paintings by famous artist late Sobha Singh. International art restorers Ian Barrand and Bhajan Hunjan spent two weeks to critically access, restore and re-arrange the paintings as per the standard practice in international museums.
An old painting in a new look. Photo by writer
Dhumal regime most corrupt, says Virbhadra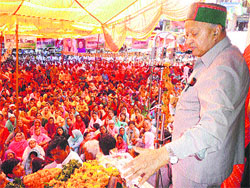 Mandi/Sarkaghat, April 12
Union Minister and veteran Congress leader Virbhadra Singh hit out at the present Dhumal regime terming it as "the most corrupt and inefficient government engaged in personal vendetta against political opponents and dividing people of the state along regional and caste lines for the past four years".


Union Minister Virbhadra Singh addresses the public at Sarkaghat in Mandi on Thursday. Photo: Jai Kumar
Kaul Singh conspicuous by absence
Mandi/Sarkaghat, April 12
The absence of state Congress president Kaul Singh Thakur and his supporters, including district Congress president Puran Chand, former Sundernagar MLA Sohan Lal and Mandi Sadar MLA Anil Sharma, from the first rally of Mandi MP and Union Minister Virbhadra Singh at Sarkaghat today has only widened the divide in the Congress in the central region of the state.
Dhumal launches vitriolic counterattack on Virbhadra
Una, April 12

Fuming at the allegations levelled against him and his family members in the recent past, Chief Minister PK Dhumal today launched a vitriolic counterattack on Virbhadra Singh, Union Minister for Micro, Small and Medium Enterprises.


Chief Minister PK Dhumal inaugurates a sewerage scheme of the Una Nagar Parishad on Thursday. Photo: Kamaljeet
Two killed as bus plunges into gorge
Hamirpur, April 12
Two passengers died and 29 were injured in a bus accident near Hamirpur when a private bus plunged into a gorge this evening.
4 killed as bus falls into ditch
Dharamsala, April 12
Four passengers of a Dharamsala-bound Punjab Roadways bus (PB-12-J-8103) of Rupnagar bus depot were killed on the spot while 15 others were seriously injured as the bus fell in a 60-ft-deep ditch near Dhaliara on the Una-Dharamsala highway this evening.
Woman, son die of poisoning
Mandi, April 12
The parents of Bhima Devi, 35, who had allegedly poisoned herself and her son Aditya, 5, to death at her native Kutera village on Tuesday, accused her husband and his family of torturing her due to which she took the drastic step.
Candidates allege discrimination
Hamirpur, April 12
A large number of candidates who had applied for the posts of panchayat assistant under the Bijahd Block Development Office (BDO) and their parents on Monday raised slogans against the local administration and Naduanta MLA Baldev Sharma for alleged discrimination in the selection of panchayat assistants.
File details, High Court tells Election Commission
Shimla, April 12
The state high court yesterday sought a response from the state Election Commission (EC) on a petition alleging that it had deleted the names of around 30,000 voters from the electoral list prepared for the forthcoming election of the Shimla Municipal Corporation (MC) without adopting a proper procedure.
Tractor owners up in arms against forcible collection
Nurpur, April 12
Up in arms against the forcible collection under the pretext of royalty, tractor-trolley owners started parking their tractors in the Chogan ground here today. They have also submitted a written complaint to the local police against the alleged highhandedness of musclemen of mining contractors who are stopping their tractor-trolleys on the roads or in the rivulets which had not been leased out by the Mining Department.
Suhi fair concludes
Chamba, April 12
The three-day legendary Suhi fair in the historic town of Chamba concluded this evening with the singing of songs in praise and elegy of Rani Sunayana, who sacrificed herself for the cause of her subject.