As panic swept across India's eastern coast in the aftermath of the massive 8.6 magnitude earthquake off the Indonesian coast on Wednesday, the National Disaster Management Authority (NDMA) set off the biggest disaster drill the country has seen since the body was created.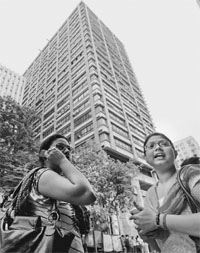 Employees come out of a high-rise building in Kolkata following the earthquake on Wednesday. PTI
The alert brought back memories of the devastating tsunami of 2004, in which 2.4 lakh people were killed worldwide. Before that, among the major quakes India has seen was the one on April 4, 1905, an 8.25 rocker that hit the Kangra region in Himachal. It had killed around 20,000 people. Then there were two very large magnitude earthquakes in Bihar (1934) and Assam (1950).
Through these earthquakes and the authorities' response to those, a "quake philosophy" has been evolving continuously. Till the end of last century, the essential administrative approach was, "Earthquakes cannot be predicted." This attitude experienced a thaw sometime after the disastrous Bhuj earthquake of magnitude 8.0 on January 26, 2001. The administration started considering how to save lives and manage disaster.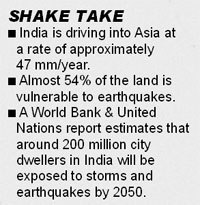 Various state governments were requested to set up a disaster management office. At the Government of India level, two institutes were set up in New Delhi — the National Institute of Disaster Management (NIDM) and the National Disaster Management Authority (NDMA). The aim was to mitigate the damage potential of natural disasters in future. For once, the subject of disaster management had been taken seriously at the governmental level. However, subsequent earthquakes proved that the organisations were not able to check disasters.
After Bhuj, there were two major seismic events — the Andaman (Sumatran) earthquake-cum-tsunami of December 26, 2004, and the Kashmir earthquake of October 8, 2005. The disaster management bodies were not able to do anything to prevent deaths. Even a moderate earthquake of magnitude 6.8 on September 18, 2011, in Sikkim was a disaster.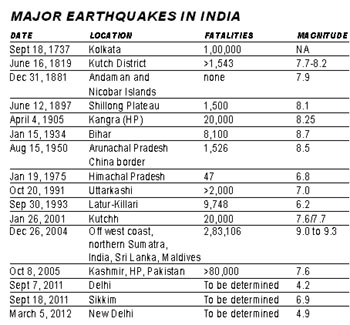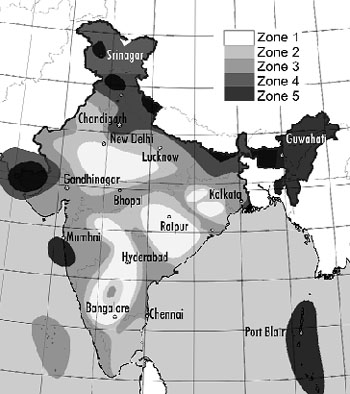 seismic zoning map of India The map given in the earthquake resistant design code of India assigns four levels of seismicity. It divides India into four seismic zones (Zone 2, 3, 4 and 5) — Zone 5 expects the highest level of seismicity, whereas Zone 2 is associated with the lowest. Zone 1 in the map is below seismic rating
What went wrong? Was the planning wrong or the staff incompetent; lack of funds; red tape? The answer is no. Most disaster management plans have thus far focused on the post-seismic period of rescue, rehabilitation and reconstruction (RRR). In a typical scenario, seismic shaking of moderate to large earthquakes lasts 35-45 seconds. If that time is divided into three parts of 12-15 seconds, then during the first part, disaster managers are highly excited watching the terrain shake. During the second part, they are in awe to see the collapse of structures. The third part has them near tears, seeing the horrific deaths and destruction. After the shaking stops, they rush to affected sites with stretchers, medicine, rescue equipment, etc. All this amounts to rescue, not prevention. Tragically, this is all that disaster management is about at present. There is no activity during the pre-seismic and co-seismic period.
The problem has attained severe dimensions. The Geological Survey of India (GSI), in a report presented to the Uttarakhand Government in July 2007, observed that the probability of occurrence of a large magnitude earthquake — more than magnitude 8.0 — in Uttarakhand was as high as 0.98%. In seismological lexicon, one may say that as the magnitude of the probabilistically predicted earthquake is very large, the statement is equally applicable to Himachal Pradesh. Such an earthquake could severely affect an area of about 200 km radius or more. It could be said that the probability of occurrence of a large-magnitude earthquake in the conglomerate of Uttarakhand and Himachal is as high as 0.98%.
Plan in advance
Under such unforeseen conditions what should be done? Our managers need to plan some activities during the pre-seismic period and also discuss what should be done during the co-seismic period. Take every section of society in confidence and explain to them the limits of earthquake prediction and how the administration plans to overcome the odds. It is a fact that the subject of earthquake prediction has not reached perfection. It is difficult to predict earthquakes. On the other hand, if the administration predicts an earthquake, and it does not occur, the administration has to face public criticism.
As things stand today, governments need not predict earthquakes. The best way for disaster management offices is to create seismic awareness, inform people about reliable seismic precursors — events and indicators that may be noted ahead of an impending earthquake.
Earthquake education and evacuation before an event would definitely help save lives. The Assam State Disaster Management Authority (ASDMA) has released a four-page pamphlet on reliable seismic precursors for the common man to notice. It gives information about the precursors with a proper time frame —details about reliable indicators that would be seen two-four days in advance; a day in advance; and what would be seen 20, 15, 10, 2, and half hour before an earthquake? If such precursors are noticed sequentially, observed and recorded at several locations spaced over a large distance, then there is a good chance that an earthquake would occur within the next few hours. And action to prevent severe loss to life and property can begin.
The ASDMA is going to distribute this pamphlet after translating it in Assamese among the gram panchayats. It is hoped that the states of Himachal and Uttarakhand too would take initiatives in creating seismic awareness on the lines of Assam, and a similar pamphlet would be translated in Hindi and distributed among villages.
Science and sense
In addition to the reliable seismic precursors, official agencies continue to monitor various geophysical, geological, seismological parameters and also examine the latest data from satellites on earthquake-related parameters. Proper clubbing of seismic awareness and scientific observation can definitely help in mitigating seismic disasters.
The subject of earthquake prediction has made some good advances since 1990. Pioneering efforts are being made by Chinese researchers. Yet, it has not been possible to accurately predict earthquakes vis-à-vis all related parameters of time, space and magnitude. This author visited China after the destructive Sichuan earthquake of May 8, 2008, which had a toll of about 80,000 lives. Discussions with Chinese seismic experts brought it out that efforts of disaster management should centre on creating public awareness about earthquakes. A number of researchers have been recording conventional parameters as precursors. During the past decade, the use of scientific data obtained from satellites has also been found useful. There is "outgoing long-wave radiation (OLR)" and change in the Total Electron Content (TEC) in the ionosphere just before an earthquake.
It is also a fact that the known age-old precursors such as abnormal animal behaviour are also very reliable. Since the Spitak (Armenia) earthquake of December 1988, observation of abnormal human behaviour has been found to be significant. Just as animals get disturbed 10-12 hours before an earthquake, so do humans. Human health gets suddenly disturbed. About a day before an earthquake, an abrupt rise is seen in psychosomatic disorders and diseases such as blood pressure, heart trouble, vomiting, headache, migraine and uneasiness. The number of deliveries and OPD (put-patient department) patients increase five to seven times.
This observation from Spitak was verified during the post-seismic studies at Latur. On an average, there were three or four deliveries at Latur Civil Hospital. But on the penultimate and ultimate days of the earthquake, the figures were 17 and 21, respectively. The abnormal animal and human parameters are of short duration and appear only a few hours before the occurrence of an earthquake. As such, these are more reliable. The abnormal behaviour is due to a sharp rise in the number of charged particles in the atmosphere of the potential epicentre area.
The world scientific community is trying hard to help prevent loss of life in earthquakes. Recently, a non-profit organisation, the International Earthquake and Volcano Prediction Center (IEVPC), started work on this in Orlando, Florida, in the US.
We cannot stop earthquakes. But we definitely can foresee and plan to mitigate and reduce the consequences.
The writer is a research seismologist.