Growing Indo-US partnership
Need to look at domestic, regional realities
by S. K. Shrivastav
AS the Iranian nuclear issue appears to be heating up again, Indo-US strategic partnership has come under sharp focus. It is, therefore, pertinent to reflect upon the nature of the partnership between these two nations. Since this strategic partnership has been steadily growing for the last few years and, in President Obama's words, is set to be "one of the defining partnerships of the 21st century", every step taken by the two largest democracies is perceived with great expectations and is closely scrutinised.
However, it may be suggested that the process of analysing Indo-US strategic partnership like any other partnership should be guided not only by expectations but also by the existing ground realities which really determine vision, policy formulations and practices. Only then can right conclusions be drawn and clear directions charted out for a brighter future.
Since the base for Indo-US strategic partnership relies on a solid foundation of shared values and shared interests, the occasional misperceptions between the two partners may only be episodic.
However, it is essential to understand and realise that both India and the US are faced with tough realities at their domestic as well as external regional fronts. These realities pose constraints and do influence foreign policy choices. Now it would be worth deliberating upon these realities in both countries.
On the domestic front, India, despite the spectacular growth it has recorded in at least the last two decades, is still striving hard to successfully deal with challenges like poverty alleviation, providing attentive healthcare, nurturing a vast young population, ensuring energy security, building infrastructure, governance reforms, etc. These challenges may take some time to be overcome if efforts are made with excellent planning and for effective implementation.
India is also a multi-religious, multi-cultural, multi-ethnic society. Thus, the world's largest democracy naturally will always pay utmost attention to the views and aspirations of its domestic constituency. It may be noted that it is the domestic constituency of a nation which ultimately determines foreign policy choices.
The recent heated protest in Parliament and outside on the government's decision for allowing 51 per cent FDI in multi-brand retail in India, which led to its suspension, is one of the examples on how the domestic constituency determines any major policy decision. Earlier, India-Bangladesh Teesta water-sharing deal was put off due to protests by the ruling Trinamool Congress in West Bengal. Meanwhile, the protest by several Chief Ministers against the idea of establishing a counter-terrorism mechanism — the National Counter-Terrorism Centre (NCTC) — is yet another glaring instance which highlights how important it is for the government of the day to convince its domestic constituency on any policy move.
Similarly, the US, which has severely suffered due to the worst financial crisis since the Great Depression in the 1930s, is dealing with pressing domestic challenges of job creation (the unemployment rate in the US was 8.3 per cent in January), controlling high budget deficit, putting its economy on growth path, etc. Now, to reduce budget deficit, the US government will have to implement the mandatory budget cuts over a period of the next 10 years which includes defence budget.
In these challenging times, outsourcing of US jobs to India, China and other countries has been recurring as an electoral issue in US elections. As the process of the fresh US Presidential election is gaining momentum, the issue of outsourcing has once again come to the fore. In a speech on February 17, 2012, President Obama announced that "no company (in the US) should get a tax break for outsourcing jobs". These moves by leaders and policy makers may be aimed at pacifying the domestic constituency in the US, particularly young voters, who are facing hardships due to the gloomy employment scenario.
It is evident that these domestic factors do appear as constraints in policy formulation processes for both strategic partners.
On the regional front, it may be noted that India finds itself in a unique regional strategic environment. On its western side, it is faced with the gravest threat of terrorism emanating from Afghanistan and Pakistan. On its northern front, India faces probably the biggest challenge of our times — managing relations with a rising China with which India has some unresolved issues despite growing economic cooperation between the two.
India is also surrounded by other neighbours which are relatively smaller in size but certainly not in importance. These neighbours have been facing their own internal challenges. India realises that to have a brighter strategic future, it is essential to have a dynamic and robust neighbourhood policy. In recent times, India has been proactively taking several initiatives to improve its relations with neighbours despite limitations in doing so.
Now, the Iranian nuclear programme and the scenario of a conflict in the West Asian region has placed India in a tight spot. The fact remains that on the one hand India gets 12 per cent of its total crude oil imports from Iran, there are more than six million Indians working in West Asian and the Gulf region. India also depends on Iran for most of its equipment and construction material supplies to Afghanistan. On the other side, India's ties with the Israel are also of critical significance as Israel has emerged as the second largest defence equipment supplier to India.
Since Indo-US strategic partnership is growing, Washington DC is expecting New Delhi to support its sanctions against Iran. However, it may be suggested that any Indian position on the Iranian issue needs to be guided by our own interests.
It would be worth mentioning here that no government in India would attempt to take any such decision as might lead to risking the interests of its people. Any unrealistic step will surely be disapproved of by the domestic constituency.
Similarly, the US is also facing a tough external environment. The US constantly remains cautious against the threats of terrorist attacks. After ending its combat operations in Iraq and recently in Libya, it is looking forward to ending its combat mission in Afghanistan by the end of 2014. To safely and successfully implement its proposed exit plan in Afghanistan, the US is looking for cooperation from regional countries. During her visit to India in July 2011, US Secretary of State Hillary Clinton stated in Chennai, "Reconciliation (in Afghanistan), achieving it, and maintaining it, will depend on the participation of all of Afghanistan's neighbours, including both Pakistan and India. We all need to be working together".
A close look at these domestic and regional realities becomes essential for both strategic partners while cooperating and collaborating with each other. This deep understanding by the two sides with regard to expectations, realities, values, interests, opportunities as well as challenges is essential. It will help in reducing frictions and in evolving a clear strategy and vision for a brighter future.
Finally, it may be noted that despite having shared values and shared interests because of the different state of domestic and regional environments, India and the US sometimes may appear to be taking different positions and postures on certain issues which should not be interpreted that they are working against each other.
The writer is associated with the Institute for Defence Studies and Analyses (IDSA), New Delhi.

Paan Singh Tomar's rebellion echoes frustration of the masses. After the high profile scams of the Commonwealth Games exposed a corrupt system controlling Indian sports, even his violent past finds validation in public opinion.
Triumph of the politically incorrect
Vandana Shukla
It does not have a sexy title like ' The Dirty Picture', nor does it boast of a raunchy item number. With an unattractive title like 'Paan Singh Tomar' and not much of a 'manufactured' controversy, not even promotional events worth mention, the film is still a success. Success — not in commercial terms alone, but in terms of bringing substance back to the centre stage in Hindi cinema. The kind of success that had left our discourse for a long time with an over emphasis on political correctness of the issues tackled. The film also succeeds in re- defining the bench mark for Hindi cinema by venturing into everything that is politically incorrect. To begin with, the protagonist of the film is an unsung hero of the Indian sports, who served the army and later became a dreaded decoit of the Chambal valley. The film is also bereft of a sultry heroine to offer a bait for steamy scenes.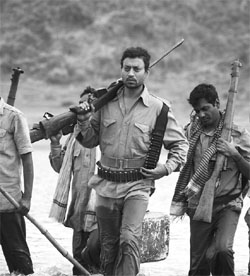 Irrfan plays Paan Singh Tomar to perfection on screen
PST ('Paan Singh Tomar'), based on the life of a seven time national steeplechase champion is fiction, inspired by true events. Tomar joins army as a rangroot ( trainee sepoy) and becomes a butt of joke among other rangroots for his gluttony. The script has several understated facts — for the rangroots who came from abject poverty, joining the army ensured two square meals. One finds an underlying pathos in these cruel realities, the film is peppered with. Tomar is simple and straightforward, naïve to be precise. He dares to tell his bosses that most of them lack integrity, and that he would take commands only from the honest officers, at the cost of risking his job. He gets into athletics only because sportsmen get more to eat. After an athletic event in his unit, his potential is noticed by the coach who explains why he couldn't send him for national championship – despite his trust in his talent. His daughter's brother in law was also a contestant, and if he refused him a chance, his daughter would be tortured! Tomar understood this complexity of social hierarchy and obliged his coach by training instead for steeplechase.


The real life Paan Singh Tomar

Paan Singh Tomar was born in village Bhidausa, in Morena district of Madhya Pradesh. Tomar became a seven time national steeplechase champion during the 1950s and 1960s. In 1958 he created the national steeplechase record in the National Games at Cuttack with a timing of 9 minutes and 12.4 seconds. Later he broke his own record in the 1964 Open Meet in Delhi with a timing of 9 minutes and 4 seconds. His record in the 3,000 m steeplechase stood for almost a decade. He represented India in the 1958 Asian games and won consecutive national titles.
Tomar was involved in a land dispute with his relatives over ancestral property for many years. Inspite of his illustrious career as an athlete, he was provided no assistance from the police and local administration. After many incidents of harassment and death threats from his relatives he eventually turned to banditry and become a dreaded dacoit. On October 1st, 1981, Vijay Raman, an IPS Officer led a 140-member police team against the dacoit Paan Singh. At the end of a 14-hour operation, Tomar was shot dead.
Through such subtle anecdotes poor working conditions of the athletes are brought to the fore. Tomar is given spiked shoes to run steeplechase in Tokyo for the Asian Games, without ever practicing in them. When he protests, the manager tells him to "run and get a medal for the country." He throws off his shoes in the middle of the race, and loses the race. These incidents suggest the malaise that had set in our sports management, right from the beginning. But, his simplicity makes him keep faith in the system and win medals year- after- year for the country.
The disillusionment sets in when his land is grabbed by his relatives and his confidence that his name and service for the country would help him get justice is shattered when a cowardly DC leaves the panchayat and asks him to settle the dispute with his relatives, who had six guns with them while his family had none. Or, when the blatantly corrupt police officer refuses to register his complaint and instead asks Tomar, who had travelled abroad for sporting competitions, why foreigners wear such few clothes? When the police officer throws away his medals, hurt and angry Tomar wonders," Desh ke liye faltu bhagey kya?" (Was all that hard work to get medals for the country futile?) This finds a resounding response in the minds of the audience, like a refrain of a popular song.
Narratives of triviality
In the clamour for development, of high per capita income and our newly acquired global confidence, one thing that eluded our film makers for a long time, was, that people take up challenges, life-threatening challenges to protect their dignity. This one ingredient, so deeply engrained in human DNA got buried under the narratives of triviality— films that enjoyed the comfort zone of portraying cosy, acquisition oriented lives that could carry their narrative on the strength of six- pack abs, designer homes and clothes and exotic locales. In this manufactured- to- perfection world, somewhere life failed to pulsate and so did the audience interest. These films made their moolah in the first week of opening, never bothering to know if the audience related to their narratives. People watched the film but once they left the auditorium, it was out of their mind. These one week wonders did not offer enough depth and substance to hold attention and ignite a debate.
What did PST do to occupy that space? One couldn't leave it behind in the theatre, it grew deeper in the mindscape, with questions that disturbed and with issues that remain unresolved. Film director Anurag Kashyap observed, " PST is like 29th February, that comes only once in a while." The audience strikes a chord with the narrative, because nowhere in the film Tomar is portrayed larger than life. He is like you and me, fighting a corrupt system on a day- to- day basis, with hope, heart-breaking courage and confidence — a prerogative of those who make it on the basis of sheer hard work and talent. This is precisely the reason that the film opened to a lukewarm response on the first weekend, like Sholay, but picked gradually by publicity received through word of mouth, a rare phenomenon in the days of on- your- face publicity campaigns.
That forgotten word — pride
Tomar resorts to violence in the second half of the film only when he loses all hope of getting help from all quarters. Unlike other bio-pics made on the lives of decoits, PST does not resort to melodramatic scenes of rape and arson. The high decibel proclamations of revenge and anger are missing. Like Clint Eastwood's 'Letters from Iwo Jima', a war film based on American response to Pearl Harbour attack by Japan during World War II, without resorting to violence and noise, the power and beauty of restraint is used by the director to focus on Tomar's rebellion — for the restoration of his lost pride. The sequence is dealt with subtlety — a village lad brings his mother's broken glass bangles and tells him, she wanted him to have them. The message has layered implications. A director of lesser maturity wouldn't have missed the opportunity to exploit the potent situation for violence and gore. Quietly, his life takes a U- turn, and the athlete who never lost a chance to win, who never hid behind excuses for lack of facilities, became a victim of circumstances. He was left with no other choice but to become a baagi, a rebel, to protect his dignity. In a world infested with compromises, Tomar's rebellion to accept nothing short of complete justice offers a new reality, people had forgotten under the burden of ambitious living.
Tigmanshu Dhulia, whose first film 'Haasil', based on the student politics of Allahabad University was equally powerful, has used economy and restrain in dealing with a volatile subject, which had the risk of overriding the subtle balance. Cinematographer, Assem Mishra has used backdrops intelligently and aesthetically; may it be the sports ground or the hauntingly lonely ravines of Chambal. There is no jarring note, not even swear words, so common in films dealing with violence and crime.
Keeping it simple
The narrative grows linear, in a simple way, shorn of smart devices to tantalise, which work effectively in striking a deeper chord with the viewer. The film grows on mind like grass, unobtrusively, yet widening its space. Irrfan Khan, who plays the lead role, carries the challenge of playing a real-life character, still alive in public memory, with an unassuming simplicity. The simpleton of the first half, who rushes to gobble up a bunch of bananas after each race is a complete athlete- in body and soul. The gaunt decoit, hiding in a house at some place in Gwalior whose wounded pride declares before a journalist with a wry smile, despite being a seven-time National Games winner, he remained anonymous, while murder and kidnapping brought him fame, haunt the viewer for its contemporary connotations. Mahie Gill, as his wife soars quietly. The film has its moments of dark humour that linger.
There is no denouement to this tale. Surrounded by the police Tomar decides to jump across a canal, like he had jumped through so many hurdles in his racing career, but a bullet is faster than his athletic abilities. The film does not end with his death, several other sportsperson's narratives scroll down the screen, with their tales of achievements, humiliation and loss of dignity.
Tomar's steeplechase record was broken after a decade but the circumstances that breed corruption and turn an honest athlete into a decoit haven't changed in the last six decades.