Playing the fool!
Messages received about a blast in Saraswati Vihar put the officials of the Delhi Fire Service on edge. The officials tried their best to find out the actual location.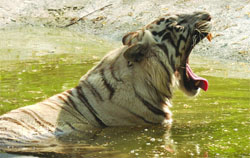 While speaking to a reporter, a fire official said that he had received a number of calls about the blast, but the DFS had no information about the real location. Suddenly, the official realized that somebody had sent the message to celebrate April Fool's Day. He said that a few years ago, the DFS had received a number of such messages on the first April.
In yet another instance, one of the officials did not take seriously the call of fire given personally by the late Chief Minister of Delhi Sahib Singh Verma though it was a real fire. When the matter was reported to the then DFS chief, the official concerned was suspended.
Door-to-door campaigning
Following the ban imposed by the State Election Commission on sticking of posters and banners, candidates contesting the Municipal Corporation of Delhi election are facing a lot of difficulties in campaigning. Now the candidates have to visit the house of every voter to express their views. Quite an uphill task indeed!
A contestant said that those who do not have the mass base are avoiding to meet the people. They have just filed their nominations and sit in their offices.
In the days of yore, banners of contestants were seen on each wall and electrical poll. In fact, wherever they got space they would stick the posters.
Sought-after ward
The municipal ward of Okhla, reserved for women, is most sought-after as it witnesses a tough competition among the candidates battling it out in Mukundpur, Pratap Vihar, Zakir Nagar and Jaitpur (W). In Okhla, all the candidates are locals and have the backing of a group of influential people. There are two major groups - Azamgarh and Bulandshahr.
The contestants who belong to Azamgarh are being supported by the people who originally belong to Eastern Uttar Pradesh and Bihar while the people of Western district of Uttar Pradesh support the other candidates.
904 candidates rejected
A total number of 904 candidates that have been rejected by the State Election Commission comprise almost half of the contenders of Bahujan Samajwadi Party (BSP).
The party had fielded 114 candidates of which 51 nominations were rejected while only 11 candidates of the Samajwadi Party (SP) were
rejected. Following their rejection, BSP candidates were shocked and stopped going to the party office located in Karol Bagh.
One of the senior party leaders said, "There was nobody to guide us while filing the nomination and we have lost the opportunity to show the strength of the backward and Dalit vote bank in the national Capital."
Now the municipal corporation has 2,611 candidates who will be fighting for 272 seats.
(Contributed by Syed Ali Ahmed, Himani Chandel)