OPED

Health

Need to decriminalise drug addicts
Dr Rajeev Gupta
A divergent viewpoint is emerging, suggesting the need to take a fresh look at addicts and treat them like patients and not criminals. This curative approach is contrary to the punitive method prevalent in most countries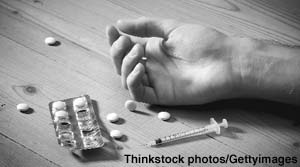 Ravinder (name changed), a 34-year-old farmer, an opium addict, was caught with about 500 gm of opium, which he claimed was his one-month quota for consumption. He had no past criminal record. Booked under the Narcotic Drugs and Psychotropic Substances Act (NDPS), he was sentenced to 10 years' imprisonment and fined Rs 1 lakh. In the jail, he was exposed to all kinds of addictive substances, and came into contact with other addicts and drug peddlers.

Balraj (name changed), an engineering graduate, was introduced to heroin by his roommate. Within a year, he was hooked to it and was spending about Rs 1,500 everyday on the drug. As he was unable to afford his addiction, he became part of a chain, selling and distributing the drug to others. He was arrested after he was found to be in possesion of 20 gm of heroin. A case was filed against him under the NDPS Act.

Indian jails, particularly in the North-East and Punjab, are packed up with persons, who have been booked for possessing drugs, drug trafficking, and drug-related crimes. In Punjab, out of about 18,000 prisoners lodged in various jails, about 30 per cent inmates have been charged with illegal possession of drugs. Denied bail, they keep on languishing in state's crowded and cramped jails for years together and come in contact with other drug addicts and inmates afflicted with serious infections like Hepatitis B & C, tuberculosis and AIDS.
Jails are not correctional houses for most drug addicts. After getting trapped into addiction, there is hardly any respite or opportunity of going back to a normal healthy life. Even on parole, the only person waiting outside for them is a drug peddler and not family members or friends. There are instances in North India where drug trade is operated and controlled from inside the jails, and those charged with drug-related offences do not even bother to apply for bail.
There are apparently 190 million addicts worldwide. Almost no country is spared from the menace of drug addiction and illegal trafficking. According to a UN estimate, in India alone, there are one million registered heroin users and five million unofficial heroin addicts. The youth are the worst-affected by drug abuse. What starts as fun and recreation or to overcome frustration, ends with youngsters getting sucked into the world of drug dependence and addiction. To finance their addictive habits, they resort to various crimes and gradually become small-time drug couriers, a world from which it becomes very difficult for them to extricate themselves.
Post-terrorism, Punjab has emerged as a major transit route for drugs like opium, smack and heroin from Afghanistan, which are meant for European markets and the US via New Delhi and Mumbai. According to the UN Drug and Crime Report 2011, India is the largest consumer of heroin in South Asia. The report has also negated the perception that India is only a transit point for drugs.
War on drugs
Addiction has been ruthlessly and brutally dealt with by many governments in different parts the world. The USA has been most aggressive against drug addiction. The term 'war on drugs' was first coined by Richard Nixon in June 1971. Since then, billions have been spent every year by the US against this war. Today, the US has the largest number of persons locked up in jails for drug-related crimes, and still victory against addiction appears to be a distant dream. Many countries like China, Russia, UK, Thailand, Sri Lanka, Iran, Malaysia, Singapore, Saudi Arabia and India have been dealing with drug addicts using highly punitive measures, including capital punishment.
On June 24, 2011, on the International Day against Drug Abuse and Illicit Trafficking, many drugs peddlers were executed in different parts of China. In China, any citizen can be subjected to drug testing, and when found positive, can be imprisoned and prosecuted. Similarly, in many countries, offenders possessing even small quantity of soft drugs receive mandatory jail terms. Still, none of these countries have witnessed a fall in the number of drug addicts.
There is hardly any jail in the world where drugs are not available. Recently in India, too, Punjab DGP (Jails) Shashi Kant kicked up a row in February this year when he claimed that a nexus between the drug mafia and politicians was to be blamed for drug trade in jails. He also claimed that he was under the threat of drug mafia but refused to name anyone.
In spite of the war on drugs, there has seen an increase in use of opiate, cocaine and cannabis. There has also also a rise in the use of prescription and non-prescription medicines in this region.
Sympathetic approach
A new train of thought, which is gradually emerging in some parts of the world, suggests a need to have a fresh look at addiction, and in ways of dealing with drug addicts. It is being increasingly felt that the criminalisation of addiction and incarceration of addicts is proving counterproductive, and is adding to illicit trading of drugs and a number of crimes. Jails are full of addicts and small-time traffickers but the bigger fish always escapes the net. A wave of decriminalisation has gradually started with satisfactory results.
Portugal is the first country to decriminalise addiction. In Portugal, after decriminalisation was adopted in 2000, jails have been emptied out; enforcement agencies have more time to follow drug traffickers. HIV infection as a result of needle sharing is said to have been reduced to zero in 2007, and use of heroin, cocaine and synthetic drugs has declined. Reports of deaths because of drugs have reduced by 60 per cent since 2007.
Similarly, many other European countries have started taking a lenient and sympathetic view towards addiction. In Switzerland, there are special clinics supplying regular pure heroin to addicts so that they are weaned away from illegal sources and a world of crime. In some Western countries, there are clinics providing medical substitutes for hard drugs. Even in Punjab, substitution therapy with medicines has been started in many centres.
Need for rehabilitation
In has been consistently shown that treating addicts and rehabilitating them rather than putting them in prisons show far better results. It is also more cost-effective. Once a drug addict is jailed for drug crime, family members try their best to smuggle drugs into jail by many indigenous means and some among them even land up behind bars for "helping" their jailed and addict family members. Abrupt withdrawal symptoms in a jail, when not adequately attended to, can even lead to fatal complications. There is need to ensure that addicts are put on substitution therapies and are able to procure drugs through legal and clean means. It also means a major shift in the strategy of treating addicts as patients and not as criminals. This is expected to stop pushing them to the underworld of drug mafia.
In June, 2011 the UN Global Commission on Drug Policy released a critical report on the war on drugs declaring that the global war on drugs has failed with devastating consequences for individuals and societies around the world. This has received a mixed response from the world community. The world opinion is still divided on the methods of dealing drug addicts and the addiction.
The writer, a Ludhiana-based psychiatrist & deaddiction specialist, is a former Consultant of Psychiatry, Dayanand Medical College and Hospital, Ludhiana