AGENDA 2012-17: Schools
Books in hand, education needed
Even as areas of concern remain in school infrastructure, a lot has also been achieved. What has not changed is the quality of teaching, which keeps students from govt schools at a disadvantage, thereby excluding a certain section from higher education
Naveen S. Garewal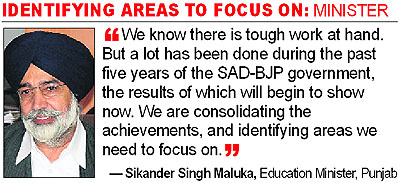 "Padho Punjab, Wadho Punjab" is the catchy slogan the Punjab Government has adopted to promote education. The SAD-BJP alliance has in the right earnest also promised free and compulsory education to all children between 6 and 14 under the Sarva Shiksha Abhiyan (SSA). It has promised free laptops with data cards for Class 12 students. The gap between ambition and the situation as it prevails, however, is huge.
Punjab has 36,293 primary, middle, secondary and senior secondary schools, with student enrolment of 39.78 lakh, which includes 17.65 lakh girls. During the last tenure of the SAD-BJP government, 53,961 staff were hired for schools, of which 50,395 were teachers. Yet, there is an estimated deficiency of over 10,000 teachers in senior secondary schools alone. Another proposal for setting up 128 Adarsh Schools is also yet to take off in the right earnest.
The government has also announced the setting up of 21 model schools in backward blocks, on which Rs 72 crore is to be spent during the current term of the government.
Teacher imbalance
Besides the massive shortfall of teachers, particularly in primary and upper primary schools, the teacher-student ratio also varies significantly. The Right to Education Act requires one teacher per 30 students, but there are schools in Punjab that have four or five teachers for over 200 students, while others — such as Government Middle School, Leel Kalan in Gurdaspur — have six teachers for 40 students. The government has to ensure optimal deployment of staff.
There is a particular shortage of trained subject teachers for mathematics, science, social science and English. In border districts, some teachers have even sub-contracted their jobs to unemployed youth for a part of their salaries. Such practices will have to be stopped.
A report titled "Status of School Education in Punjab", based on a study conducted by the Institute for Development and Communication, Chandigarh, noted the standard of education could not improve without ensuring the norm of at least five teachers per primary school and eight per upper primary school. Only integrated elementary schools — primary and upper primary combined (Class 1 to 8) — with 8-10 teachers each can address this issue.
There is also a serious problem of high dropout rate among urban boys. This has to be checked to ensure uniform economic development. Participation of students from economically weaker sections, especially the SCs, is also significantly low in Punjab, compared to the national figures. Unless this is addressed, there could be a serious challenge to the goal of universal secondary education.
Quality education
Punjab has been able to increase the school infrastructure significantly over the past five years. But that has failed to improve the quality of education in government schools. This is one of the reasons for parents preferring private schools over government in both urban and rural areas. This, despite the fact that most low-cost private schools also have very poor infrastructure.
The state officially has only two classifications for schools — elementary (Class 1-8) and secondary (Class 9-12) — which is a precondition of the Centre to give funds. However, on ground, the previous four categories of schools continue — primary, middle, high and senior secondary. The government will now have to genuinely implement the two-tier system of education. It will also solve the problem of shortage of teachers at the primary level, as the surplus teachers from middle schools would then be available for classes 1 to 8.
Service conditions
The government has to somehow remove the huge disparity between allowances for teachers in urban, semi-urban and rural areas. Those in villages and small towns are at a loss of Rs 2,000-2,500 per month. As a result, there is an unending demand for transfer from villages to cities, leaving rural schools understaffed.
Recruitment and promotion policies need a relook too. There are more than 400 senior secondary schools without principals, while teachers recruited as lecturer over 20 years ago have not been promoted. The government has also withdrawn the district education officers' and principals' power to appoint ad hoc teachers, because of which positions remain vacant for years.
At different times, there have been different recruitment policies. For example, computer teachers were recruited for Rs 3,500 per month. During the pre-election year, the salary was raised to Rs 10,000, and then they were given the lecturer grade. This affects the quality of induction — as those who joined at Rs 3,500 on contract may not be the same level as those who would apply for a "permanent government job" with a good salary.
The government also needs to appoint eminent educationists to the posts of chairman and secretary of the Punjab School Education Board, which thus far has been political. Recently, the board passed an order saying people on "flying squad" duty would not get any travel or dearness allowance. This resulted in the squads remaining confined to cities, allowing rampant cheating in exams in rural areas.
Semester system
In the new semester system for board classes (10 and 12) in schools, the students are charged a fee of Rs 400-Rs 500 twice each year. The government may consider conducting the first semester exam in the school itself to save the students the financial burden, and thereby also check the dropout rate.
Supervision of schools in the state has not been able to keep up with the increase in the number of schools over the years. For this, the government may create a new position of tehsil education officers, which would help manage the schools better.
SAD MANFESTO PROMISES
Adarsh School scheme for quality education for poor students in every block
Free education for all girls up to graduation
Boys from families with blue cards to get free education till Class 12
Besides Class 11 and 12 girls, free bicycles for girl students of Class 9 and 10 too
Knowledge-cum-quality control commission for private vocational and professional institutes
All government schools in villages to get facilities of model schools to raise students' level for higher education
To launch an "earn while you learn" scheme for professional institutes
To open 15 new government colleges in the state