OPED —

The Arts
A tale of two hundred years
Natasha Vashisht
James Joyce and George Orwell dismissed his genius. But, 200 years after he was born, and 176 years after the publication of his first novel, Charles Dickens is still revered, criticised and widely read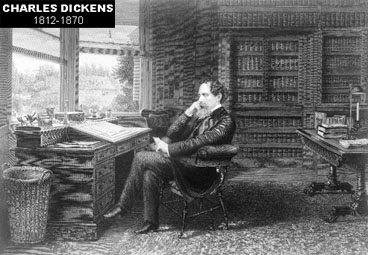 Autobiographical appeal- Dickens kept details of his wretched childhood hidden. It was only after his death that his friend and biographer John Forster revealed how Dickens spent 10-hour days at a blacking factory, sealing pots of shoe polish. At one point, he was the sole earning member of his family.

There are a few writers and few works of fiction that seem to fascinate generations and generations of critics and readers. No matter how much has been said and written about them, it is never enough. Fewer still are regarded with more honour as time passes. The volume of criticism on them may be daunting, but each successive historical period offers refreshing points of view, thereby, contributing towards immortalising the author and his works. Charles Dickens (1812-1870) is next only to William Shakespeare in his sustained appeal and an ever growing readership. Like Shakespeare, Dickens is larger than his critics.
Working through volumes of criticism on Dickens, one realises that most critics sooner than later refer to Dickens as 'comic entertainer', 'inventive fantasist', 'caricaturist', 'moralist', 'responsible social realist', 'mighty preacher', 'dark symbolist' and 'social reformer'. In addition, Dickens's characterisation is praised for its 'energy of presentation' through which his protagonists are 'larger than life' and seem to possess 'insides that are larger than the outside.' So diverse is Dickens' style and so complex his narrative that it is impossible to fit his works into a genre.


Dickens on celluloid
A number of his novels and short stories were produced for films and TV shows, starting 1897: Oliver Twist, A Tale of Two Cities, A Christmas Carol, Great Expectations, Nicholas Nickleby, The Old Curiosity Shop, David Copperfield, Pickwick Papers. Great Expectations and many more were made into films, several 'spin offs' were produced, often lifting a character out of a novel and developing the story around him or her. The earliest movie on a complete novel of Dickens was made in 1903.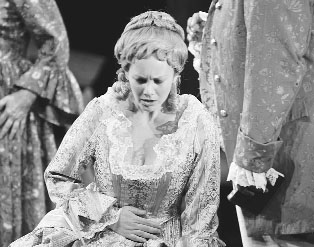 A scene from A Tale of Two Cities

Never out of the news
In 1854, Karl Marx included Dickens among "the present splendid brotherhood of fiction-writers in England whose graphic and eloquent pages have issued to the world more political and social truths than have been uttered by all the professional politicians, publicists and moralists put together".
1912, on his first centenary - "He hardly deserves a place among the highest," James Joyce, novelist
"Why does anyone care about Dickens? Why do I care about Dickens?" George Orwell
"[your] ignorance of Dickens is a frightful gap in your literary education. He was by far the greatest man since Shakespeare that England has produced in that line." George Bernard Shaw
2012 on his bicentenary - His works are selling like hot cakes, BBC TV and Radio are making several programmes on him, including a new three-part Great Expectations. His biographies march into stores one after another-Robert Douglas-Fairhurst's Becoming Dickens, a number of handsomely illustrated coffee-table books, and, best of all, Charles Dickens: A Life, by Claire Tomalin. And, the Museum Of London, has an exhibition titled Dickens and London till June 10.
Contradictions of a society As a true social realist, Dickens is primarily concerned with exploring the anatomy of society. In order to comprehend the overarching scope of Dickens's works, it is both imperative and interpretive to understand the society about and within which Dickens was writing and evaluate his works as shifting products and determinants of many historical and social forces.
The story of Victorian Britain is one of contraries. The seeming irreconcilable binaries of industrial progress and poverty, utilitarianism and puritanism, religious scepticism and scientific positivism, threatened to dissolve conventional discourses on nation building as well as challenged the integrity of the individual. While orthodox clergymen were lamenting on the declining spiritual order, agnostics were coming to terms with the degeneration of man into beast. Growing political responsibility for the individual manifested through Chartism (working class movement for reforms), universal suffrage and the secret ballot was undercut by the extension of power of the state as capitalist and colonial. Dickens, like his contemporaries recognised this divide and represented the dichotomous identity of his country in the opening lines of his novel, A Tale of Two Cities (1859): 'It was the best of times, it was the worst of times, it was the age of wisdom, it was the age of foolishness, it was the epoch of belief, it was the epoch of incredulity.'
In Nicholas Nickleby(1838), Dickens juxtaposes this discriminating gap of the rich and the poor in a fluid narrative: 'the rags of the squalid ballad singer fluttered in the rich light of the goldsmiths' treasures' and in the brilliant image of 'half-naked shivering figures' staring at 'Chinese shawls and golden stuffs of India.' This prejudice is what sustains a noxious climate of social, political and economic hegemony. It is into this well of terrifying realities controlled by imaginary monsters that Dickens pitches his protagonists and maps their destiny.
Society, for Dickens represents systemic oppression, a prison within which his protagonists are enmeshed. His extraordinary imagination personifies society into human figures with names that brilliantly manifest their diabolic appearance: Wackford Squeers is a brutal one-eyed schoolmaster in Nicholas Nickleby and Daniel Quilp is a vile and hideous dwarf in The Old Curiosity Shop. Through their ogre-like disposition, individuals like the Murdstones, Gradgrinds, M'Choakumchild and Mr Creakle suck the joy out of the lives of their victims. In other places, society metamorphoses into anything resembling the state apparatus.
The downtrodden hero Opinions in Dickens's lifetime, more seldom than often, objected to his penchant for preaching sympathy for the poor and downtrodden, the need for social equality, softening of prejudices et al. The point of discomfort was not so much his high moralising style, but the fact that most of what he preached was utterly distasteful to the privileged. It was often through his vivid but unflattering descriptions of London that he earned the title of 'social pessimist'. London is at the centre of most Dickens's writings. Congested, diseased and full of crime, it is a site of appalling social conditions. It is referred to as 'suburban Sahara', 'hot springs and fiery eruptions' and 'a heap of vapour'. In Bleak House, he writes 'every door might be death's door.'
Dicken's London is overcrowded with buildings, railways, bridges, towers and chimneys and is also bursting with people, poverty and squalor. In associating London with motifs of prison, death, monster and machine, Dickens successfully creates a sense of alienation produced not just by the vastness of the city but by the social and economic forces that structure Victorian capitalist society. His social conscience was highlighted in a tribute published on his death in the 'The Times': 'His greatness grows upon us. He has done much as Addison, Johnson, or Goldsmith to "correct the vices" and "ridicule the follies," and purify the sympathy of his generation. The Abbey, as the shrine of English genius would be incomplete without him'
The individual, for Dickens if often cribbed and confined in a gloomy and treacherous world of corrupting institutions and devouring oppressors. If, in Bleak House, the individual is trapped in the Judiciary system; in Great Expectations(1860) the web is class and the cash nexus; in Hard Times, the protagonists are caught in the throes of mid 19th century industrialism.
The everlasting innocence Dickens's continues to endear himself to his readers, decade after decade through his representation of childhood innocence. His vision of childhood virtue and purity is explicated through his favourite children - David Copperfield, Oliver Twist, Little Nell and Florence Dombey. It is though their wide-eyed, credulous observations of the adult word that Dickens is at his didactic best. Dicken's innocent children are palpably uncomfortable in the presence of adults. This results in their frequent attempts at either dehumanising them into animals or associating them with hard, lifeless objects. Another motif associated with the adult world is that of a climate of dread and gloom. Adults seem to carry bad weather with them at all times. In Bleak House Mrs Pardiggle seems to 'come in like cold weather' and Mr Dombey is like 'vacuous spirit' who has an eerie effect on the pastoral world. Through child's description of the adult world as alien and barbaric, Dickens draws upon his own childhood experiences. At the young age of 12, he was sent to work in Warrens shoe blacking factory to provide financial assistance for his family (his father was imprisoned for financial debt). Those months of torment and subjugation left an indelible mark on his representation of children as victims of systemic oppression.
The power of Dickens's imagination is consummate in his comic vision into which he incorporates everyday misery and anguish into human comedy. His humour broadens to incorporate wit, subtle irony, biting sarcasm and black humour as well. His unpretentious treatment of pretensions is best seen through the naive reflections of children who view the adult world literally rather than falsely. Dickens's comic vision is a conscious tool of denouncing a morally hypocritical and a socially pretentious Victorian set up. Laughter erodes catharsis and firmly grounds the power of self reflexivity. This welding of laughter with satire, comedy with tragedy, damnation with redemption, and entertainment with instruction bestowed upon him instant unrivalled fame of the kind known to the select few in their own lifetime.
And, the optimism This recognition of the dichotomous nature of social and human reality and faith in the possibility of salvation has immortalised him as a true humanitarian. Even better, is the honour that sits high upon him in being referred to as 'England's conscience.' Unlike Thackeray and Hardy, Dickens never abandons hope for the individual. They learn from their mistakes, rise, and stand tall at the end of the novels. Dickens repeatedly wrote in the preface to many of his novels that his aim was to 'brighten the lives and faces of others,' to increase the 'stock of harmless cheerfulness in the world' and to tell his audience that the 'world is not to be utterly despised.'
Reading Dickens today, assures faith in the restorative power of goodness. If 'reality is a process of realisation,' then the touching lines from The Old Curiosity Shop, 'There is nothing . . . no, nothing innocent or good that dies, and is forgotten. Let us hold to that faith or none,' reaffirms my conviction in Dickens as a continuing effective presence among the living and elsewhere in heaven.
(The writer is Asst. Professor at St. Stephen's College, University of Delhi)