The catalytic power of women
Women's emancipation is not a new concept. Several decades ago Mahatma Gandhi saw its significance. He also linked social reform movements with the national movement for Independence
Reicha Tanwar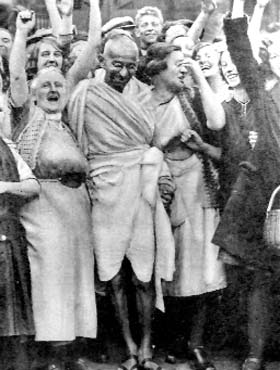 Mahatma Gandhi's voluminous writings on issues of women's concerns in terms of their scope and dimension are arguably beyond comparison in modern times. Quite often the modern reader would come away being surprised by the contents which are often not only orthodox but brutally frank. In a style that is unique, Gandhi moves with ease between seeking support of tradition and scriptures where they support women on the one hand and rejecting them outright where he finds that their dictates are oppressive tools in the context of women.
Women & freedom movement
The importance of Gandhi needs to be appreciated in the context that he not only represented in himself the spirit of several great social reformers but also gave a fresh momentum and a broader perspective to the movement for women's emancipation by interlinking social reform movements with national movement: "Many of our movements stop half way," he noted, "because of the condition of our women." He, repeatedly stressed the urgent need for attending to problems afflicting contemporary Indian society indeed even before he raised the demand for swaraj. He believed that swaraj would be impossible unless women stood side by side with men in the battle for freedom. And that such an association on equal terms on the part of India's millions of women was not possible unless they had a definite consciousness of their own power. In this sense, Gandhi was far ahead of his time, because the nineteenth century consciousness of women's problem was limited essentially to their position within the traditional family structure.
Throughout his career, Gandhi constantly urged women to become involved in both the freedom movement as well as in their local communities, both at the levels of service and politics. The Gandhi-led freedom struggle in India ushered in a new era of consciousness on the part of Indian women. By drawing women into the national Independence movement, Gandhi: "tapped the amazing resources of womanhood and made them a constructive force in national reconstruction." The process of emancipation or empowerment so to say was a natural sequel of Gandhi's thought.
Step outside household
In an important way, Gandhi is an essentialist with regard to gender, but not fully. He finds that men and women are fundamentally one, the soul in both being the same and as such each is deserving not only of autonomy but to be treated as the equal of the other. For Gandhi, each has a distinctive sphere of duties of dharma and each must carry out the responsibilities attached to that sphere. Interestingly, Gandhi finds that the spheres often overlap in most critical ways and that what is appropriate for men in their sphere is largely appropriate for women in theirs and that the general qualities and culture required are practically the same for both sexes. He wants women to spend time outside the household; finds that women need to assume some of the cultural characteristics of men. Moreover, Gandhi holds that there are no inherent limitations of what women can do, including occupying the highest ranks in politics. He wanted the members of the family to be autonomous, both within the family and community, and calls for a reconstitution of family practices which challenge conventional ideas of the superiority of the husband/ father over the wife/ mother.
Partnership of equals
For Gandhi, marriage must ultimately be something the parties agree to enter freely. This is one of the reasons that he is repulsed by child-marriages which take no account of the wishes of the future partners. And it explains his opposition to dowry which he finds: "nothing but the sale of girls". For this reason, he wants parents to: "so educate their daughters that they would refuse to marry a young man who wanted a price for marrying and would rather remain spinsters than be party to the degrading terms. The only honourable terms in marriage are mutual love and mutual consent."
Gandhi insists that a woman's destiny cannot be completed within the household and abhors the idea that domestic work is to take a major part of a women's time. He notes: "To me, this domestic slavery of women is a symbol of our barbarism." He says that women also require a prominent place in the community and women, like men, must be judged by their moral qualities rather than on a logic based on anatomical predestination. His reconstructed family is a place where both fathers and mothers assume shared duties, leading him to argue that the: "Care of children and the home is a joint responsibility. Woman is the mother, but her own motherly tenderness should extend beyond her own children and, therefore, her sphere must also extend beyond the home."
Gandhi denounced in unequivocal terms the custom of child marriage, which he considered as "an immoral and inhuman act, for it undermined our morals and induced physical degeneration". He maintained: "by countenancing such customs we recede from God as well as swaraj." Repudiating the claim that child marriage had a religious sanction, Gandhi argued, smritis which enjoined early marriages do not depict the true essence of Hinduism and must be rejected as interpolations.
Voluntary & forced widowhood
Gandhi struggled to decimate the line of demarcation between the sexes. When Eleanor Morton's Women Behind Gandhi first appeared in 1954 it created a sensation. The issue of Gandhi's lifelong experimental obsession, indeed an obsession that still remains beyond comprehension of mere mortals namely brahmcharya and celibacy had women as the central focus. Gandhi adopted the practice of brahmcharya in as early as 1901. He took a lifelong vow of celibacy in 1906. For Gandhi brahmcharya was a broad concept that constituted an entire philosophy and a moral imperative that was to be adopted not only in deed but also in thought and word. The end objective of his subsequent experiments in his ashrams was the abolition of the distinction between male and female. At a later stage he even formulated the concept of a married brahmcharya, something he introduced in his own life from 1906. He drew conviction in this thought from two extremes- Manu and Christianity. In many ways Gandhi was ideologically very close in this context to Ramakrishna Parmahansa. He explained the concept as: "One who never has any lustful intention….who is capable of lying naked with naked women, however beautiful they may be, without being in any manner sexually excited. Such a person should be incapable of lying, incapable of intending or doing harm to a single woman or man… is free from anger and malice and detached in the sense of the Bhagwadgita. Such a person is a full brahmachari." (Collected Works, vol. 87, 17 March 1947, p 108).
The issue of debate in this remarkable letter. of course. is Gandhi's reference to 'voluntary widowhood' being a 'priceless boon'. Only Gandhi would have imagined that a discernable line was possible to draw between 'voluntary widowhood and forced widowhood'.
In the context of Sati too we note a similar line of thought. Gandhi was all for widow remarriage as we have seen and left a sufficient scope for 'a faithful widow remaining chaste and dwelling herself to her husband's memory' (Young India 5, August 1926).
Courage is gender neutral
What comes out rather clearly in Gandhi's writing in the context of gender is that first and foremost women must assert their claims to dignity and rights. In fact, he wants both men and women to recognise claims for autonomy in a manner that they rise above gender and even suggests a division of labour for the security of the family in a reconstituted form. Gandhi repeatedly noted how as the first step to equality it was important for women to come out in a manner in which they are not perceived as 'objects': "Courage for example is not the exclusive quality of men but it is a virtue that is necessary for each person…… a woman thinks that she is weak and allows herself to be called so, this is not right". The nearest Gandhi got to absolving an action that could be seen as violence was when he felt that a woman was well within her rights to slap a man if he tended to show dishonour to her dignity:
"The trust of a woman who slaps is not in the slap, her trust is in God... Her rage will indicate her opposition.... The slap is not an expression of violence, only of their opposition."
The writer is Director, Women's Studies Research Centre, Kurukshetra University, Kurukshetra
inspirational force
Millie Graham Polak and Sonja Schlesin were Gandhiji's closest friends in South Africa. Sonja Schlesin was the best secretary Gandhi had.
Sarladevi Chowdharani and Madeline Slade from England were Gandhi's close associates after his return to India. While Sarladevi was Tagore's niece, Madeline Slade was a British Admiral's daughter whom he re-christened Mirabehn.
Gandhi had high respect for Premabehn Kartak, Prabhavati and Rajkumari Amrit Kaur. Premabehn was known as the field marshal of the Gandhian army and Prabhawati was the wife of the distinguished socialist leader
Among the younger of the Mahatma's women associates were Sushila Nayar and Manubehn Gandhi. Sushila was his personal physician and Manu Gandhi was the grand-daughter of the Mahatma's brother, the youngest and most lovable of his women associates.
Above all was the towering figure of Kasturba Gandhi popularly known as Ba and she was the stabilising factor throughout Gandhi's life.
Sarojini Naidu joined Gandhi's non-cooperation movement and returned the Kaiser-i-hind gold medal awarded to her by the government in 1908 for humanitarian works.
Kamladevi Chattopadhyay, though in her teens at that time, plunged in the movement with pioneering zeal after leaving studies.
Lado Rani Zutsi, wife of Ladli Prasad Zutsi after hearing the intense appeals of Gandhi, organised a Kumari Sabha in Lahore to provide a platform for women to discuss social and political issues.
Parvati Devi, daughter of Lala Lajpat Rai, was another worker who tirelessly toured Punjab to enlist the support of women.
Abida Bano Begum was a tireless worker who undertook tours of many provinces exhorting women to discard purdah and wear khadi.
Thus spoke Gandhi
On dowry: The dowry system, as Gandhi sees it, when coupled with requirements for intra-caste marriages, restricts choice and encourages artificial arrangements. Accordingly, he concludes that: "The girls or boys or their parents will have to break the bonds of caste if the evil is to be eradicated. All this means the education of a character that will revolutionise the mentality of the youth of the nation."
On purdah: Gandhi comes out strongly against purdah. He said: "Chastity is not a hot-house growth. It cannot be superimposed. It cannot be protected by the surrounding wall of the pariah. It must grow from within and to be worth anything it must be capable of withstanding every unsought temptation. It must be a very poor thing that cannot stand the gaze of men."
On remarriage: Gandhi's view on remarriage among widows have for long been under discussion. He wrote an article for Harijan (22.6.1935) in response to a letter that informed him of how a 17-year-old girl had lost her husband in the earthquake in Queta. "I have repeatedly said that every widow has as much right to remarry as every widower. Voluntary widowhood is a priceless boon in Hinduism; enforced widowhood is a curse… All the young widows, therefore, who are in the unfortunate position of this bereaved sister from Quetta should have every inducement given to them to remarry, and should be sure that no blame would be attached to them if they chose to remarry, and every effort should be made to select for them suitable matches."