Pak refuses visa to 455 Sikh devotees
Amritsar, April 8
The Pakistan Government has rejected the visa applications of 455 Sikh devotees, recommended by the SGPC, for visiting Gurdwara Panja Sahib in Hasan Abdal on the occasion of Baisakhi.
Killers panicked after police raids
Ludhiana, April 8
Undeterred by the fact that the police was looking for them, Moga DSP Balraj Singh Gill and Monica Kapila's killers- Umesh (23), Harwinder (23) and Pritpal (21)- travelled in the vehicles of the victims for nearly five days after the crime.
Sarabjit's sister not allowed to meet Zardari
Amritsar, April 8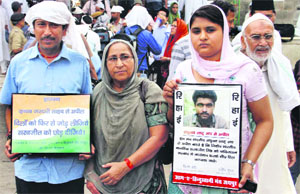 Dalbir Kaur, sister of Sarabjit Singh, Indian prisoner who has been sent to the gallows in Pakistan, was not allowed to meet Pakistan President Asif Ali Zardari today. Dalbir and her niece Swapandeep, Sarabjit's daughter, were in Ajmer Sharif since yesterday hoping to meet Pakistan's President, who paid obeisance at the dargah of Sufi saint Khwaja Moinuddin Chisti, today. They wanted to make an appeal for Sarabjit's clemency
Dalbir Kaur and Swapandeep (with Sarabjit's pic) in Ajmer on Sunday. PTI

Govt may put a stop to Sangat Darshan
Banwala Annu (Muktsar), April 8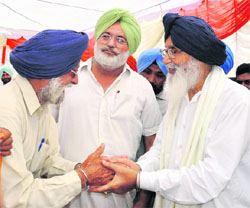 The newly formed SAD-BJP state government may put the brakes on the much-publicised Sangat Darshan programmes. Addressing a gathering during the thanksgiving tour of his home constituency (Lambi), Chief Minister Parkash Singh Badal today said he had directed all government departments to submit a detailed report of their requirements so that a master plan for development could be prepared at the earliest.

Chief Minister Parkash Singh Badal during a public meeting in Lambi. A Tribune photograph

Shortage of doctors in CM's home district
Muktsar, April 8
Even as Chief Minister Parkash Singh Badal today gave in-principle approval to fill all vacant posts of teachers in schools and colleges to ensure their smooth functioning, there is the need of a similar decision to be taken in the healthcare sector.
Respite for Jamsher residents
New Delhi, April 8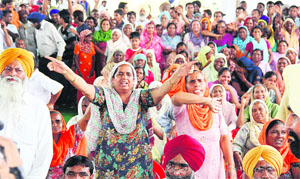 Residents of Jamsher village in Jalandhar district, protesting against a proposed waste-to-energy incineration plant in their area, can now breathe easy. The state-level Expert Appraisal Committee is understood to have written to project consultants that it is not satisfied with the report prepared by them and has sought clarifications.
A file photo of protesting residents of Jamsher

Cong rout: Antony panel expected to submit report by month-end
New Delhi, April 8
Under fire from his party colleagues, Punjab Congress chief Capt Amarinder Singh seems to have got some respite as the AK Antony led three-member high-powered committee set up by the Congress high command is not expected to give its report till the month-end. And it is unlikely to blame him alone for the poll debacle in the state.
Sadiq won't sing in Bhadaur


Chandigarh, April 8
He is a folk artiste who rode on his 'singer for the villagers' fame to make it to the Vidhan Sabha, beating DS Guru, former Principal Secretary to Chief Minister Parkash Singh Badal. Mohammad Sadiq, who has completed 50 years of singing, is not ready to call it a day yet. He will continue singing, except in his constituency of Bhadaur.
Farmers go organic, reap rich harvest
Faridkot, April 8
Unlike their less-fortunate peers, farmers like Vinod Jyani, Harjant Singh, Gurmail Singh Dhillon, Hartej Singh and Amarjit Sharma are a happy lot. Less than five years ago, they couldn't have imagined that the wheat they are growing would stir demand from the health-conscious section of society. Now, they realise that their decision to adopt organic farming was a step in right direction.
No action against erring Moga cops
Moga, April 8
Senior authorities of the Punjab Police are apparently trying to protect the erring cops who allegedly tortured a man to death at the CIA-Staff here yesterday.
Kanungos fret over illegible question paper
Faridkot, April 8
The use of handwritten question papers in departmental promotion examination by the Revenue Department led to an unsavoury situation. Candidates appearing in this exam claimed that as the handwritten question paper was illegible, they could not attempt the paper properly.
Minister: No VIP treatment for Bibi
Phagwara, April 8
No VIP treatment is being given to Bibi Jagir Kaur in jail, in violation of the jail manual, said Minister of Jails,Tourism and Culture Sarwan Singh Phillaur while talking to mediapersons here today.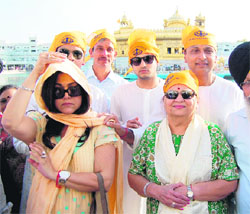 Reliance ADAG group chairman Anil Ambani and his family members at the Golden Temple on Sunday. Photo: Sameer Sehgal
Committed to raising water table: Minister
Bathinda, April 8
Punjab Irrigation Minister Janmeja Singh Sekhon yesterday said the government was serious about tackling the problem of groundwater depletion in the state and was planning to start recharging projects to raise the level of sub-soil water.
Teachers demand filling of vacant posts
Bathinda, April 8
Representatives of the 7,654 Sanjha Adhyapak Front, Punjab, met Punjab Education Minister Sikander Singh Maluka at his residence and voiced their grievances related to their pending salaries, regularisation of posts and filling of the vacant posts.
Delegates to meet Education Minister today
Nawanshahr, April 8
The Master Cadre Union, Punjab, would raise the immediate release of promotion list and to provide stations of choice to promoted teachers among other issues during a meeting with Education Minister Sikander Singh Malooka on Tuesday.
Bureaucrat to head silver jubilee events
Chandigarh, April 8
Punjab civil servant Devinder Singh Saroya has a rare distinction to his credit. He has been named as the Chief Executive Officer for the silver jubilee celebrations of the seven zonal cultural centres in the country.
Addiction: Methadone treatment found useful
Bathinda, April 8
Barring one or two intravenous drug users, all others who have been taking Methadone medicine daily as part of their treatment at the Methadone Treatment Centre here, said after taking the medicine for over a month, they were feeling better as during this period they had never taken any drug.
Moga offices mock at Service Act
Moga, April 8
The Right to Service (RTS) Act to provide time-bound service is in force in the state for the past four months, but the common man in Moga still faces many hardships in getting his routine work done in the government offices.
Over 100 wheat procurement centres in Patiala
Patiala, April 8
The administration has set up 104 wheat procurement centres across the district for the convenience of farmers in selling their crop, said Divisional Commissioner SR Ladhar here.
3,400 await Shagun amount in Bathinda
Bathinda, April 8
About 3,400 beneficiaries of the Shagun Scheme in Bathinda district have not received the payment of Rs 15,000 each from the Welfare Department, Punjab, for the period September 1, 2009 to March 31, 2011.



Govt told to complete Peerjain hospital
Fatehgarh Sahib, April 8
The Punjab and Haryana High Court has directed the state government to complete the Child and Mother Healthcare centre at Peerjain village under the public private partnership or any other mode and take the decision in this regard within four weeks.