CBI failed to prove Bibi had tried to hide evidence
Aman Sood
Tribune News Service
Patiala, April 3
The 'sangat darshan' held to enable people to pay their last respects to Harpreet Kaur after she died on April 21, 2000, helped the accused be acquitted of the murder charge.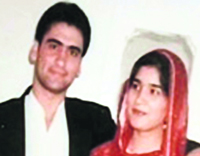 Kamaljit Singh and Harpreet Kaur in a file photo
The CBI failed to prove in court that the powerful Bibi Jagir Kaur tried to "hide evidence" through a hurried cremation. Disagreeing with the CBI, Patiala Additional Sessions Judge Balbir Singh asserted that Harpreet's body was kept at the Bibi's Begowal residence for three hours prior to the cremation. The defence had argued that if the accused wanted to hide evidence, they would not have held 'sangat darshan' at this scale.
"Therefore, the death of Harpreet Kaur not being unnatural, cremation was done in the presence of the public, politicians, officers of the police and civil authorities, including the Chief Minister, after the body was kept for 'sangat darshan' for sufficient time for the residents of the village, relations and others...," held the court.
In its final verdict, giving the benefit of doubt to the charge that no postmortem was performed in a bid to suppress evidence, the court ruled that Harpreet's death was not homicidal but rather because of acute dehydration.
The judge said though all the accused had prayed for leniency, " I do not find it a fit case for release of any of the convicts on probation and the prayer of the convicts is accordingly declined".

Harpreet murder case
Timelime
April 20, 2000: Harpreet Kaur, alias Rosy, dies under mysterious circumstances
April 27: Kamaljit Singh, a native of Begowal village, claimed that he was Harpreet's husband and that she was allegedly murdered. He approached the Punjab and Haryana High Court on April 27, 2000, pleading for a high-level probe into the matter
June 9: HC orders CBI inquiry. It took almost eight months for the investigating agency to probe the matter
October 3: the CBI registered an FIR and started arresting the accused. While, Phagwara- based Dalwinder Kaur Dhesi and Paramjit Singh Raipur, Satya, Sanjeev, Harminder and Nishan were arrested, Bibi Jagir Kaur secured a pre-arrest bail. -The accused were booked under Sections 201/302/313/344/365/120-B of the IPC and Bibi Jagir Kaur named as the prime accused
January 31, 2001: the CBI filed a charge sheet in the case. It was alleged that Dhesi and Raipur had kept Harpreet in illegal captivity at their palatial residence Jasdil Mansion in Phagwara and Dhesi's driver Harminder, domestic help Satya and SI Nishan Singh, Bibi's personal securityguard were all part of the conspiracy
February 25, 2010: The case turned weak when witnesses turned hostile one after the other. The main complainant, Kamaljit, too turned hostile. Kamaljit told the court that his marriage with Harpreet was fake to manipulate Bibi into agreeing to their union.
March 21, 2011: Kamaljit backtracks from his earlier statement saying he had turned hostile because of political pressure
March 30, 2012: Court convicts Bibi Jagir Kaur, Dalwinder Kaur Dhesi, Paramjit Singh Raipur and Nishan Singh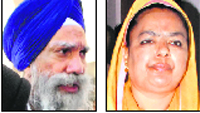 The influential duo
Dalwinder Kaur Dhesi and Paramjit Singh Raipur wield immense political clout. Dhesi's husband is in the UK and her son Tanmanjeet is Mayor of Gravesham. Paramjit Singh Raipur is an Akali leader and SGPC member. He unsuccessfully contested the 2002 assembly poll from Jalandhar Cantt
Paramjit Singh and Dalwinder Kaur Dhesi