State to amend Canal Act
Chandigarh, April 4
Chief Minister Parkash Singh Badal today asked the Irrigation Department to moot a proposal for amending the Northern India Canal and Drainage Act to check the growing malpractice of water theft in the state.
SAD seeks action against Sarna
Amritsar, April 4
The Delhi unit of the SAD, led by Kuldeep Singh Bhogal, today took up the matter of last month's violent clash at Gurdwara Bala Sahib in New Delhi with the Akal Takht today.
Centre proposes religion neutral marriage law
New Delhi, April 4
After wrangling with the Centre for years over their demand for changes to the Anand Marriage Act to allow for compulsory registration of Sikh marriages, the community leaders today hit back at the UPA Government for yet another attempt to ignore their aspirations.
Rumblings in BSP grow louder
Phagwara, April 4
Dissidence in the state Bahujan Samaj Party has assumed alarming proportions after the exclusion of Ramanjit Lally, party candidate from Ludhiana East, by the newly appointed Punjab BSP president, Gurlal Saila, some days ago.
Cong rebels make a point, walk out of Amarinder's tea party
Chandigarh, April 4
It was a tea with a difference. Punjab Pradesh Congress president Capt Amarinder Singh wanted the invited guests - party candidates defeated in the recent assembly elections - to stick to tea. Most did, giving credence to the Amarinder camp's claim that the party rank and file is with him.
Shagun scheme paused
Chandigarh, April 4
A whopping sum of Rs 40 crore is yet to be disbursed among thousands of persons under the shagun scheme for the fiscal years 2009-2010 and 2010-2011 with the Welfare Department detecting fake beneficiaries from among 72,000 identified by various districts after the scheme went online.
Kalkat panel to draft farm policy
Chandigarh, April 4
The state government today decided to set up a high-level committee to prepare a long-term agriculture policy. Agriculture is the mainstay of the livelihood of the people of the state. Its share in the Gross State Domestic Produce is about 28 per cent.
Punjab eyes Rs 3,000 crore rise in revenue collection
Patiala, April 4
Without proposing or levying any new taxes on the already burdened residents, the Punjab Excise and Taxation Department (PETD) is eyeing an overall jump of nearly Rs 3,000 crore in the tax earnings in the present financial year. The total earning through the department is expected to reach a whopping Rs 15,000 crore for 2012-13 through the VAT and the CST.
Ropar Thermal Plant overhaul in record time
Patiala, April 4
Engineers and staff at Guru Gobind Singh Super Thermal Plant, Ropar, have completed the overhauling of the 1260-MW unit No. 4 in 33 days against the allotted 45 days, resulting in a saving of Rs 20.33 crore for the Power Corporation.
De-addiction centres to come up in all jails
Patiala, April 4
Chief Minister Parkash Singh Badal has approved setting up of drug de-addiction centres in all eight central jails in the state. These centers are expected to start functioning in the coming few months.
College teachers demand release of arrears
Patiala, April 4
Teachers of government colleges in Punjab have decided to meet Chief Minister Parkash Singh Badal regarding delay in release of 80 per cent Central assistance to states for meeting additional expenditure incurred by them on account of pay revision from January 1, 2006 to March 31, 2010.
Cong MP to take up tax issue with Finance Minister
Fatehgarh Sahib, April 4
Fatehgarh Sahib Congress MP Sukhdev Singh Libra and MLA Kuljeet Singh Nagra today joined the dharna being organised by the District Swarnkar Sangh at Sirhind town today.
Sharma elected chief of Patiala tax bar body
Patiala, April 4
Parveen Sharma has been elected as president of the Patiala Tax Bar Association during the annual election for 2012-13. Davinder Kishor Batish and Srishti Sachdeva were elected vice president and general secretary, respectively. The elections were held at Aayakar Bhawan here.
Varsity to study Himalayan ants
Patiala, April 4
The Union Ministry of Environment and Forest has sanctioned a research project to the departments of zoology and environmental sciences, Punjabi University, here to study the diversity and abundance of ants in the northeast Himalayas, which would be used as indicators to assess health of the ecosystem there.
108 ambulance service completes a year
Ludhiana, April 4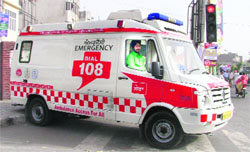 The 108 ambulance service, which was launched by the Punjab government on April 3 last year, has ferried more than 1.5 lakh patients in different parts of the state in a year. The government received 240 ambulances under the National Rural Health Mission in three phases.
Family pension enhanced
Chandigarh, April 4
The Punjab Government has issued a notification enhancing the family pension payable to the family of a government employee who dies in harness.
Young granthi shot dead
Tarn Taran, April 4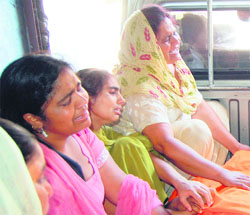 Stopping thieves from stealing a motorcycle from outside the main entrance of Darbar Sahib here proved fatal for a young granthi of the shrine. Sukhchain Singh (28) was shot dead by armed thieves who fled, abandoning the motorcycle, after the crime. Sukhchain was rushed to the local Civil Hospital which referred him to Guru Nanak Dev Hospital, Amritsar. He died on the way.


Wailing family members of the deceased granthi Sukhchain Singh in Tarn Taran. Photo: Vishal Kumar
3 held with US-made arms
Nawanshahr, April 4
The district police has arrested Inderjit Singh of Duhre village, Dinesh, alias Gona, of Alawalpur village and Navdeep Singh of Chaugawan village and seized three US-made revolvers and 19 live cartridges from their possession. The three were nabbed during a special naka by the district police and Ropar's CIA staff near Asron village on the Jalandhar-Nawanshahr highway.