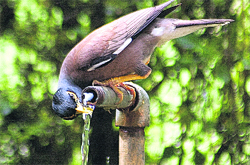 A bird drinks water from a running tap in Chandigarh. Tribune photo: S. Chandan
Company to open stretch at stroke of 12
Chandigarh, April 4
With the Punjab and Haryana High Court today directing the authorities concerned to open the bypass by Friday, April 6, one will now be able to steer clear of the traffic chaos in Pinjore and Kalka bazaars. The company dealing with the operational aspect of the highway will open it at the stroke of 12 Thursday night.
CCTV cameras to be installed in Snehalaya
Chandigarh, April 4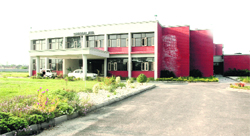 After sitting over the inquiry report for over five months in the Snehalaya issue, the UT Administration has finally swung into action and issued orders to install CCTV cameras and provide family atmosphere to the children in Snehalaya. To counter negative feelings among them, the UT Administration has also decided to start yoga classes, educational tours and some entertainment for the children.
PEC students score a first with their dream machine
Chandigarh, April 4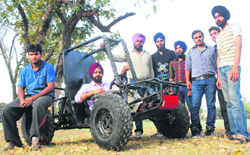 A team of 10 PEC university students is all set to "go-off road" with their All Terrain Vehicle (ATV) at BAJA Auburn competition to be held in Alabama, USA, later this month.




Students of the PEC University of Technology stand beside their All Terrain Vehicle on the college campus in Sector 12, Chandigarh, on Tuesday. tribune photo: s chandan

This 'Dhoni' too leads from the front
Mohali, April 4
Certainly, this "Dhoni" is "overburdened" these days. With the Indian Premier League (IPL) round the corner and other assignments also on hand, this only trained dog of the Mohali district police in sniffing explosives has been working "extra hours" of late.
'Dhoni', the police dog
Sec-17 no-vehicle zone
Admn, MC meeting today
Chandigarh, April 4
A special meeting of UT Administration and municipal corporation (MC) officials to finalise a draft plan for introducing a no-vehicle zone for Sector 17 will be convened by UT Administrator Shivraj Patil tomorrow.


Alcoholism playing havoc with families
Chandigarh, April 4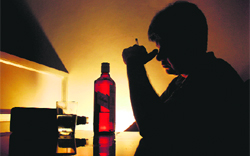 The shocking incident of an alcoholic government official shooting at his 22-year-old daughter in Sector 41 here recently has once again brought under sharp focus the deadly disease of alcoholism, which is playing havoc with the lives of drunkards and their families. Families try all means to control the menace that has sunk deep into the fabric of their lives. An alcoholic does not listen to any counselling. An elder's comment is seen as unnecessary interference and wife's comments are dumped as 'emotional blackmailing'.
First person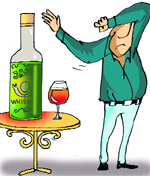 'It was hopeless state of mind and body'
Fresh from one of the best boarding schools in Dehradun, it was a new-found freedom for me at the sprawling Jawaharal Nehru University (JNU) hostel in New Delhi when I tasted beer for the first time at the age of 16. Finally, I had become a man from a boy, as one of my seniors told me during a drinking session. Drinking beer, once or twice a week, was new sign of manliness for a small-town guy like me. Of course, I enjoyed the effect produced by the mood-altering substance, first beer and then whisky and wines. No weekend was complete without the drink even as I scoffed at my "poor" sober friends.
Special trains to Goa, Jyotirlingams
Chandigarh, April 4
The two special trains scheduled to leave for Goa and seven Jyotirlingams have got a huge response. While all the seats have already been reserved by passengers for the train leaving for the Jyotirlngams, only a small number of seats on the train to Goa were available on Wednesday.
PCA finds SHO at fault, seeks warning
Chandigarh, April 4
In yet another order, the Police Complaint Authority (PCA) has found the SHO of the Sector-31 police station, inspector Jaspal Singh, guilty of misuse of power and has requested the UT IGP to issue a recorded warning to him.
Milkmen threaten nationwide stir
Chandigarh, April 4
Residents of Chandigarh as well as other parts of the region can go without milk supply in the coming days. The milkmen of Punjab have planned to start a nationwide stir in case the government fails to increase the procurement price of milk.
Residents gherao police station
Chandigarh, April 4 Infuriated over the arrest of a maid by the Sector 39 police station, over 250 residents of the Sector 25 colony today laid a siege to the police station. A case of theft was registered on a complaint of her employer TR Singla.
Ticket rates at multiplexes head north
Chandigarh, April 4
From coming Friday watching movies in the multiplexes of the city will now cost more as the UT Administration has agreed for the revised rates of tickets. After a gap of long four years, the rates of tickets in multiplexes have been increased.
IAF's helicopter unit celebrates silver jubilee
Chandigarh, April 4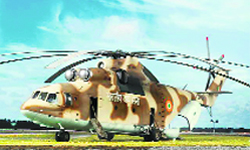 The Indian Air Force's only heavy-lift helicopter unit, 126 Helicopter Flight, is celebrating its silver jubilee at the Chandigarh Air Force Station. Christened The Feather Weights, the flight was raised in Chandigarh on May 15, 1986 with Wg Cdr BK Sharma as the first Commanding Officer. Presently commanded by Gp Capt Jang Veer Singh Guron, the unit is equipped with the Mi-26, the largest helicopter in the world, which has a strategic role and is capable of carrying loads up to 20 tonnes.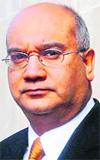 British MP of Indian origin to act in film
Chandigarh, April 4
A British MP of Indian origin, Keith Vaz, is all set to create history by featuring in an international film to be shot on the famous Belgrave Road in Leicester East. The movie "Jadoo" (magic) is being shot on the Belgrave Road, the best, busiest and biggest Asian shopping street in Europe, which forms a part of Leicester East, the parliamentary constituency of Keith Vaz representing Labour Party. Incidentally, this is his 25th year in Parliament. "I am immensely proud to represent the people of Leicester East.
Keith Vaz
No stadium misuse, for now
Panchkula, April 4
Following a controversy over the alleged misuse of Tau Devi Lal Stadium here, the Big Punjabi Music Awards function was cancelled by the organisers here today.
100 examined at dental camp
Mohali, April 4
Over 100 students of Government Model Senior Secondary School, Phase 3B2, got their dental check up and blood test in a free medical camp on the school premises here today.
Unidentified woman run over by train
Mohali, April 4
A young unidentified woman was killed as she was run over by a train near the Amb Sahib Colony at Phase XI here this evening.


Pvt schools skip vocational courses
Chandigarh, April 4
It's unfortunate but true, the city private schools that swear by their quality of education have failed miserably to be a part of the ongoing reformation of the senior secondary education.
PU may introduce teacher evaluation
Chandigarh, April 4
It seems that the teacher evaluation would be finally introduced at Panjab University with the Panjab University Teachers' Association (PUTA) agreeing to the proposal on a condition that the exercise would strictly remain between a teacher and a student. A meeting was held today that was attended by the dean student welfare (DSW), hostel wardens and PUTA representatives, along with members of the student council.
100 to participate in 'Emanation-12'
Chandigarh, April 4
More than 100 colleges, including universities, have confirmed their participation in "Emanation 2012", which aimed at capturing budding engineers and university students from various streams like management, pharmacy and mass communication on April 6 and 7 on its premises at Baddi, a press release said here today.
117 get jobs during drive
Chandigarh, April 4
The campus placement drive, Avsar, turned out to be lucky for 117 students who have got placed in various companies offering average package between Rs 2 lakh to Rs 4 lakh. Stealing the show is three students from the science department who have bagged a handsome package of Rs 8.4 lakh. While a company offering a package of Rs 9 lakh would be visiting the campus soon.
GOVT SCHOOLS
PIL to chalk out plan for upgradation
Chandigarh, April 4
Three city residents have filed public interest litigation (PIL) in the Punjab and Haryana High Court requesting it to direct the UT Administration to chalk out a time-bound plan for upgrading the government schools to bring them at par with the private schools in the city. The upgradation of the infrastucture, according to litigants, should include providing of proper toilets, laboratories, furniture, sports facilities, modern education means as in smart school concept, etc, should be made. The litigants have submitted that poor infrastructure and quality of education has taken its toll on the admission scenario where parents are forced to flock the private schools, which do not have optimum seats.