The new intellectuals
Pakistan's new public intellectuals are television talk-show hosts, so-called analysts and journalists. These individuals have an eager public listening to their observations, analysis and insights every day, often many times a day, and they have the extremely powerful medium of television
S. Akbar Zaidi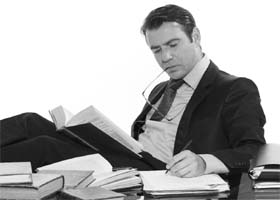 IT seems impossible to imagine a society, even such as ours, without intellectuals. They have existed from time immemorial, in every society, at different layers of the social strata interacting with, and frequently changing, the course of history, and of the future.
Intellectuals, in the past, have spoken, written, thought, proselytised and made different kinds of interventions in social processes. They are often considered to be the moral keepers of nations and societies, those who give direction, hope, those who explain and unravel issues which others fail to comprehend.
Intellectuals are a core component of society and are located at numerous steps of the social spectrum, many of them faceless, unknown. Allahrakha or Bala, sitting on their charpai near Mandi Bahauddin in the presence of locals explaining their notions of life and its meanings, are intellectuals, just as much as Shaukat Ali, sitting on the banks of a river with a group of friends under a moonlit sky discussing and explaining how the wheels of time move. But public intellectuals are those who require a public and a forum or public sphere.
In the West, at least, many of those who are considered public intellectuals and have thought and written about such issues are considered to be critics who offer 'counter-discourses' to their "merely professional routines creating social capital and cultural power". Many of them, at least in the West, and especially those who are also academics, trace their lineage according to scholars, to "a tradition of rhetorical political inquiry, the domain of Socrates and Cicero, precursors to contemporary public forms and forums of democracy".
As public intellectuals — as opposed to those who hold opinion in private or small circles — such individuals are called upon "to make public pronouncements on issues that ostensibly lie outside the purview of the academy", as some academics have argued. Hence, they are public intellectuals, not simply lecturers and teachers. While there are scores of intellectuals who are formally outside the academy as well, one would argue that in the tradition of the modern West (and even East), at some time or the other, most have been located in academia, howsoever defined. Not so in Pakistan.
Pakistan's new public intellectuals are television talk-show hosts, so-called analysts and journalists. These individuals have both an eager public listening to their observations, analysis and insights every day, often many times a day, and they have the extremely powerful medium of television, which has become the new public sphere. Most of these individuals are interpreters of our maladies, they give direction, propose solutions and sanction what is moral and what is not and determine codes of ethics. They do exactly what public intellectuals do.
Of course, a more radical interpretation of the public intellectual is based on Gramsci's notion of the 'organic intellectual', who not only interprets the world, but actively changes it.
Here again, in this manner, the Pakistani intellectual no longer exists, since the organ itself has shrivelled and died. The presence of only variants of mainstream politics — with the exception of the radical religious right — precludes any notion of a Gramscian intellectual. Whether one calls the leaders of radical religious groups 'intellectuals', or ulema, or politicians, or something worse is worthy of intellectual debate.
Barring a few notable and exemplary exceptions, whether from the right or the non-right (it is impossible to call the other the left or even liberal), the spectacle of Pakistani intellectuals holding forth on complicated moral and ethical issues of consciousness, is just that - a spectacle.
These new intellectuals hold immense power and sway over a receptive audience, who are certainly by no means mere empty repositories of what is handed to them, yet are still unthinkingly and unimaginatively receptive to ideas and themes, and are fed opinions which are at best not thought through, if not highly biased and prejudiced. The level, quality and standard of discourse, for all that it is worth and for all that it contributes, cannot be considered to be intellectual. Perhaps it is not even meant to be.
This is obviously not the fault of those who are given or like many who appropriate the mantle of the intellectual but has far deeper systemic and intellectual roots. The state of the social sciences and humanities in Pakistan, the state of academia more generally, all of which are so critical to the formation of intellectuals, is self-evident.
Intellectuals emerge through an understanding of history, philosophy, theory and much more. Also, public spaces where those who have such skills can raise them interacting with others, creates an intellectual forum. Even if one had the sort of intellectuals who emerge from such academic traditions and disciplines — and Pakistan has very few — the absence of public forums aggravates matters.
With the op-ed pages of newspapers, or now television, the only forum for public debate, where retired bureaucrats, foreign secretaries or generals and journalists espouse opinions largely about contemporary politics or US-Pakistan relations, clearly an intellectual space doesn't exist.
Again, this is not the fault of producers or editors or even those who do write and speak, but shows the absence of those who ought to. Many of those who could have emerged as intellectuals, have chosen a far easier, less troubling or challenging and far more lucrative existence, choosing to become consultants or joining 'think tanks', always distancing themselves from any 'oppositional consciousness'.
The absence of academics, scholars and intellectuals offers a partial explanation to why Pakistan is the way it is. The quality of those who actually are Pakistan's new intellectuals helps complete that explanation.
The writer is a political economist. By arrangement with Dawn, Islamabad