Unhappy with SC judgment, pvt unaided schools to seek review
Aditi Tandon
Tribune News Service


RTE Act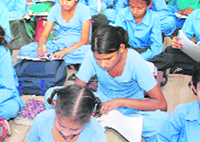 New Delhi, April 13
The government will have to wait longer to get non-minority private unaided schools on board for the implementation of the Right to Education Act (RTE) and its controversial provision of reserving 25 per cent seats for disadvantaged children at entry level.
Dissatisfied with the Supreme Court judgment which yesterday held the Act constitutionally valid, unaided private non-minority schools of the capital are contemplating filing a review petition in the apex court.
The court had held that the law would apply to all government and unaided private schools (except unaided private minority schools).
The Action Committee of Private Recognised Unaided Schools, New Delhi, one of the petitioners in the case, today said the dissent note given by Justice KS Radhakrishnan yesterday gave them a reason to seek review of yesterday's order.
"One of the three judges on the Bench dissented. We are seeking legal opinion in the matter and will, in all probability, file for review," SK Bhattacharya, secretary, Bal Bharti School, New Delhi, and president, Action Committee, today told The Tribune. The committee has 2,000 private unaided schools as its members.
Bhattacharya said the provision of free and compulsory education to children aged 6 to 14 years under Article 21-A of the Constitution (from which the RTE Act is derived) was the responsibility of the state.
"The government is shifting its responsibility to us. It should improve its own schools so that private schools are not burdened with admissions. We are not against the RTE Act, but then, its implementation should not leave us financially crippled. We are ready to reserve 25 per cent seats provided the government reimburses 100 per cent cost of every child who comes in on the quota. Or else, the fee-paying students will have to suffer," Bhattacharya said.
RTE campaigners, advocate Ashok Agarwal and educationist Vinod Raina (who was part of drafting of the Act), welcomed the SC judgment saying it was a relief as the matter had been constitutionally clarified.
"The 25 per cent quota is valid except for unaided minority schools. We can now get down to implementation," Raina said.