CBI arrests BJP MLA, files chargesheet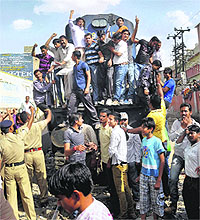 Supporters of BJP MLA Rajendra Rathore stop a train protesting his arrest, in Bikaner on Thursday. — PTI

Jaipur, April 5
Former Rajasthan Minister and BJP MLA Rajendra Rathore was today arrested by the CBI which also promptly filed a charge sheet against him for his alleged involvement in the fake encounter case of local liquor smuggler Dara Singh in 2006. The 56-year-old Rathore, a five-time MLA, was arrested by the CBI amid slogan-shouting by his supporters who had assembled at the agency's local office.
The high-profile arrest of Rathore comes nearly six weeks after the CBI arrested absconding Additional Director General of Rajasthan Police A K Jain, who had been named in the charge sheet by the CBI for his alleged involvement in the fake encounter of Dara Singh.
In its charge sheet filed last year in June, the CBI alleged that Dara Singh was taken into illegal custody by the SOG officials from Jaipur Airport and was taken to a lonely place near Amber where he was kept hostage till October 23, 2006, when he was killed in a planned manner.
"The circumstantial evidence shows clearly that Dara was murdered in cold blood by SOG personnel and the same was duly monitored by ADG Police A K Jain, SP SOG A Ponnuchammi and Additional SP Arshad Ali along with other officials and during this entire period Rajendra Rathore (a sitting BJP MLA) was on telephonic touch with Jain, ADGP," the charge sheet had said.
However, Rathore, before his arrest, claimed that he was being implicated falsely at the behest of the Congress government. "I did not know the person who was killed in the encounter before the incident was reported in newspapers next day in October 2006," the former Public Works Minister said.
"It is very unfortunate that I am being implicated falsely but it is fortunate that you all are gathered here to give me moral support. I will return and resume my work to strengthen the party," he said before his arrest at a public meeting which was attended by BJP leaders including Vasundhara Raje.
In a statement, the CBI said the MLA had been arrested for an on-going investigation relating to the fake encounter case.
Dara Singh, a resident of village Mundital of Churu district was allegedly killed by Special Operation Group, Rajasthan on the outskirts of Jaipur on October 23, 2006. On a petition filed by wife of deceased Dara Singh, the Supreme Court directed the CBI to take up the investigation.
"The investigation revealed that Dara Singh was allegedly killed in a fake encounter in pursuance of a criminal conspiracy. During the course of investigation, accused persons were examined and given sufficient opportunity to present their plausible explanation or defence," the spokesperson said in the statement.
A charge sheet was filed against 16 persons - Jain and 15 others - under various sections of Indian Penal Code. Out of this 12 accused are at present in jail while three policemen and another person are absconding.
Those chargesheeted in the case were the then Additional DG (Crime); the then SP (SOG); the then Additional SP (SOG); seven Sub-Inspectors; the then three Head Constables; the then two Constables - all of Rajasthan Police and one private person.
While filing the charge sheet last year, the CBI had sought permission of the court to keep the probe open as some other persons could be arrested for their alleged involvement in the conspiracy behind the killing of Dara Singh. — PTI
Dara Singh case
Dara Singh, a resident of village Mundital of Churu district, was allegedly killed by Special Operation Group, Rajasthan on the outskirts of Jaipur on October 23, 2006. On a petition filed by the wife of deceased Dara Singh, the SC directed the CBI to take up the probe
What chargesheet says
In its chargesheet, the CBI alleged that Dara Singh was taken into illegal custody by the SOG officials from Jaipur Airport and was taken to a lonely place near Amber where he was kept hostage till October 23, 2006, when he was killed in a planned manner
MLA refutes charges
Rathore claimed that he was being implicated falsely at the behest of the Congress govt. "I did not know the person who was killed in the encounter before the incident was reported in newspapers next day in October 2006," the former Public Works Minister said