AFSPA amendments pending before CCS: Chidambaram
Tribune News Service
New Delhi, March 31
Union Home Minister P Chidambaram today said the discussion with chief ministers on the National Counter Terrorism Centre (NCTC) could possibly be allowed more time, revealing also that his ministry has sought three amendments to the Armed Forces Special Powers Act (AFSPA).
The AFSPA is in force in Jammu and Kashmir and parts of the northeast. There have been demands to remove the Act.
Addressing mediapersons, the Home Minister said three amendments have been sought to AFSPA. The proposal is pending before the Cabinet Committee on Security headed by the Prime Minister.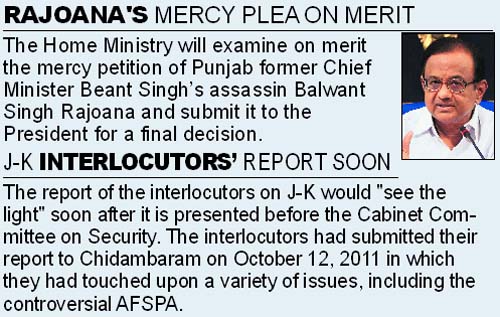 The minister was replying to questions about the suggestion made by the United Nation special rapporteur on extra-judicial summary or arbitrary executions Christof Heyns that AFSPA should be repealed as it was "symbol of excessive state power and has no role to play in a democracy".
He said that the report of the UN rapporteur was both 'negative and positive.'
In his understanding, the UN rapporteur had made some positive statements" on AFSPA. The Home Minister said, "Yes, we take note of the view but that's not a novel idea as there are a number of people who have expressed the same view and there are others who have a contrary view which is why the issue remains unresolved.
"The Ministry of Home Affairs, after considering the Justice Jeevan Reddy report and all other reports, is seeking three amendments to AFSPA," Chidambaram said refusing to spell out the amendments.
Sources in the ministry, however, said the amendments include taking arrest warrants in advance, taking away the power of the armed forces to open fire causing death and setting up of a grievance redressal cell.
But these proposals may not be cleared in the existing form. The armed forces have made it clear that they cannot operate without the AFSPA.
Chidambaram, who is facing a demand from the states that the NCTC should be the only matter to be discussed at the April 16 meeting of chief ministers on internal security, said the meeting could possibly be extended by a day to address the issue.
West Bengal Chief Minister Mamata Banerjee and her Gujarat counterpart Narendra Modi have demanded that the NCTC should be the theme of the conference while the Centre has a wider agenda for the meeting.
Asked whether there was a possibility of extending the day-long meeting to two days, he said, "That will depend on the convenience of the Prime Minister and chief ministers. But that is an option."