| | | |
| --- | --- | --- |
| | OPED — WOMEN | |
Substance of a woman
In the race for equality of sexes, somewhere, somehow the concept of woman's emancipation has been misconstrued. It's time to take stock and redefine empowerment in sync with our cultural values and mores
Rajesh Gill
Contemporary woman is 'empowered', at least theoretically if not practically. By that I mean that she is granted equality by the law in all spheres of life, i.e. education, employment, ownership of property, marriage as well as its dissolution, political participation, governance and so on.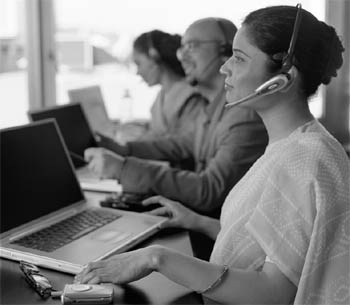 Societal stranglehold
It is another fact that our social norms and values are not yet commensurate with the legal rights and, more importantly, these tend to wield much greater power in life of an individual than what the law says. The situation is very difficult, not only for women but for men too, who are often confused as to whether to follow the law or social dictates. This conflict is best reflected through the phenomenal dominance of khap panchayats in states like Haryana and Rajasthan, which clearly announce that social norms are more important than any statute. The most recent case of Bibi Jagir Kaur who has been convicted of forced abortion and abduction of her daughter resulting into her subsequent death again underlines the enormous power exercised by social values (putting the whole onus of honour on a girl). Clearly the self-appointed guardians of honour give two hoots to the constitutional provisions of the land. While there are strong voices condemning Bibi for violating the legal rights of her own daughter, mostly expressed in public spaces, there are numerous whispers making noises in private spaces, visualising a mother whose teenaged daughter, preparing for her medical entrance exams, indulges in sexual relationship with or without marriage, and gets pregnant. Commenting for a woman out there and for someone close to you entails an altogether different reaction. So dreadful is the societal pressure on a normal individual that one generally would easily violate law just to gain social acceptance. Society too ostracises social deviation much more cruelly than a legal violation.


Shades of empowerment
Wear high heels, mascara, and whatever else you want. I sure do. But let's not forget that by doing this, we're adhering to a narrow, male-created vision of hotness. Again, this isn't to say it's wrong to want to look "hot," and to go along with the status quo from time to time, but let's not call it empowered. Call it what it is — fun and easy.
Jessica Valenti in Full Frontal Feminism, 2007
The millions of women and girls who are unable to reach this standard of beauty feel a sense of failure, shame, and guilt. This dissatisfaction with one's body is a major cause of eating disorders, which have increased through the years as women's ideal body weight as it is portrayed in the media has decreased
Study by Wiseman, Gray, Mosimann, & Ahrens, 1992
The constant abuse of women's sexuality to sell products in the beer, sports, film and music industries has completely distorted our understanding of women's empowerment. The commodification of women undoubtedly contributes to the high incidents of rape and physical assault in our society. In the US, a woman is raped every three minutes, and 55 per cent of women report having experienced rape and/or physical assault in their lifetime.
Sisterhood Is Global Institute, 1998.
Double standards
For instance, parents take pride when their 12-year-old son drives a motorcycle or car, ridiculing other parents who do not allow their son to do so in compliance with law. It is also considered normal and masculine for young boys to tease girls, follow them and chase them in filmy style, although it may come under the legal definition of 'eve teasing' or 'outraging the modesty of a woman', as a criminal offence. The whole society including its leaders and policy makers give a damn about the Dowry Prohibition Act that was enacted long back in 1961, because it is extremely difficult to deviate from the social practice of dowry. Till date, it is considered royal and prestigious (socially) for a man to have sexual relations with multiple women outside the wedlock, with an utter disregard for the Statute which defines such an act as a criminal offence punishable under law.
Patriarchal values
In this scenario, it is natural that it suits more men to cling to the conventional social practices and norms, patriarchal to the core, with a disdain for women's empowerment. In fact, there is a growing sentiment against women's liberation simmering within the privacy of homes, matrimonial negotiations and conjugal relationships, blaming the 'empowered woman' for all the marital breakups, neglect of aged parents, unattended children, wrong eating habits, falling moral standards, even increasing gender violence and so on. It is time we addressed the issue face to face and examined as to how we define an 'empowered woman'. Academic discourses indicate that it is not possible to arrive at a single definition which could cover all women, viz. illiterate and educated, home makers and gainfully employed, rural and urban, upper caste and dalit. Despite these problems, the issue must be confronted at the earliest lest whatever has been gained till now becomes counterproductive.
Culture-specific values
While it is fashionable to embrace the western definition of empowerment, it won't work since no tradition or culture can be erased. We have to evolve our own definition of empowerment for a woman, in tune with our culture, familial values and norms. Learning from the West, we must learn to carry forward our families and relationships, of course along with our men, forging a healthy society. A woman would enjoy empowerment only when she, like any other human being, is provided with equal life opportunities to create her own identity as an individual and does not exist just as an appendage. Empowerment must also entail the knowledge of and capacity to exercise the legal rights granted to women by the law. In a social system where life opportunities and capacity building depend upon the caste and gender of a person, the project of woman's empowerment is likely to be a farce.
Choices and responsibility
In a society like India riddled with extreme kinds of inequalities in income, gender, caste and literacy, it is just not possible to instantly achieve women's empowerment. In such a situation, a huge responsibility falls upon women who are fortunate enough to have created an identity of their own, with the capacity to make choices at career and home, a power to influence others in private and public lives and take decisions for themselves and for others. It is these women who carry the burden of lifting other women who are still groping in the dark, oblivious of their legal rights, lost in the drudgery of physical and mental bondage, completely detached with the concept of empowerment.
With numerous laws enacted by the state for the benefit of women with the objective to pull them out of mental and physical slavery in the name of marriage, it is very important that women do not misuse these advantages for petty gains. The blatant misuse of Section 498A of the IPC by a large number of women has already damaged the trust of people in the institution of law. There is a rampant practice of sexual harassment at workplace in India, and yet public institutions have been avoiding the implementation of the Supreme Court guidelines for the constitution of Committees to safeguard women in different capacities. While it would be a sin on the part of a woman employee to falsely implicate a man under such law, it would be a greater sin if a woman does not come to the rescue of another woman being sexually harassed within her knowledge. Women must realise that they cannot enjoy empowerment unless others remain disempowered. Also by misusing her own empowerment, a woman pushes the process back, damaging not just the cause of other women unknown to her, but her own generations of women.
Unwarranted freedom
It is common for young girls today to interpret empowerment as 'freedom' to do whatever they wish to; to follow their own norms of dressing, eating, living and so on; because men too enjoy their 'freedom' this way. In the process, enjoying sex too has become a sign of freedom. True, if men can enjoy and 'get away' with sex, why can't women? But unfortunately, it is women who bear the brunt physically and psychologically because of their biological peculiarity. While a man can enjoy sex and walk away, a woman has to bear its consequences. Another kind of 'freedom' women associate with empowerment is from the clutches of family, kinship and child rearing. True that all these are not exclusively women's responsibilities, but these are very important responsibilities without which societies would collapse, the way many western societies have, with hired nannies to look after the young and the old, purchasing their services with money. Women would have to define 'freedom' for themselves in a broader way, using it to carry along the precious relationships, their most valuable asset of motherhood and families, in partnership with their men, both being equally accountable for common social responsibilities. Both men and women have to be cautious that in the process of getting 'empowered' and independent, we must not ruin our families, children, elders and values, heading for a socially alienated society constituted of disgruntled individuals, each enjoying his/her own individuality.
Market dictates
The project of women's empowerment can certainly not be entrusted with the market. It has already played havoc by selling empowerment through zero figure, heightened sense of femininity, show of skin and body contours, and commodification of woman as an 'item'. Women shall have to take the responsibility of defining 'empowerment' and broadening the circle so that many more could be accommodated in it. Women must learn to be recognised for their enormous abilities which are much more diverse than just the physical contours.
The writer is Chairperson, Departments of Sociology and Women's Studies, Panjab University, Chandigarh