Stuck in hell hole, he hung on to hope
Deepkamal Kaur/TNS
Jalandhar, April 19
It's almost a similar survival tale of two teenaged friends from Bihar who were together minutes before tragedy struck the Shital Fibres building at Jalandhar Focal Point around 11:30 pm on Sunday. Both saw death from very close as they lay trapped under the rubble — a few metres away from each other.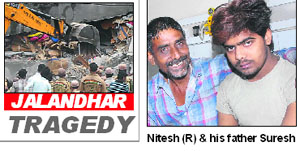 While Sanjiv was saved around 51 hours after the mishap at 1:20 am on Tuesday, the Almighty blessed Nitesh with a "new life" at 12:30 am on Wednesday, 73 hours after the illegal blanket-manufacturing factory building came down like a pack of cards.
Now, the friends lie united again. They are receiving treatment at the same hospital — their beds are at a distance of a few metres. Like Sanjiv, Nitesh too hid under a cutting machine and both survived with minor bruises. Both are finding it hard to believe they were taken out alive even as several of their colleagues weren't so fortunate. Nitesh recalls his ordeal: "There was some noise and a few seconds later, the building came down. I hid below a cutting machine."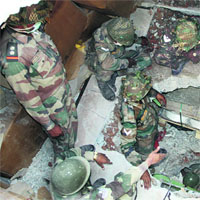 Army jawans drill a hole to look for survivors in the rubble of the collapsed building in Jalandhar. Tribune photo: Malkiat Singh
Though unusual, he says, he neither felt thirsty nor hungry for three days. "I had finished my dinner minutes before the mishap… The only thing that bothered me was the tremendous heat. Rats were moving around, but they didn't trouble me much." One thing that he missed the most was his cellphone. "My friend Amarjit, who too has survived, took my mobile phone half an hour before the disaster. Had I got it, I would have easily contacted my friends."
In frustration, Nitesh tore all the currency notes, totalling around Rs 9,000, he had in his purse. He had received his salary hours that day. "I had lost all hopes. I tore the entire bundle of notes at one go and then kept on toring them into smaller bits. As I did all this, I only had one thing on my mind: If at all the Almighty gives me a chance to live, he may even bless me with more money," he remembers while laughing at his foolishness. Nitesh would be receiving Rs 40,000 as relief from the Punjab Government.
It was around 10 pm yesterday that Nitesh heard the rumbling of machines. "I heard some noise and shouted for help. The response came and I kept on answering whatever the rescue team asked me….They finally reached me after around two-and-a-half hours," he narrates.
Asked if he tried to collect the bits of currency notes when he saw help coming his way, he says, "I was so excited to come out that I did not even for once want to return into the hell hole."
Nitesh says he and his father Suresh Yadav, who came from Bihar after learning about the incident, sat down weeping for around an hour. "I am eager to see my mother and younger brother in Bihar. I am not really sure whether I will ever return to work in Punjab," exclaims Nitesh, his face beaming with joy.
The death toll from the Jalandhar building collapse incident has risen to 19 while the count of those rescued from the rubble has touched 62. The number of casualties may further rise as the debris of the ground and first floors of the four-storeyed building was yet to be cleared. Deputy Commissioner Priyank Bharti said nine bodies had been extricated till Wednesday while one more was pulled out from the debris on Thursday. Besides, the Army and National Disaster Response Force personnel had spotted nine bodies inside, which were yet to be pulled out. Bharti said the administration would confirm the deaths of these nine workers only after their bodies were extricated.
The police remand of Shital Vij, owner of the collapsed factory, has been extended by four more days by a city court today. Shital was produced in the court of illaqa magistrate Tripatjit Kaur, who remanded him to police custody for four more days till April 23. The police had requested the court to extend the remand for at least seven more days for procuring the record, including the register of the employees working in the factory and getting other relevant information from him.