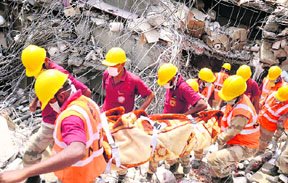 Members of a rescue team bring out a body from the debris of Shital Fibres building that collapsed on Sunday night

Capt for probe by retd judge
Jalandhar, April 18
Punjab Pradesh Congress Committee president Capt Amarinder Singh today visited the disaster site and demanded a high-level probe into the incident. Amarinder, who took stock of the rescue operation, claimed the multiple probe committees, as set up by the Punjab Government to ascertain the reasons behind the disaster, won't serve any purpose. Instead, he said, a high-powered committee headed by a judge or a senior engineer should be appointed for the job.

Hopes recede, victims' kin fear the worst


Blanket loot at disaster site


A gadget that saved several lives
---
Capt: Withdraw cases in 2 weeks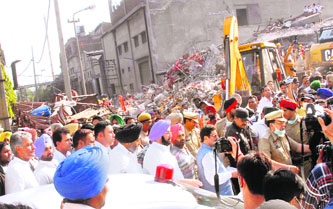 Patti (Tarn Taran), April 18
Former Chief Minister and PPC president Capt Amarinder Singh today served a two-week ultimatum on the SAD-BJP regime for withdrawing "false cases" registered against Congress workers. He warned that if this was not done, his party workers from across the state would take to the streets and "bring Punjab to a halt".
PCC chief Capt Amarinder Singh in Jalandhar. Tribune photo

No vendetta, Congress misleading people, says Badal
PM to inaugurate Bathinda refinery on April 28
Chandigarh, April 18
Prime Minister Dr Manmohan Singh will inaugurate the Rs 19,000 crore Bathinda refinery on April 28. Deputy Chief Minister Sukhbir Singh Badal, who has personally monitored the establishment of HPC-Mittal Energy Limited (HMEL) refinery at Phulokeri near Bathinda, is set to make it a moment of crowning glory for the party and the government, especially after the project was "stalled" by the Congress government in the state earlier.
Abolition of quota by Thapar University
Backward Classes panel seeks explanation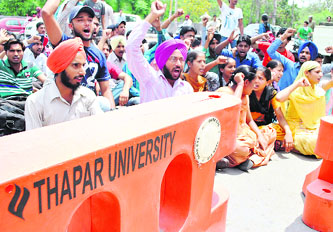 Chandigarh, April 18
Thapar University, Patiala, which is already facing flak for doing away with 50 per cent quota for Punjab domicile students, has now been asked by the State Backward Classes Commission as well as the State Welfare Department to explain how it has ended the backward classes (BC) and sports quota for various engineering courses in the institution.
Members of the Punjab Students' Union hold a protest in front of Thapar University in Patiala on Wednesday. Tribune photo: Rajesh Sachar

Students hold protest dharna
Patiala, April 18
Members of the Punjab Students' Union today staged a dharna outside Thapar University here demanding restoration of the domicile quota for Punjab students. Blaming the university for ignoring the interests of Punjab students, PSU state secretary Beant Singh said the decision was a major setback for aspiring engineers of the state who want to study in a reputed institute.
Town planning dept surrenders 193 posts
Engineers' body flays move
Chandigarh, April 18
The Punjab government's decision to surrender 193 posts, including a large number of posts of junior engineers in the Town and Country Planning Department, has literally sets the cat among the pigeons.
Govt explores options to tide over fiscal crisis
Chandigarh, April 18
The state government has started an exercise to identify options to tide over the fiscal crisis. Chief Secretary (CS) Rakesh Singh yesterday held a meeting with senior officers of the Revenue, Excise and Taxation, Transport and some other departments to discuss what their departments could do to generate more revenue. More such meetings with other departments would be held soon.
...may slash fuel expenses of officers
Patiala, April 18
The Punjab government is contemplating slashing fuel expenses of officers and imposing stringent checks on buying new cars, stationary items and computers. The government has also decided to tighten its grip around tax evaders.
Illegal drugs recovered from chemist shop in Patiala
Patiala, April 18
A team of the Health and Family Welfare Department today raided a chemist shop at Bhadson today and seized different types of banned drugs.
Super-speciality services in three medical colleges
Chandigarh, April 18
The Punjab Government has decided to start super- specialty services in all the three medical colleges in the state.