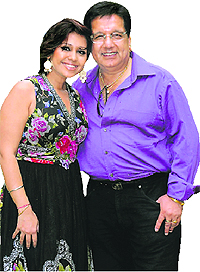 Song of Success
It is fifteen minutes of fame versus over three decades of perseverance; modern lyrics dedicated to ammunition, swanky cars, vital stats of girls versus the ever-green romantic verses; hip-hop versus bhangra. Though that is not how Channi Singh sees it, it's him pinned against the slew of 'me-too-singer' brigade. Assisting him in the cause of keeping sensible lyrics and trained singing afloat in the quagmire of 'just-about-anything' music is his daughter Mona Singh. "We are still the hottest band in UK," says Channi, in Chandigarh with Mona to launch their next album Alaap—The Legend Lives On.


music beats: (L-R) Mona Singh and Channi Singh. Photo: Manoj Mahajan

One for all seasons
Varied life forces are pulling us in different directions; time is a scarce and exposing youngsters to classical arts is the need of the hour, feels classical vocalist Kalapini Komkali. In Chandigarh on Thursday with her mother Vasundhara Komkali for a concert Riturang, organised by the Chandigarh Sangeet Natak Akademi at the ongoing Chandigarh Art and Heritage Festival, Kalapini shares her take on the propagation of classical arts with us.


(L-R) Vasundhara Komkali & Kalapani Komkali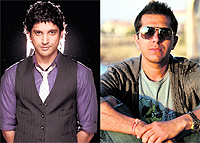 Towards the telly world
Ritesh Sidhwani and Farhan Akhtar who have completed a decade of path-breaking cinema, having started with the coming-of-age delight Dil Chahta Hai, now will foray into television.


New step: Farhan Akhtar and Ritesh Sidhwani
Anurag's on cloud nine...


Director Anurag Kashyap is on seventh heaven as three of his films Gangs of Wasseypur (Part I & II) and Peddlers have made it to the prestigious Cannes Film Festival this year. His grand two-part directorial project Gangs of Wasseypur, will be shown at the Directors' Fortnight whereas his home-production Peddlers, directed by debutant Vasan Bala, has been selected for the Critics Week section.

Well deserved: Anurag Kashyap
Romance next!
Ajay Devgn, who has been doing action and comedy films lately, says he is keen to star in a romantic movie but he is not being offered good scripts.

Then and now
Shahid Kapoor is suddenly being seen as a very sexy man. He is still cute but his audience now includes more than just school-going girls. He talks about changes and getting the tag of a player after being linked with Priyanka Chopra, Anushka Sharma, Bipasha Basu, and Nargis Fakhri.

Candid talk: Shahid Kapoor
Cole too busy for love
Singer Cheryl Cole says she just wants to focus on her career and doesn't have time for a new relationship. "I'm not interested in dating, I'm too busy with my record. Nobody's calling my name though," she said in an interview.
No more starry eyed
Former Playboy model Kelly Brook says she has given up her dream of conquering Hollywood after refusing to relocate to the States.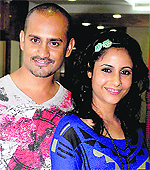 Say it with a jig…
Just when we thought all the concepts of reality shows were exhausted, this one pulls in a little bit of drama, against the background of dancing or vice versa. Like its predecessors, it claims to be different and just as we get ready for the same difference, the man behind the microphone takes over, "Have you ever wanted to express your feelings to a secret crush, apologise for some old wrongdoing? Or ever feel like going down on one knee to propose to your love?" UTV Bindass is all set to launch yet another reality show Live Out Loud.
In sync: Uma (R) and Gaiti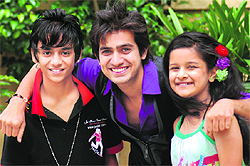 Small steps to stardom
"Nobody cares if you can't dance well. Just get up and dance. Great dancers are great because of their passion," these words by Martha Graham stand true for any person who dances for his or her own satisfaction. Zee TV's DID Li'l Masters is back with a bang and in its second season, there will be four choreographers, who will act as skippers, and their teams that will compete with each other.
Three to tango: Atul, Neerav Bavlecha and Avneet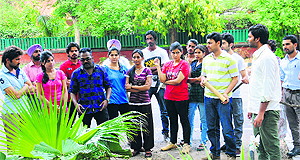 Nothing theatrical about him...
Doing theatre with some 100 inmates of an old age home in his home state, Kerala, in the immediate future and creating a production with a transgender later is what TN Kumardas now aspires for, after theatre happened to him accidentally.
TN Kumardas (third from left) at the workshop
green thumb
So bugging!
Insects have co-existed with us since ages. Now-a-days, they are all around on tree trunks, at the base of the trees, on the walls and even inside the house. Yes, I am talking about mango mealy bug that is bothering the gardeners presently.
the 'in' side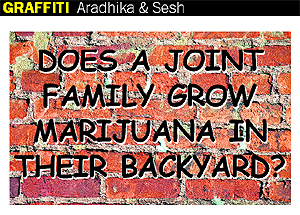 Fountain of delight
Indoor fountains are a great way to enhance your interior space. These can be used in corporate offices, retail spaces as well as in residential areas.