EDUCATION

JOBS & CAREERS

HEALTH & FITNESS

SCIENCE & TECHNOLOGY

REAL ESTATE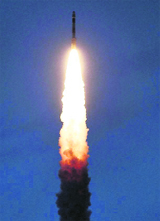 Launch vehicle PSLV-C19, carrying the RISAT-1 satellite, takes off from the Satish Dhawan Space Centre in Sriharikota on Thursday. — PTI
Jan 16 troop movement was a training drill, Antony tells RS
New Delhi, April 26
Defence Minister AK Antony today said movement by Army troops in January this year was undertaken for training purpose and was aimed at refining mobilisation drills and preparedness of the force during foggy and wintry conditions.
Normal monsoon forecast comes with many riders
New Delhi, April 26
The government today issued the first forecast for the all-important southwest Monsoon that brings rain for most of India.
33 days later, Maoists free Odisha MLA
Bhubaneswar, April 26
BJD MLA Jhina Hikaka today walked to freedom, escorted by a group of tribals, after 33 days in Maoist captivity in Odisha's Koraput district. The 37-year-old Laxmipur MLA was freed at Balipeta in the Maoist hotbed of Narayanpatna in the district.