LPG shortage hits Kangra district
Deputy Commissioner urged to intervene
Palampur, April 24
There is an acute shortage of LPG in Kangra district for the past one month. LPG distributorship owned by Indian Oil Corporation (IOC) agencies are worst hit as the company had failed to meet the requirements of consumers.
Simian count to focus on infant population
Solan, April 24
The wildlife authorities will now keep a track of infant simian population so as to assess the success rate of sterilisation. Since lakhs are being spent every year on sterilisation, a regular count of the infant population will help estimate whether the exercise has yielded positive result to check the growth of simian population in the state.
Palampur medical college project exhibits BJP split
Palampur, April 24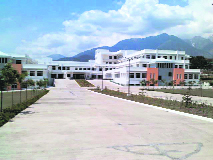 The failure on part of the JP Group of Industries to complete senior BJP leader Shanta Kumar's dream project Vivekananda Medical College and Research Trust (VMRT) has virtually rocked Himachal BJP.
Vivekananda Medical College and Research Trust at Palampur. Photo by writer