M A I N N E W S
AGni V fires India into ICBM League
HISTORIC DAY: Nation's most potent missile successfully launched
By Raj Chengappa
At Wheeler Island, Odisha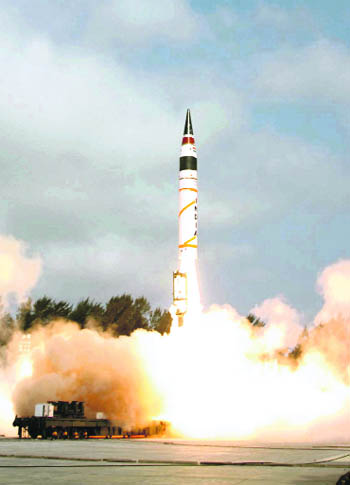 As Agni V, India's most powerful strategic missile, lifted off in a blaze of brilliant orange plumes from Wheeler Island off the Odisha coast, the scene inside the launch control room resembled a twenty-twenty cricket final. India's top missile scientists, who were sitting glued to their computer terminals that displayed Agni's progress, jumped up and clapped every time the missile crossed a major milestone in the firmament.
Just 20 minutes after launch, when the missile successfully completed its 5,000-km journey that took it way past the Equator and detonated its payload at the designated spot over the Indian Ocean, it was as if India had won the World Cup. Apart from hugs, thumbs-up and V signs, the missile team lifted Defence Research and Development Organisation (DRDO) chief Vijay Kumar Saraswat and DRDO's Chief Controller of Strategic Missiles Avinash Chander and carried them on their shoulders as cricketers would do of winning captains.
Cries of 'Bharat Mata Ki Jai' rant the air as did 'India and DRDO Zindabad'. Many retired senior scientists who were invited to witness the launch had tears in their eyes as they savoured the moment. Addressing the gathering from atop the shoulders of his team members, Saraswat said, "Today we have made history. India is now a major missile power. We have done India proud."
India's missile scientists had, indeed, made history. Not only had they got the whole nation riveted to TV sets early in the morning but had also fired a shot that was heard across the world. April 19, 2012, will long be remembered in the annals of India's strategic weapons quest as the day on which India finally came of age in terms of missilery.
With the success of Agni V, Chander told his wildly cheering team, "India had joined the select club of nations with Inter-Continental Ballistic Missile (ICBM) capabilities. Now we have the capability of developing and deploying missiles, anywhere, to any place in the world and at any time."
In the moment of India's triumph, Chander is not exaggerating. Simply put, Agni V does cover the gaping hole in India's nuclear deterrent against current military threat scenarios that the country faces, especially from China. In the Agni class of missiles, Agni I with a range of 700 km and Agni II with 2,000 km reach, were meant to deter Pakistan against any nuclear adventure. While Agni III and IV were designed for China, their range limit of 3,000 km was insufficient to strike all key Chinese cities and strategic locations, if the need arose.
Enter Agni V with its now proven range of 5,000 km. Agni's current configuration can be modified with relative ease to reach longer ranges putting it in the ICBM class of beyond 5,000-km range. Even in its current design, all of China's strategic and tactical targets within the range of Agni V.
Congratulating the missile team soon after the launch, Prime Minister Manmohan Singh told Saraswat over the phone, "Today's successful Agni V test launch is another milestone in our quest to add to the credibility of our security and preparedness and to continuously explore the frontiers of science. The entire nation stands together in honouring the achievements of our scientific community that has done the country proud."
While there is every reason for DRDO's missile team to feel euphoric, their job on Agni is far from done. The first launch essentially tested the missile configuration.
But to make it weapon worthy Agni V will have to undergo at least two more successful flights.
As VG Sekharan, Director, DRDO's Advanced Systems Laboratory, which puts together Agni, says, "We still have to get it to a user deliverable configuration including an ability to do a launch from a canister."
The DRDO may have demonstrated mastery over a range of missilery but the scientists still have plenty of work to do. Chander acknowledges this and says, "Agni 5 will be the stepping stone for the next round of capabilities. It could be anti-satellite capabilities, launch on demand capabilities, putting small satellites into orbit and multiple and manoeuvrable warheads.
"Most important the future will have intelligent warheads which are able to detect counter measures against them by the enemy and take evasive measures."