forensic science
Clue to a thrilling career
Usha Albuquerque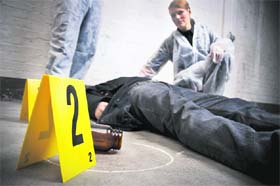 If you are a fan of Dexter Morgan or have watched the television series CSI (Crime Scene Investigation) you are probably familiar with blood splatter analysis (Dexter's realm of expertise), body fluid examination, narco-analysis and the scientific re-creation of the crime scene. The popularity of television crime-solving shows like CSI and Cold Files and books by Patricia Cornwell has brought forensic science to the forefront of popular culture. While cracking a criminal case may not be as glamorous as is made out to be on television, the huge advances made in investigative analyses and techniques used today have not only made this a fascinating field of work but also a science that provides invaluable evidence for the cause of justice.
Forensic science is a multi-disciplinary branch of study that deals with the application of a broad spectrum of sciences to aid in the process of a criminal investigation. As the real life investigation in the Arushi Talwar murder case has revealed, forensic experts search for physical clues to establish or exclude the link between the criminal and the crime by analysing the physical evidence (hair, fibre, fingerprints, blood, semen, cartridges etc.) obtained from the scene of the crime. They match voices, examine the murder weapon, bullet injuries to determine the trajectory of the bullet, investigate signs of struggle before a victim was killed, conduct experiments with dummies to establish how the crime was committed and carefully reconstruct the scene of the crime to find vital clues.
Today with the use of the latest and sophisticated technologies to convert these clues into evidences, the task of forensic scientists is becoming more and more challenging. As cases languish in courts for years, the use of forensic evidence can greatly help in speeding up the process of justice delivery.
Most of the work of forensic specialists is laboratory based. The several areas of specialisation can include:
Forensic medicine and forensic pathology: This is the application of medical knowledge to legal problems. Forensic medical experts examine victims of crime and suspects who may have sustained an injury while allegedly committing a crime. Forensic medical examiners, deal with the living, while forensic pathologists, deal with the dead. Forensic pathologists perform autopsies to determine the cause, manner and the time of death and work closely with the investigators.
Forensic deontologists: They are qualified dentists who have undergone additional training and are qualified to provide expert evidence through dental remains, bite-mark analysis and examination of oral facial structures for determination of injury.
Forensic anthropology: It involves the identification of the victim for determining sex, age, and state of health, ancestral background, and cause of death. Forensic anthropologists can also recreate the face and history behind unidentifiable human remains.
Forensic serologists: They study the blood groups, blood, and other bodily fluids for identification purposes following a crime. Biological materials such as blood, body fluids and hair are identified and compared using forensic DNA analysis, microscopic analysis and biochemical methods.
Forensic chemists: They study any evidence of the use of illicit drugs, accelerants used in arson cases, explosive and gunshot residues, trace evidence, including paint, glass, polymers and fibres in committing a crime.
Forensic scientists and police investigators also work along with criminologists who deal with the scientific study of crime. They try to establish evidence and understand the motive for a crime. Forensic science and criminology are related areas of work, which also involve
Forensic psychiatrists and psychologists who determine the mental state and mitigating circumstances of the crime and other psychological issues,
Forensic linguists analyse the content of written or oral communication to identify who is speaking and indicate the speaker's intent, and determine whether two communications are from the same person,
Forensic artists can draw a likeness of a person based solely on eyewitness accounts. The expertise may enable the police to identify a possible criminal in the absence of other clues.
Getting in
Training in forensic science is offered both through universities and through specialised institutes at the undergraduate and postgraduate levels. You can take up a BSc in forensic science after Plus II with science, or an MSc in forensic science after a degree in physics, chemistry, zoology, botany, biochemistry, microbiology, B Pharma, BDS or Applied Sciences.
After graduation, one can also take up PG diploma courses in Forensic Science & Criminology, which is a one-year programme. For conducting autopsies and post-mortems you require to have MD in forensic medicine after MBBS, while DNA specialists should have a degree in biology, genetics, and biochemistry.
There are a number of universities and specialised institutes that conduct study and research programmes in forensic sciences. The National Institute of Criminology and Forensic Science situated at New Delhi, and at Sagar, Anna and Patiala is a premier body conducting training and research in the field. Here research programmes and diploma courses are open to forensic scientists, police officers, judges, research scholars and senior officials from forensic laboratories, in a variety of disciplines relating to forensic science, including chemistry, biology, serology, ballistics, toxicology, documents and photography.
Job prospects
Employment can be found in:
The police service — crime branch and vigilance departments
State forensic depts.
Government agencies such as the Intelligence Bureau, CBI, CID, Narcotics departments etc
Investigative agencies
Teaching and academics
The state forensic departments employ professionals through the state public service commission exam. A forensic expert can also join government agencies such as IB, CBI, the crime branch, forensic labs etc. The CBI's forensic laboratory in Delhi recruits candidates through the Union Public Service Commission exams. Those recruited to government jobs in the forensic department or the CBI can take up the certificate courses in various fields of forensic sciences offered by the state forensics departments. These courses are recognised all over India and the students get ample hands-on experience during their courses as they assist their seniors in handling and analysing the evidence
Forensic scientists can work in the areas of insurance claims, document registrations, forgery detections and in areas of cyber crime for which a certification by the state forensics department is required. The Central Forensic Science Laboratories at Hyderabad, Kolkata, Chandigarh and Delhi also take on experts through competitive selection procedure. Forensic scientists can also diversify into investigative journalism, while those trained in criminology can opt for avenues in social work, correctional administration and guidance and counselling.
Skill set
To make a career in this field you need to have a keen eye for detail and very strong analytical skills and powers of observation. You must be organised, methodical, and capable of high levels of concentration. You should also have a logical bent of mind and possess good communication skills in order to give comprehendible testimonies in court. Forensic scientists and criminologists must also be good team players, as they often need to work in association with social workers, psychologists and the police
India faces an acute shortage of trained forensic experts and scientists in many of the forensic areas of criminal investigation. So if you are prepared for odd hours of work and work pressure that can be physically and mentally exhausting, have a yen for investigation with a keen, logical bent of mind, you will find all the excitement that you are looking for in a career in forensic science and also get the satisfaction of helping society in fighting crime.
— The writer is a career expert
institute watch
Punjabi University, Patiala: Offers a two-year MSc. in Forensic Science course, with specialisation in forensic biology, forensic serology, forensic chemistry and forensic toxicology
Lok Nayak Jayaprakash Narayan National Institute of Criminology and Forensic Science, Delhi
Dr.Harisingh Gour Vishwa Vidyalaya, Madhya Pradesh:Offers MA in Criminology, and MSc.in Forensic Science and Forensic Toxicology.
Forensic Sciences Department, Anna University, Chennai offers a PG diploma course in Criminology and Forensic Science.
University of Delhi, Department of Anthropology offers a certificate course in forensic science.
Dr. B.R. Ambedkar University, Department of Forensic Science Agra: Offers an MSc. in Forensic Science.
Central Forensic Science Laboratory, Hyderabad, Chandigarh, Kolkata, Delhi.