75 panchayats to get Rs 1 crore for improving sex ratio
Aparna Banerji
Tribune News Service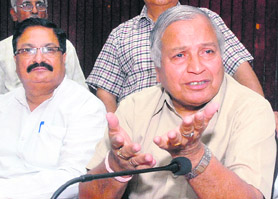 Health Minister Madan Mohan Mittal during a press conference in Jalandhar on Friday. Tribune Photo: Malkiat Singh

Jalandhar, May 11
Seventy-five village panchayats, which have worked hard to improve sex ratio in the state, will be awarded more than Rs 1 crore for developmental works. This was stated by Madan Mohan Mittal, Health and Family Welfare, Social Security and Women and Child Development Minister, during an interaction with the press here today. The sex ratio in the state has improved from 791to 848 per thousand.
It is expected to improve further to 900 by the end of March 2013.
"Each panchayat, which have been working towards the stabilisation of the male-female sex ratio, will be awarded an amount of Rs 1.50 lakh," he added.
Mittal disclosed that the state government had provided assistance of Rs 31 crore to patients suffering from cancer even though the government had set up Rs 20 crore Chief Ministers' Cancer Relief Fund initially.
He said the medical authorities at Civil Hospitals and dispensaries had been directed to prescribe only those medicines to patients that are available in the hospitals and dispensaries.
On the issue of submission of their asset details by senior medical officials, he said it would be done by the end of this month.
When pried about the issue of government doctors working in private establishments as well, he said he wasn't aware of any such cases.
The minister had earlier openly said anyone could inform him about offending chemists (who sell illegal drugs) on his personal number.
When asked whether he has received any such complaints he said he had received 15 such complaints and action had been initiated against the offenders. However, he did not give any further details.
Minister mum on issue of HIV+ patients
The health minister usual tendency to evade uneasy questions was pretty much evident during the meeting.
Thrust was made on issues such as drugs, lack of medicines at hospitals, provision of technological facilities for patients etc.
The minister was clearly at a loss of word, when it came to issues demanding immediate action from the government.
When asked what action he was planning on the issue of the alleged discrimination against HIV positive patients at the local Civil Hospital, the minister, instead of taking serious note of the issue, demanded the names of the patients.
When pressed, he asked journalists not to 'bully' him or 'thrust' questions at him.
The SMO of the ART Centre at the local Civil Hospital also alleged that HIV positive people face discrimination in the hospital (a report in this connection was published in The Tribune today).
The minister, when told about it, said he would decide after looking at the newspaper report.
When the newspaper report was read to him by journalists on the spot, he said, "I do not decide alone. The report will be forwarded to senior health officials and action would be taken accordingly."