Youth looking for greener pastures lands in Pak jail
Bipin Bhardwaj
Tribune News Service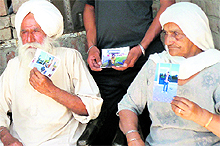 Mohinder Singh and Nirmal Kaur show pictures of their grandson Jatinder Singh in Kapurthala on Friday. Tribune Photo: Malkiat Singh

Kapurthala, May 4
Looking for greener pastures, a Dhilwan youth fell prey to unscrupulous elements in Dubai and landed in a Pakistan jail.
Jatinder Singh (24), a resident of Saiflabad village near Dhilwan, had been to Abu Dhabi three years ago as a plumber. He came in contact with a travel agent who promised to take him to the UK, but dumped him in Greece.
Hopes of Jatinder's grandparents - Mohinder Singh and Nirmal Kaur - who brought him up after the death of his mother almost 10 year ago, were dashed when they came to know that he was in a jail in Lahore.
Talking to the Tribune, the shattered Nirmal Kaur revealed that Jatinder and his younger brother Harvinder lost their mother and she had to bring up the children as their father, Jaswinder Singh, suffered a major set back after his wife's death and was under depression.
"We have taken loan from relatives to send Jatinder to Dubai to meet the family expenses. Jatinder was in Dubai till March 2012. He even called us saying that a travel agent there had promised him to take him to the UK," said Mohinder Singh, with a choked voice. Harvinder Singh, the younger brother of Jatinder, revealed that the agent illegally sent him to Greece, but Jatinder was arrested on Iran border where he spent 15 days in jail.
Thereafter, he was sent to Afghanistan and was kidnapped for ransom. The kidnapper made a phone call demanding Rs 3 lakh as ransom. "Jatinder's England-based friend Vikram along with his others mates managed to pool the money that was deposited in the kidnapper's bank account," Harvinder claimed.
They kidnapper released Jatinder, but his ordeal did not end here, as they further dumped him in Pakistan. After reaching Pakistan, Harvinder said Jatinder made a phone call to his family informing that he was out of the clutches of the kidnapper and was in Pakistan, claimed Harvinder Singh.
The family members had to face disappointment after the police authorities whom they approached told them the matter can only be resolved at the government level.
The elderly couple - Mohinder Singh and Nirmal Kaur - has appealed to the Prime Minister to intervene for the safe homecoming of their grandson.