They quit jobs in US to nurse their motherland
Perneet Singh
Tribune News Service
Amritsar, May 4
The '108' ambulance service has completed its one year of operation in Punjab. But, a few know how a bunch of US-returned young Indian professionals doing highly paid jobs in multi-national companies there came together to form the company that is facilitating the service in five states, including Punjab.
"Unlike most of the joint ventures, ours was not a planned effort. It was instead a real-life experience that changed the course of our destiny. Once we had a tough time rushing the mother of one our friends, who fell seriously ill in the middle of the night, to a hospital due to absence of any ambulance facility. We realised that day how significant each moment is for an ailing person and how a good ambulance service can make all the difference," shared Ziqitza Healthcare Limited (ZHL) CEO Sweta Mangal while talking to The Tribune on the sidelines of a function held here to mark the first anniversary of '108' in Punjab. An MBA from the US, Sweta said the incident prompted her and her four friends to join hands to launch an ambulance service in Mumbai in 2004. "We pooled in whatever savings we had to purchase two ambulances to make a start while continuing with our respective jobs. Initially, we thought of running the service in the form of an NGO. But, our mentor and guide Sam Pitroda cautioned us against it while telling us that the venture needs to be self-sustainable," she said. Subsequently, they floated a company (ZHL) in May 2005 and invested more money in it.
Their big break came in 2007-08 when various state governments invited tender bids for ambulance services. They first bagged the contract in Bihar. From meagre two ambulances in 2004, the ZHL today had 860 ambulances operating in Mumbai, Bihar, Rajasthan, Kerala and Punjab. They have an annual turnover of Rs 80 crore and a workforce of over 4,800 in these states. Recently, the firm bagged the contract of running '108' service in Odisha as well. It has served 13 lakh people in India since its inception. They have roped in big names like London Ambulance Service and American Heart Association to train their ambulance staff.
Also, their venture also made it as a case study in reputed institutions like Harvard Business School and Oxford University. With the venture's success, Sweta and her two friends quit their jobs in 2007 and are now working full-time for the ambulance service. Her friends in the venture are Shaffi Mather, Ravi Krishna, Manish Sancheti and Naresh Jain, all of whom are educated in the US.
After tasting success on Indian soil, the ZHL is now eyeing foreign shores. "We are planning to take our venture to other developing countries like Sri Lanka and Bangladesh. We have already helped a Pakistan-based NGO to run a similar project," said Sweta. They have also initiated free first aid training programme under which any school/college in Punjab can contact the ZHL (Contact No. 7307475552), which will organise a free workshop on first aid training. It is aimed at enabling people to help the aggrieved in a correct manner in an emergency.
Addressing the gathering, Chief Parliamentary Secretary Dr Navjot Kaur Sidhu said '108' has turned out to be a life saving initiative in Punjab. Quoting her own experiences while working as a government doctor prior to being an MLA, she said it was a tough job to get an ambulance on time for a patient.
108 ambulance service turns 1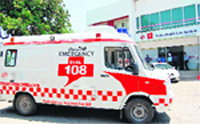 5 US-returned young Indian professionals had set up an ambulance service an year ago to provide the facility in five states, including Punjab
Started from two, the company now has 860 ambulances, Rs 80 crore turnover and over 4,800 work force.
Data released by the company reveals that the '108' service has helped save 1.53 lakh lives inPunjab, which now has 240 '108' ambulances operating in 20 districts
The call centre of the ambulance service received 14.5 lakh calls in one year
Of the 1.53 lakh patients that these ambulances ferried to hospital, 49,277 were expectant mothers while 23,144 were accident/trauma cases
245 successful deliveries also took place in these ambulances