Damaged wheat to be liquidated
Chandigarh, April 25
Though Punjab has got a breather with the sanction of 4 lakh tonnes of scientific storage of wheat in eight silos of 50,000 tonnes each, the storage problem may persist for the time being.
FCI: Fresh stocks being moved out
Chandigarh, April 25
A bumper harvest and non-availability of storage space has forced the FCI to move fresh wheat stocks procured by it to wheat-recipient states. The new wheat procured by government agencies, including the FCI, is being transported through special rakes in trains to the wheat-recipient states of Maharashtra, Bihar, those in the North East and in the South. In the wake of the slow movement of already stocked wheat and paddy, the agencies were facing a tough task in storing the additional wheat procured by them.


Sukhbir: Allow wheat export


Sowing of paddy from May 1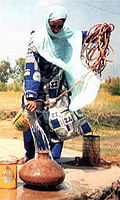 Funds approved for potable water scheme
Chandigarh, April 25
For supplying potable water to all cities and towns in the state, the government has envisaged an ambitious Rs 962 crore programme. This was decided at the first meeting of a committee constituted under Rule 4 of the Punjab Municipal Infrastructure Development Fund (PMIDF) Act: 2011 headed by Chief Minister Parkash Singh Badal. Sanctioning another instalment of Rs 350 crore for the completion of water supply facilities in various towns, Badal said the government had already provided Rs 306 crore under this project and the rest of the amount would be provided soon.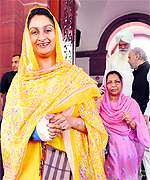 Harsimrat takes up turban issue in Parliament
New Delhi, April 25
India continues to pursue with France the issue of the country banning turban in schools, External Affairs Minister SM Krishna said today. Replying to a written question given by Harsimrat Kaur Badal (SAD) in the Lok Sabha, he said: " Our embassy in Paris is in regular touch with the French Foreign Ministry and the Interior Ministry.'' He said it had been clarified to France that New Delhi's intention was to seek a practical solution to the problem that involved the sensitivity of a minority community in India.


Bathinda MP Harsimrat Kaur, with a fractured wrist, comes out of Parliament. Tribune photo: Mukesh Aggarwal


Capt: Wait for court decision on Sadique
Chandigarh, April 25
Punjab Congress chief Capt Amarinder Singh today condemned the State Scheduled Caste Commission for recommending cancellation of SC certificate of Bhadaur legislator Mohammad Sadique.




Bad timing: Engg test is on April 29
Officials, students scramble for rooms in hotels
Bathinda, April 25
The district is set to witness two major events this weekend. While on April 28, Prime Minister Manmohan Singh will inaugurate Guru Gobind Singh Refinery near Ramsara, on April 29, the district will play host to candidates across the state for the All-India Engineering Entrance Examination (AIEEE). Bathinda is the only offline centre for the exam in Punjab while Chandigarh is the only online centre.

More women taking to drug trade
Faridkot, April 25
The last decade has seen an increasing number of women taking to the drug trade in Punjab's hinterland. A week back the Kotkapura police arrested 20-year-old Sukhpreet Kaur with injectable pharmaceutical compounds and other synthetic drugs.Her mother and husband are in jail.

Bihar to give Rs 75,000 to amputees
Jalandhar, April 25
Bihar Chief Minister Nitish Kumar has announced a grant of Rs 75,000 for the labourers whose limbs had to be amputated following the tragic Shital Fibres factory collapse on April 15.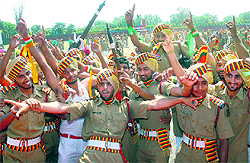 Jawans of the 157th batch of the Punjab Police in a jubilant mood after their passing out parade at the PAP ground in Jalandhar on Wednesday. Tribune Photo: Malkiat Singh

'Dead' get pension in Muktsar dist
Muktsar, April 25
A large number of persons covered under pension schemes for the elderly, the physically handicapped and widows who died years ago are reportedly getting Rs 250 every month.
Job fraud
Chandigarh, April 25
Following an inquiry, it has come to light that three persons joined as teachers at government schools in different places on the basis of fake appointment letters.
Dairies in residential areas
Rights panel issues notice to MC
Patiala, April 25
The Punjab State Human Rights Commission has issued notices to the Punjab Pollution Control Board chairman and the Patiala Municipal Commissioner on a complaint filed against running of dairies from residential areas in the city.
MC poll: Voter's photo on poll lists sought
Patiala, April 25
Congress MLA Brahm Mohindra has urged the Punjab State Election Commission that voting list for Municipal Corporation elections should carry pictures of the voters like in the assembly elections, which will help in controlling fake voting.
Govt seeks data on RO installation in schools
Bathinda, April 25
The state education department has sought data for the installation of reverse osmosis (RO) systems in government schools. The heads of all the schools have been directed to send details pertaining to the current source of drinking water available, the number of students and to indicate if the school already has an RO and a water cooler.
BSF jawan ends life
Dera Baba Nanak (Gurdaspur), April 25
A BSF jawan committed suicide while on duty at the Sadhawali border post near the Indo-Pak border yesterday.
Only few claimants for scholarships
Ludhiana, April 25
There are only few claimants for various scholarships announced by Punjab to encourage poor and meritorious students. The state government released the funds at a time when most of the students had already left the institutions.
Abolition of punjab quota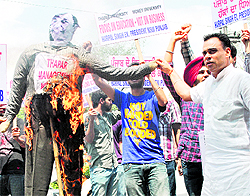 Students intensify stir against Thapar University
Patiala, April 25
The controversy over Thapar University's decision to scrap 50 per cent quota for Punjab students refuses top die down with the state government as well as student organisations. Rural Development and Panchayat Minister Surjit Singh Rakhra said the university could not scrap the Punjab quota just out of blue.


Activists of various student organisations burn an effigy of Thapar University director in Patiala on Wednesday. Tribune photo: Rajesh Sachar

Self-employment training centre
Helping girls to stand on their feet
Bathinda, April 25
The local Self-Employment Training Centre (Girls), being run by Pyare Lal Karnail Singh Memorial Charitable Trust (Regd), near Purana Thana here, has been proving to be a boon for the girls by helping them stand on their own feet.
DGSE sets time-frame for English syllabus
Bathinda, April 25
The Directorate General School Education (DGSE) has divided the English syllabus, along with mentioning the number of periods required to teach each section, for the teachers of classes VI to X for the academic session 2012-13.
Open toll system challenged
Chandigarh, April 25
The open toll system where motorists are charged for using national and state highways at flat rates has come under the judicial scanner.
Contempt of Court


Rajoana hanging: Jail superintendent files reply
Chandigarh, April 25
LS Jakhar, Superintendent, Patiala Jail, today appeared in the district courts in connection with the contempt of court notice issued to him in the Rajoana hanging case. Jakhar appeared in the court of Additional District and Sessions Judge Shalini Nagpal and tendered an apology in his reply. The court has deferred the next hearing of the case to May 5.
Same sex couple approaches High Court for protection
Chandigarh, April 25
Runaway couple Swaran Kaur and Harsharan Kaur could have lived happily ever after, but for the fact that they belong to the same sex. Living together for nine months now, the same sex couple today approached the Punjab and Haryana High Court for protection.