When robot plays surgeon
Robotic surgery is gaining ground in India as there is less pain, shorter hospitalisation, faster recovery, lesser blood loss and risk of infection as well as minimal scarring. In this minimally invasive surgery, the surgeon is assisted by a robotic surgical system
Dr Sudhir Srivastava
What is robotic surgery?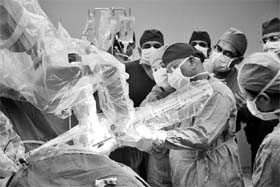 Robotic surgery is the most advanced minimally invasive surgery (MIS). It is typically performed through small (fingertip-size) incisions. The surgery is done by a surgeon using a robotic surgical system called Da Vinci, which enables surgeons performing these surgeries to be more precise, advancing their technique and enhancing their capability in performing complex minimally invasive surgery.
In short, the robot serves as an instrument for the surgeon. The Da Vinci system replicates the surgeon's movements in real time. It cannot be programmed, nor can it make decisions on its own to move in any way or perform any type of surgical manoeuvre without the surgeon's control. Robotic surgery utilises the most advanced technology allowing surgeons to perform complex surgical procedures that may not be feasible through laparoscopic/endoscopic procedures.
How is it performed?
During the surgery, the surgeon sits at a console a few feet from the patient. The Da Vinci surgical system then translates surgeon's hand movements into corresponding micro-movements of instruments inside the patient's body. The Da Vinci system also provides better visualisation, dexterity, precision and control as compared to open surgery, while enabling the surgeon to perform procedures through tiny, 1-2 cm incisions.
Risks involved
Though risks involved in robotic surgery and thetraditional method of surgery are similar, some complications in certain surgeries are lesser or can completely be avoided during the use of the robotic system. For example, impotence and incontinence are the most common side-effects of radical prostatectomy (procedure performed to remove prostate cancer). However, if the procedure is performed with robotic assistance, this side-effect is completely eliminated. In cardiac surgery, in the 1,300 robotic cardiothoracic cases performed by a surgeon, the mortality rate was 0.3 per cent as compared to 2 per cent to 3 per cent in case of conventional methods of performing cardiac surgery.
Pros and cons
The pre-surgery care is the same as in traditional surgery. The patient is taken to a recovery room immediately after the procedure. The patient has to stay in the hospital for two to three days, unlike five to seven days in case of a traditional surgery. There is minimal rehabilitation and one can resume normal activities within 10 days, or even sooner. The patient is not bed-ridden for months.
Advantages
Faster recovery and early resumption of normal routine.
Less blood loss and reduced risk of infection.
Lesser pain and trauma.
Increased range of motion for the surgeon.
Improved dexterity of the expert.
Enhanced visualisation for the doctor peforming the surgery.
Better access to the surgeon, enabling him/her to perform complex procedures.
Procedures or operations
Robotic surgery can be performed for cardiac, thoracic, urology, gynaecology, general, head and neck and orthopaedics procedures. Especially in urological cases, the robot-assisted approach has become the number one method to perform prostate cancer surgery.
General cost
An average robotic surgery costs nearly Rs 2 lakh, though it depends on the kind of surgery being undertaken.
First robotic surgery
Dr Loulmet is one of the world's leading pioneers in robot-assisted cardiothoracic surgery. He performed the world's first totally endoscopic robotic coronary artery bypass in 1998 - an operation that employs several pencil-size incisions between the ribs - as well as the first totally endoscopic robotic pulmonary vein isolation in 2002. He also assisted in the first robotic mitral valve repair procedure in 1998. His robotic surgical practice focuses on endoscopic coronary bypass (TECAB and MIDCAB), mitral valve repair, and procedures to remove adhesions behind the sternum prior to repeat open-heart surgery.
Hospitals and institutes
Fortis Hospital, New Delhi, Medanta Vattikuti Institute of Robotic Surgery, Gurgaon, AIIMS, New Delhi, KIMS Vattikuti Institute of Robotic Surgery, Hyderabad, Manipal Vattikuti Institute of Robotic Surgery, Bangalore, Asian Vattikuti Institute of Robotic Surgery, Mumbai, Sir Ganga Ram Hospital, New Delhi and Rajiv Gandhi Cancer Institute, New Delhi.
The writer is the Chairman, CEO and Managing Director, Fortis Healthcare and International Centre for Robotic Surgery, New Delhi


Case study 1
Dharampal Singh (81, from Palwal village underwent a single-vessel bypass through robotic surgery. He was diagnosed with a coronary artery disease with blockages, usually caused by atherosclerosis, the build-up of cholesterol and fatty deposits on the inner walls of the arteries. This leads to reduced blood flow to the heart muscle by physically clogging the arteries or by causing abnormal artery tone and function.
Major heart surgeries, like the one above, are performed through three to four tiny incisions. Unlike the traditional method of surgery, the chest is not split open to access the heart. There is less pain, shorter hospitalisation, faster recovery, lesser blood loss and risk of infection and minimal scarring. Dharampal Singh was admitted to the hospital on the January 15, 2012, and was discharged from the hospital on January 20, 2012. Within 10 days, he resumed his normal routine.
Case study 2
Deepa Vaid from New Delhi underwent a robot-assisted hysterectomy. She was having this surgery as she was suffering from heavy bleeding which was causing pain, discomfort and weakness. Vaid was scared of lifelong scarring, and was worried about her recovery period. Her biggest fear was that there would be a big cut on her stomach for the surgery. But the moment she heard about robotic surgery as an option, she was relaxed.
Case study 3
Aditya Khandelwal (18 months) was suffering from Grade 5 left vesicoureteral reflux (VUR). This occurs when the valve between the ureters and the bladder doesn't function properly. Because of this, his urine flow was abnormal. Whenever he would pass urine, some part of it went back to the kidney, causing infection.
No cut was made on the infant's body and robotic surgery was performed through four tiny incisions. Normally, when a cut is made on the body, it leaves a scar, which grows along with the body's growth. However, in this case, only four minor incisions were made which left only a few tiny scars, which could be easily removed later. Thus, there was no lifelong scaring on the child's body.
Also, it was easy to access the small baby structure which made the surgery precise and easier. This would not have been possible with rigid laparoscopic instruments. The procedure was performed in just two hours and the patient was discharged in three days.