29,000 tonnes of wheat lying in Khanna mandi
Khanna, April 23
Farmers and arthiyas are worried over slow lifting of wheat at Asia's biggest grain market here. A visit to the grain market revealed that commission agents and farmers were worried over the delay in lifting of wheat due to changing weather patterns. In some cases, no lifting has taken place even after more than a week of purchase by procurement agencies.
Ensure speedy lifting, Badal tells FCI
Chandigarh, April 23
Chief Minister Parkash Singh Badal today asked the Food Corporation of India (FCI) to gear up for wheat procurement and its speedy lifting in the mandis allotted to them.


SAD opposes decontrol of diesel
Chandigarh, April 23
The Shiromani Akali Dal today strongly opposed the Central Government's move to decontrol diesel, saying such a move would have a long-term negative impact on agriculture production in the state besides hampering the working of the transport industry.
Govt building pressure for fiscal package
Chandigarh, April 23
The Punjab Government has started building pressure on the Centre to seek a fiscal package for the state. While Chief Minister Parkash Singh Badal today wrote to the Union Finance Minister and Prime Minister, urging them to announce a package for the state, the Principal Secretary, Finance, Satish Chandra, will hold a meeting with Union Expenditure Secretary on this issue in Delhi tomorrow.
Release grant sans conditions: Badal
Chandigarh, April 23
Chief Minister Parkash Singh Badal today impressed upon Prime Minister Manmohan Singh to immediately disburse the balance grant of Rs 240 crore at Rs 80 crore per year already earmarked for Punjab without any conditions.
Traders stop gypsum import from Pak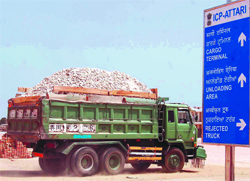 Amritsar, April 23
Within 10 days of the inauguration of the new Integrated Check Post (ICP) at Attari, the infrastructure that was once a dream for the trading community here has turned into a nightmare for them. Prompted by "excessive handling charges" at the ICP, the Indian traders today decided to stop gypsum import via the Attari-Wagah land route till the issue was resolved to their satisfaction.
jalandhar tragedy
Cut off from normal life after losing limbs
Jalandhar, April 23

Most teenagers of his age lead a carefree life. But, 15-year-old Niyamat has a lot to think about his family's future. The sole earner in his house, he received serious injuries in the Shital Fibres building collapse. So much so that his right leg developed gangrene and now needs to be amputated.


Army jawans load equipment into a truck as rescue operation nears closure in Jalandhar on Monday. Photo: Sarabjit Singh
While in police custody, Vij had 'access' to phone
Jalandhar, April 23
Contrary to police claims of not providing VIP treatment to Shital Vij, owner of Shital Fibres, a veteran CPI leader has alleged that he had called him on his mobile phone while he was in police custody on April 20.
Bihar team fears toll may be more
Jalandhar, April 23
The three-member Bihar team that was constituted to assess the extent of losses suffered by migrants in the Jalandhar industrial unit tragedy has submitted its report to their Chief Minister Nitish Kumar.

Won't let Sarabjit be hanged: Burney
Amritsar, April 23
Noted human rights activist from Pakistan Ansar Burney today said he would not let Sarabjit Singh, who is on death row there, to be hanged to death till he (Burney) was in Pakistan.
Probe into social scheme fraud
Patiala, April 23
After fraudsters in Moga reportedly duped hundreds of couples with daughters promising them financial aid under the "Nanhi Chhaan" campaign, the police has started a high-level probe in all districts of the state.
Non-payment of arrears: Teachers to hold protest
Patiala, April 23
The Punjabi University Teachers' Coordination Committee (PUTCC) has decided to hold a dharna in front of the office of Vice Chancellor of Punjabi University here on April 26 for two hours against non-release of salary arrears of university teachers by the Punjab government.
No toilets for 19% population of Punjab: Survey
Ludhiana, April 23
Nearly 19.5 per cent of the total population has no access to close-toilets in Punjab. This was revealed in a survey conducted by the Census Department. For answering nature's call, this underprivileged section of the society has to go in the open.
8 IAS, 41 PCS officers shifted
Chandigarh, April 23
The Punjab government today transferred eight IAS and 41 PCS officers with immediate effect.
Basmati production set to dip in Punjab, Haryana
Chandigarh, April 23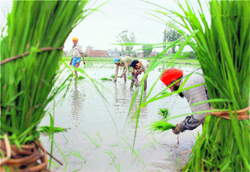 Rice exporters are agog with excitement over the opening up of the Chinese market for basmati exports. Its prices have also climbed up. But basmati production is likely to go down in the country with farmers in Punjab and Haryana set to cut down on its cultivation this year. Though rice exporters and traders feel prices of basmati will go up this year with the opening of the Chinese market, farmers are not so enthused. This is because they feel exporters are manipulating prices.


Misappropriation of Central subsidy
CBI seeks HC nod to begin probe
Chandigarh, April 23
Just about a year after a petition alleged loss of more than Rs 120 crore to the Centre due to alleged misappropriation of subsidy for upgrading PAU-201 variety of rice, the Central Bureau of Investigation (CBI) today sought directions from the Punjab and Haryana High Court for registration of a preliminary inquiry against unknown officials of procurement agencies and others.
Explain parole to murder convicts: HC
Chandigarh, April 23
The Punjab and Haryana High Court has asked the Punjab to explain the reasons and provisions under which two murder convicts were released on parole.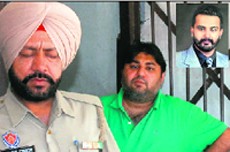 Prime witness detained
Jalandhar, April 23
The city police picked up prime eyewitness in the hotelier Gurkirat Singh Sekhon murder case Varum Gumber this morning, allegedly at the behest of former Akali MLA Sarabjeet Singh Makkar.


Prime witness in Gikki (inset) murder case Varum Gumber in a police lockup in Jalandhar on Monday. Tribune photo: Malkiat SIngh