Polytechnics no longer popular with students
Hisar, April 23
Polytechnics no longer appear to be popular with students seeking a career in engineering. For 3,900 seats in 10 polytechnics, including two government polytechnics, in this district, there are only 3,600 applicants forcing the institutions to extend the last date of submitting forms. The same is true of almost all other districts in Haryana.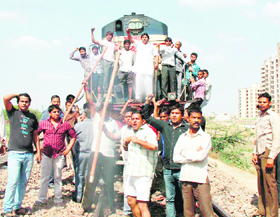 Nathupura villagers block the railway track near Dhanwapur in Gurgaon on Monday, demanding immediate arrest of those involved in the murder of Sandeep. Tribune photo: Sayeed Ahmed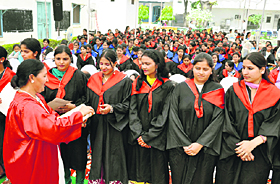 A teacher presents degrees to students of Govt Girls College, Karnal, during the convocation on Monday. Tribune photo: Ravi Kumar

Kurukshetra Zila Parishad gets national award today
Kurukshetra, April 23
The Kurukshetra Zila Parishad has earned the distinction to find a place among 15 zila parishads in the country, after being selected for the Rashtriya Panchayati Raj Award for effective implementation of all rural development schemes and ensuring that the benefits of the schemes percolated in all 419 villages.
INLD seeks judicial probe into Fauji episode
Hisar, April 23
INLd Secretary-General Ajay Singh Chautala today asked the Haryana Government to order a judicial probe into the incident involving Chief Parliamentary Secretary Ram Kishan Fauji leading to his hospitalisation.
Cops allowing vehicles without paying toll
Over Rs 4-lakh loss, HC informed
Chandigarh, April 23
The Haryana Police today came under the Punjab and Haryana High Court scanner with the company managing the Delhi-Gurgaon Expressway project alleging that cops were allowing vehicles to pass without paying toll.
Magsaysay Award winner opposes Gorakhpur N-plant
Hisar, April 23
Magsaysay Award winner and social activist Sandeep Pamdey has opposed the plans to establish a nuclear power plant at Gorakhpur village of Fatehabad district. Addressing the fourth annual session of the Sampuran Kranti Manch here yesterday, he said most of the developed nations had already dumped this technology as such plants posed several dangers to human population.
25,000 teachers to be recruited
Sirsa, April 23
The Education Department will soon recruit 25,000 teachers and a proposal to this effect has been sent to the Haryana School Teachers Selection Board, said Samir Pal Srow, Director, Secondary Education, Haryana, while talking to mediapersons here today.
2 arrested for youth's murder
Sonepat, April 23
Satpal of Khewra village was allegedly murdered by an auto driver Manish and others with some sharp-edged weapons last night. The police has arrested Manish and another person of the village.
Boy's family penalised for calling off engagement
Rohtak, April 23
The decision of calling off an engagement before a marriage proved costly for the family of the prospective groom here. The family was penalised with a fine of Rs 21,000 by a social and caste panchayat here recently.
38 lakh MT wheat procured in state
Chandigarh, April 23
Nearly 38 lakh metric tonnes of wheat had been procured in Haryana mandis this season, a spokesman of the Haryana Food and Supplies Department said.
Power shutdown
Chandigarh, April 23
The power supply to Panchkula town, Mansa Devi, Raipur Rani, Barwala and Madanpur will remain disrupted on |April 25 and 26 from 7 am to 6 pm and on April 27 from 10 am to 2 pm as the Haryana Vidyut Prasaran Nigam will take a shutdown for erecting towers for a 220-KV line near Raiwali village.
Toilet blocks planned for girls in coed schools
Chandigarh, April 23
The National Bank for Agriculture and Rural Development (NABARD) has sanctioned a project for construction of toilet blocks for girls in coeducational schools covering all 21 districts of Haryana.
Metro to be extended to Ballabhgarh: CM
Faridabad, April 23
Chief Minister Bhupinder Singh Hooda has said the Delhi Metro would be extended up to Faridabad district.