Preparing for final exams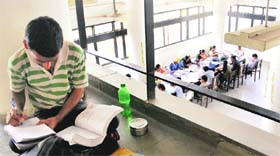 Finding no place to study in the main hall of a library in Chandigarh, a student sits in the balcony. Tribune photo: Pradeep Tewari
Investment company dupes 400 residents of tricity
Chandigarh, April 23
Operators of an investment company in the city have allegedly duped a large number of residents of lakhs of rupees by promising them heavy returns. They operated under the name of "Office Stationery World" in Sector 27.
Ministry kills night tourism project
Chandigarh, April 23
Putting an end to the two-year-old ambitious project of night tourism in Chandigarh, the Union Ministry of Tourism has cancelled the project and withheld the grant of Rs 4.98 crore to be released for it.


Precious commodity goes waste all around in City Beautiful


Drinking water goes waste from a damaged pipeline at Phase II of the Industrial Area.
No taps have been installed to control the free flow of water at the Colony Number 4.
Water leaks on a road at Mani Majra in Chandigarh. Tribune photos: Manoj Mahajan
Door-to-door collection of Solid waste begins
Chandigarh, April 23
The municipal corporation (MC) launched its pilot project of door-to-door collection of solid waste from Sector 22 here today. Nine trolleys deployed for the purpose were flagged off by Mayor Raj Bala Malik in the presence of councillors and office-bearers of resident welfare associations.
| | |
| --- | --- |
| | |
| Garbage-collection workers protest outside the Nehru Park at Sector 22 in Chandigarh on Monday. Tribune photo: Pradeep Tewari | Mayor Raj Bala Malik flags off a garbage-collection trolley at Sector 22 in Chandigarh on Monday. A Tribune photograph |
Heaps of garbage lie unattended all around in city
Chandigarh, April 23
It seems that the garbage collection system of the municipal corporation (MC) has almost collapsed as heaps of garbage are lying unattended in every nook and corner of streets. Residents are forced to live in unhygienic conditions as no uniform policy has been adopted by the MC for the collection of garbage.
| | |
| --- | --- |
| | |
| Garbage lies scattered at a greenbelt in Sector 8 of Chandigarh. Tribune photo: S Chandan | Garbage lies in front of a school at Sector 35 in Chandigarh. Tribune photo: Manoj Mahajan |

Nine years gone, but civic body still not bothered
Chandigarh, April 23
Washermen have been running from pillar to post to deposit their monthly 'dhobhi ghat' fee while the municipal corporation (MC) authorities are not bothered for the past nine years to recover it.


Washermen use the 'dhobhi ghat' at Sector 8 in Chandigarh. Tribune Photo: Manoj Mahajan



Admn to soft-pedal dispute between two depts
Chandigarh, April 23
As two departments of the UT Administration — the office of the Deputy Commissioner (DC) and the forest and wildlife department — are at loggerheads over the dispute over a 26-sq-km eco-fragile Sukhna wildlife sanctuary area, the Administration has decided to soft-pedal the issue.
UT reduces quota for kerosene users
Chandigarh, April 23
The Chandigarh Administration has revised the retail distribution of kerosene under the public distribution system (PDS). The move follows the reduction in quota of kerosene by 45.89 per cent by the Petroleum Ministry. Around 63,000 poor families are likely to get reduced allocation of kerosene every month.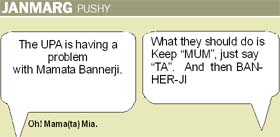 convenience shops
Construction work begins
Mohali, April 23
Work on the construction of 700 convenience shops (built-up booths) has been started by the Greater Mohali Area Development Authority (GMADA) and the contractors concerned have been asked to complete the first phase of the project in six months time.
This passage has become a bone of contention
Panchkula, April 23
A passage through the Panchkula Golf Club to the cremation ground on River Ghaggar has become the bone of contention between the Panchkula Golf Club authorities and residents of Devi Nagar Village. Today, the village residents alleging that the club officials had been trying to block their passage staged a protest outside the golf club.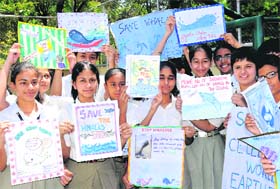 Students of Saupin's School show their paintings during an event held at the school to create awareness on whales in Chandigarh on Monday. Tribune photo: Manoj Mahajan
Healthcare services at PGI likely to be hit tomorrow
Chandigarh, April 23
The patient care at PGI is likely to be hit on April 25 as the Nurses Welfare Association has decided to go on a mass casual leave that day. Lakhwinder Singh, president of the association, said despite several meetings with the director of PGI, Chandigarh, and medical superintendent of Nehru Hospital, PGI, Chandigarh, their demands were not accepted by the PGI administration.
Draft of terms chalked out
Chandigarh, April 23
The municipal corporation (MC) has chalked out the draft of terms for introducing two fully automatic parking lots at Sector 17. The draft will be tabled during the finance and contract committee meeting on April 25.
Bhabat village in Zirakpur a mess
Zirakpur, April 23
Bhabat village, which is a hub of warehousing and distribution activities in the region and claims to contribute a whopping Rs 500 crore as VAT annually to the Punjab Government, is virtually crying for attention.


Vehicles parked in the middle of a road; and (right) a potholed road at Bhabat village in Zirakpur. Tribune photos: Nitin Mittal
removal of tents
Now, It's time to bell the cat in Mohali
Chandigarh, April 23
It's time to bell the cat in Mohali. Less than a month after the Punjab and Haryana High Court set a precedent by ordering the removal of tents pitched for the security of the judges and also directed the UT authorities to do the same, a petition was today filed seeking similar directions for Mohali.
development works
Send progress report to me: DC tells officials
Mohali, April 23
Mohali Deputy Commissioner Varun Roojam today asked the top officials of various departments to prepare progress reports of the development works under them and submit to him by 10th of every month.

First Govt Smart School opens in UT
Chandigarh, April 23
It was a landmark day for the UT education as the first government smart school started today. The inauguration of the Sector 53 school was marked by fervour and enthusiasm, with students mesmerised by the various machines in the school (like a shoe cleaner).

Adviser to UT Administrator KK Sharma (second from left) sits with students at the smart school in Sector 53, Chandigarh, on Monday. Tribune photo: Pradeep Tewari
PU to decide on making Syndicate meeting recordings public
Chandigarh, April 23
Punjab University's dirty linen might very soon be washed in public. The Syndicate in its forthcoming meeting will debate the legal opinion on recommending that recordings of Syndicate meetings be brought under the Right to Information Act.
Statue unveiled at Panjab University
Chandigarh, April 23
A statue of the Lady of Justice was unveiled at the Panjab University by Justice MM Kumar, Judge, Punjab and Haryana High Court. The statue was donated and installed by the alumni of 1985 and 1986.