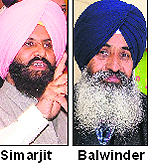 Bains brothers to rejoin SAD
Ludhiana, April 27
In the runup to the Municipal Corporation Ludhiana (MCL) elections, the Bains brothers have declared that their rejoining the Shiromani Akali Dal (SAD) is a mere formality. " I am an Akali. I have been an Akali and will remain so," said Simarjit Singh Bains, Independent MLA." The Akali Dal is my home. One does not require any special invitation to go back to one's home," he said.

ACQUISITION
Pay highest market value, says SC
New Delhi, April 27
The Supreme Court today ruled that the government should pay landowners the highest market value and not the average value of the land deals in the area while acquiring their land.

State wins award
Chandigarh: Punjab has been declared the No 1 state in "transition economy, physical infrastructure and overall competitiveness" by the Institute for Competitiveness (India) and Mint. Bikram Singh Majithia, Public Relations Minister, received the award on behalf of CM Parkash Singh Badal. Majithia said the government had improved connectivity with a network of roads. — TNS




MC Poll
SAD appoints observers
Chandigarh, April 27
The Shiromani Akali Dal (SAD) has begun preparations for elections to the four municipal corporations and 29 municipal committees and nagar panchayats with party president and Deputy Chief Minister Sukhbir Singh Badal deputing senior party leaders as observers.

Bajwa pleads rice millers' case in LS
Chandigarh / Delhi, April 27
Congress Member of Parliament from Gurdaspur Partap Singh Bajwa today drew the attention of the Union Government towards the plight of rice millers in Punjab. He spoke of the anomaly arising from the inclusion of black-tipped rice under the category of damaged grains by the Food Safety and Standards Authority (FSSA) of India.




Punjab rivers to be cleaned by Dec '13
Chandigarh, April 27
The Rivers Cleaning Project will be completed by December 2013 in Punjab. Chief Minister Parkash Singh Badal has asked the concerned officers to accelerate the pace of work for which Rs. 2,332 crore has been sanctioned.

High security for PM's visit
Patiala, April 27
Ahead of Prime Minister Manmohan Singh's visit to Bathinda tomorrow, the Punjab Police intelligence unit has short-listed four terror outfits on the threat perception.

Data on disabled children in govt schools sought
Bathinda, April 27
The number of students, with special needs, is being collected from Classes IX to XII for raising disabled friendly infrastructure and providing relief to the affected children in the form of different aids.

Moga MC is debt-free, claims its chief
Moga, April 27
The Moga Municipal Council (MC) has increased its revenue by 35 per cent in the past three years, making it a debt-free local body.

PPSC results
Patiala, April 27
The Punjab Public Service Commission has declared results of the mains examination of the State Civil Services Combined Competitive Examination-2009.

New unit to check tax evasion
Patiala, April 27
To tighten its noose around tax defaulters and to ensure that unscrupulous traders do not pilfer valuable tax money, the state government has constituted a new Economic Intelligence Unit (EIU) wing, which will work under the aegis of the Punjab Excise and Taxation Department. A director-level officer, who will hold some special powers to detect evasion of taxes, will head the unit.

Nusrat Fateh Ali Khan's disciple enthralls audience
Patiala, April 27
Shahid Ali Khan, a student of late Ustad Nusrat Fateh Ali Khan, enthralled the audience with his qawwalis during a function organised by the Music Department of Punjabi University here . Blessed with a voice very similar to the legendary singer, Shahid imitated his singing style so well that audience were spellbound and enjoyed the two-hour long programme without any break.




MLA Singla acquitted in assault case


Bathinda, April 27
Bathinda MLA and Chief Parliamentary Secretary Sarup Chand Singla was acquitted today in a 14-year-old case pertaining to an attack on a Central Excise team. The order was announced by Additional Sessions Judge Lachhman Singh.

27 rescued from illegal de-addiction centre
Fatehgarh Sahib, April 27
As many as 27 persons were rescued by a team of district health officers, led by Civil Surgeon Dr Gurmail Singh Chahal, today from an illegal drug de-addiction centre being run by Jatinder Singh, a resident of Harlal Pura village. The rescued inmates were handed over to their parents. The owner had no license to run the centre named Generation Safe Foundation and allegedly used to beat up inmates.