High on action, low on emotion
Nonika Singh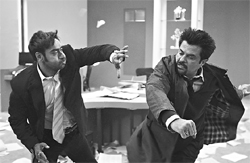 In one of the key scenes in the movie Anil Kapoor says of the suspected bomber threatening to detonate a speeding train English filmein bahut dekhta hoga. Can we say the same about Hindi filmmakers? Well, one could have, had the film not been directed by ace filmmaker Priyadarshan, who has given us authentic Indian films like Virasat, Hera Pheri and Garam Masala.
Yet there is no denying that as he moves into a different terrain that of an action thriller the influence of Hollywood is all too evident if not all pervasive.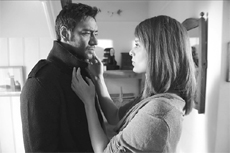 So, you have many ideas that are inspired from English movies. A speeding train that could blow off if its speed is curtailed is not exactly a new concept. In fact, what could have made the film truly different that is the plight of Indian immigrants abroad, in this case, the UK, is not fully tapped and at best remains a subtext that neither impresses nor convinces.
Despite the lead protagonist, Ajay Devgun, playing the wronged man Akash (deported from UK) out to seek revenge but without wanting to actually harm anyone, one feels little sympathy for him. The perceived injustice of his predicament actually rings hollow. Ditto for the plight of his accomplices Sameera Reddy as Megha and Zayed Khan as Adil Khan who too are lost in the maze of action and more action. And the real pity is a fine actor like Mohan Lal as the policeman on train is completely wasted. Surprisingly Kangna Ranaut is not bad, not bad at all and carries herself well despite the small length of her role. Actually the film belongs to Anil Kapoor and Ajay Devgn and not to miss the ever dependable Boman Irani. And the good actors they are, all three of them have done a fairly credible job.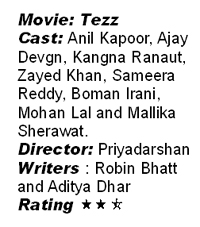 The cat and mouse game between Anil Kapoor playing Arjun Khanna policeman extraordinaire and Ajay Devgn as Akash is truly absorbing and keeps you engrossed till the very end. Mercifully, the film also refrains from overt melodrama, tearjerkers and knocks down clichés. So there is no minority angle, no Pakistani involvement no jehadis fighting a battle for religion. Racial profiling is hinted at but doesn't become an overkill. Actually come to think of it, the bomber and his accomplices are not exactly terrorists. So how do they have the wherewithal to blow up a goods train and to plant bombs in an express one? And this is where the film treads shaky ground.
Where the film does emerge a resounding winner is in the department of technical brilliance, editing and of course cinematography. As far as production values go, Tezz matches Hollywood frame to frame. Without a doubt Tezz lives up to its name and is a thriller that unfolds at supersonic speed. Yet in its bid to become another Hollywood flick, it forsakes its Bollywood soul. For, at the end of the day what is a Hindi film sans emotional quotient? And this one does not touch an emotional chord. However, the film is a one time watch.
Just in case you are curious whether the film retains the item song Laila picturised on Mallika Sherawat, it sure is a part of the film. Only it neither adds to the flow, nor takes away anything. The same could be said about the music on the whole.
Aliens, spaceships and a near disaster
Ervell E. Menezes
So, the Hollywood juggernaut rolls on. Marvel Studios, which created Captain Marvel Sr and Jr in our 1940-50s school days fame and in recent times put together Iron Man and The Hulk bring on The Avengers, a 220-minute-long extravaganza replete with aliens, huge spaceships and reptilian monsters wreaking havoc on the Big Apple and the world at large.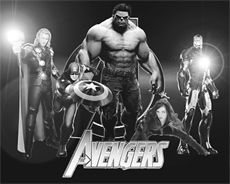 Manhattan, whom some Americans consider the centre of the earth, takes a major drubbing with probably only the classy Chrysler building surviving. This is because Loki (Tom Huddleston), the evil brother of Thor (Chris Hammersmith) and his band of aliens have decided to wage war on the humans and threaten major global catastrophe with a hole in the sky providing the opening and gravity doing the rest.
Nick Fury (Samuel L Jackson), director of the peace-keeping body SHIELD, summons the services of the Avengers, a group of super heroes beginning with Tony Stark/Iron Man (Robert Downey Jr), genius, billionaire, playboy and philanthropist, Steve Rogers/Capt America (Chris Evans), Dr Bruce Banner (Mark Ruffalo) who when enraged becomes The Hulk, and Thor with his hammer and a somewhat low-key Clint Barton/Hawkeye (Jeremy Landall). To add to the confusion is Natasha Romanoff/ Black Widow (Scarlett Johansson), a Russian spy and perennial enemy. More feminine relief comes in the shape of martial arts expert Maria Hill
(Cobie Smulders).
What follows is FX-heavy and quite likely to numb the senses. Cinematographer Seamus McGarvy has a field day with a good deal of aerial shots and Alan Silvestri's music score provides soothing relief.
The screenplay by Joss Wheddon and Zack Penn is littered with some witty lines like "the ant has no quarrel with the boot" or the hilarious sequence where the Hulk goes to town with the so-called deity. But director Wheddon could surely have exercised more restraint. Entertainment must be qualitative and more often than not "less is more." To plod on for 220 minutes is a major blemish and this is not the only time Hollywood has fallen victim to it.
Robert Downey Jr looks tired and seems to drag through the motions and Samuel L Jackson is not much better having played similar roles earlier but Mark Ruffalo is more enthusiastic and Chris Evans adequate. Scarlett Johansson is her usual effusive self and Cobie Smulders at best, promising.
See it only if you are prepared to sit through 220 minutes.

Movies on tv
Saturday April 28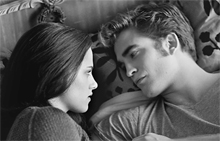 The Twilight Saga: Eclipse: STAR MOVIES 10:59PM
The third film in the Twilight series explores a love triangle between Bella (Kristen Stewart), Edward (Robert Pattinson), and Jacob (Taylor Lautner) as the werewolf pack and the Cullen clan join together to fight a new breed of vampires. Bryce Dallas Howard joins the cast as Victoria and the villain in the film.
ZEE CINEMA
7:15AM Main Tera Dushman, 2:25PM Veeraana, 5:30PM Phool Bane Angarey 9:00PM My Friend Pinto,
STAR MOVIES
7:46AM Dracula: Dead and Loving It, 9:51AM The Transporter, 11:51AM Hollywood Premieres (In Time), 12:21PM The Grudge 3, 1:57PM Indiana Jones and the Kingdom of the Crystal Skull, 4:25PM From Hell, 6:46PM Legion, 9:00PM
First Blood
STAR PLUS
1:00PM Krrish, 4:30PM Meri Taaqat
FILMY
9:00AM Aur Pyaar Ho Gaya, 12:00PM Skystar, 12:30PM Malamaal Weekly, 4:00PM Ghar Ghar Ki Kahani, 7:30PM Meri Bhains Ko Anda Kyon Maara?, 8:00PM World's Greatest Magicians , 8:30PM Golmaal Returns
HBO
8:00AM The Wannabes (Season 1) : Guys Rock, Girls Rule, 8:30AM The Wannabes (Season 1) : Tough Cookies, 9:00AM The Land Before Time, 10:25AM Liar Liar, 12:15PM No Strings Attached, 2:20PM The Mummy, 4:55PM Ace Ventura: When Nature Calls, 6:55PM She's Out of My League, 11:00PM Torque
Sunday April 29
Ra.One: STAR PLUS 1PM

The film follows Shekhar Subramanium (Shah Rukh Khan), a game designer in London living with his wife (Kareena Kapoor) and son (Armaan Verma). He designs a motion sensor-based game in which the villain is more powerful than the hero. The villain escapes from the game into the real world, and begins to track down Lucifer (the gaming ID of Verma), the only player to have defeated him. The film also features Shahana Goswami, Dalip Tahil and Tom Wu in supporting roles. Rajinikanth, Sanjay Dutt and Priyanka Chopra appear in cameo roles.
STAR GOLD
10:00AM Chain Kulii Ki Main Kulii, 12:00PM Dil Hai Tumhaara, 3:30PM Barood: Man on A Mission, 5:50PM Bajrang: The He Man, 9:00PM Dhamkee, 11:00PM Dhamkee
ZEE CINEMA
7:20AM Aa Ab Laut Chalen, 10:50AM Nayak, 2:15PM Hum Saath Saath Hain, 6:00PM Kasam Paida Karne Wale Kii, 9:00PM Ram Lakhan
STAR MOVIES
7:45AM Hollywood Premieres (In Time), 8:15AM Oscar, 10:28AM The Chronicles of Narnia: The Voyage of the Dawn Treader, 12:43PM Die Hard: With a Vengeance, 3:11PM Die Hard 4.0, 5:43PM Missing (Season 1), 7:01PM Salvation Boulevard, 9:00PM Rambo III, 11:03PM Night at the Museum
STAR PLUS
6:00PM Singham
FILMY
9:00AM Dharma, 12:00PM Skystar, 12:30PM Dil Ne Jise Apna Kahaa, 4:00PM Main Hoon Rakhwala, 7:30PM Meri Bhains Ko Anda Kyon Maara?, 8:00PM World's Greatest Magicians, 8:30PM Vishwanath
HBO
8:00AM The Wannabes (Season 1) : Mall Beasts, 8:30AM The Wannabes (Season 1) : Earth Day, 9:00AM The Making of : Cop Out, 9:15AM Ace Ventura: When Nature Calls, 11:15AM Harry Potter and the Sorcerer's Stone, 2:30PM Torque, 4:20PM Sanctum, 6:40PM The Scorpion King: Rise of a Warrior, 9:00PM The Twilight Saga: New Moon, 11:45PM My Soul to Take