Dist status for Nurpur to be poll issue: MLA
Lalit Mohan/TNS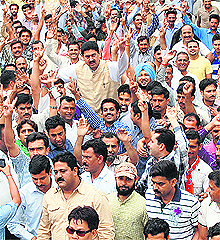 SHOW OF STRENGTH: Nurpur MLA Rakesh Pathania with his supporters at Dharamsala on Friday. Photo: Kamaljeet
Dharamsala, April 27
Rakesh Pathania, Independent MLA from Nurpur, today displayed his strength and made the issue of getting the district status for Nurpur subdivision as his electoral issue for the coming Assembly elections in the state.
Pathania arrived at Dharamsala this morning with about 1,000 supporters. His supporters took out a march from Martyrs' Park to mini-secretariat at Dharamsala raising slogans in favour of making Nurpur a district. Pathania addressed a rally and challenged all those opposing the district status for Nurpur subdivision.
He challenged Union Minister for Micro, Small and Medium Enterprises Virbhadra Singh to organise a rally in Nurpur subdivision. "I dare Virbhadra Singh, who opposed the formation of a new district, to come and organise a rally in Nurpur," said Pathania.
Addressing his supporters outside the mini-secretariat, Pathania had a dig at Minister for Industries and Dharamsala MLA Kishan Kapoor
"I have come from the front and completed my challenge that was posed before me by those who organised a rally at Nurpur," he said while referring to the rally organised a few days ago in Nurpur by Kapoor.
Pathania's supporters comprised mostly the youth from the Nurpur area, who had come in an aggressive mood to tackle any kind of confrontation with local BJP workers. However, the smaller gathering of Kapoor's supporters at Dharamsala and adequate police arrangements proved a deterrent for a confrontation between the two groups.
Pathania showered praises on Chief Minister Prem Kumar Dhumal during his speech. Addressing the rally, Pathania submitted a memorandum to Deputy Commissioner, Kangra, RS Gupta requesting the government to accord the district status to Nurpur.
Meanwhile, sources said Kapoor today lodged a strong protest with the party high command against Pathania's act. He warned of dire consequences in case Pathania was not tamed.
District president of the BJP Ranjit Singh Pathania, in a separate press conference, said the issue of new districts was with the core committee of the state BJP. Whatever, decision was taken by the committee would be binding on all workers, he said.
Meanwhile, the Kangra District Bar Association today organised a rally and opposed carving out more districts from Kangra.