Movies on TV
Saturday MAY 5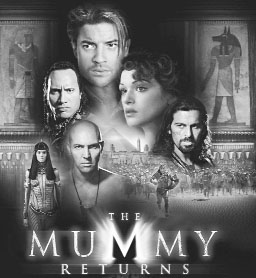 The Mummy Returns HBO 3:15PM
The Mummy Returns is a 2001 American adventure film written and directed by Stephen Sommers, starring Brendan Fraser, Rachel Weisz, John Hannah, Arnold Vosloo, Oded Fehr, Patricia Velásquez and Freddie Boath. The film is a sequel to the 1999 film, The Mummy. It contains less horror attributes than the first film, relying more on action and comedy aspects. The Mummy Returns proved to be even more successful than the first installment.
ZEE CINEMA
7:20AM Officer, 10:55AM Viewers Choice : Krantiveer / Bhai / Fight Club
2:20PM Arya Ki Prem Pratigya, 5:35PM Bhrashtachar, 9:00PM Dhol
STARMOVIES
7:06AM Cloudy with a Chance of Meatballs, 8:55AM The Front Row with Anupama Chopra, 9:25AM Hard Target, 11:25AM Death Race, 1:32PM The A-Team, 3:52PM The Chronicles of Narnia: The Voyage of the Dawn Treader 6:05PM 2012, 9:00PM Knight and Day, 11:14PM Die Hard 4.0
STAR GOLD
9:35AM Bade Ghar Ki Beti, 12:00PM Kabhi Khushi Kabhie Gham... 4:15PM Kaalo, 6:00PM Ghayal, 9:00PM Hukumat Ki Jung, 11:45PM Hukumat Ki Jung
STAR PLUS
12:00PM Rang De Basanti, 4:00PM Gangaajal
HBO
6:30AM An American Tail: Fievel Goes West, 9:00AM Legend of the Guardians: The Owls of Ga'Hoole, 11:05AM Nanny McPhee and the Big Bang, 1:25PM Final Destination 2, 3:15PM The Mummy Returns, 6:00PM Sex and the City 2, 9:00PM Enter the Dragon, 11:15PM Frozen
FILMY
9:00AM Bewafaa, 12:00PM Skystar, 12:30PM Hum Dil De Chuke Sanam 4:00PM Aag Aur Shola, 7:30PM Meri Bhains Ko Anda Kyon Maara?, 8:00PM World's Greatest Magicians, 8:30PM Sandwich
SUNDAY MAY 6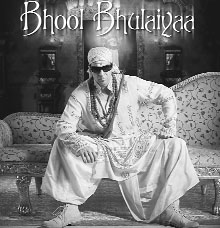 Bhool Bhulaiyaa FILMY 8:30PM
Bhool Bhulaiyaa is a 2007 Bollywood psychological thriller comedy horror film directed by Priyadarshan. The film constitutes the official remake of the 1993 Malayalam film, Manichitrathazhu, which was already remade into several Indian films. The film features Akshay Kumar, Vidya Balan, Ameesha Patel and Shiney Ahuja in pivotal roles with Paresh Rawal and Rajpal Yadav in supporting roles. The music of the film was composed by Pritam and the lyrics were written by Sameer.
ZEE CINEMA
6:45AM Jannat, 10:15AM Coolie, 2:05PM Mard, 5:40PM Aparichit: The Stranger, 9:00PM Aankhen
HBO
8:00AM The Wannabes (Season 1) : All About Drew, 8:30AM The Wannabes (Season 1) : She Drives Me Crazy, 9:00AM Legend of the Guardians: The Owls of Ga'Hoole, 11:05AM Nanny McPhee and the Big Bang, 1:25PM Final Destination 2, 3:15PM The Mummy Returns, 6:00PM Sex and the City 2, 9:00PM Enter the Dragon, 11:15PM Frozen
STAR MOVIES
8:29AM Ice Age, 10:13AM Die Hard 4.0, 12:44PM Anaconda, 2:38PM Anacondas: The Hunt for the Blood Orchid, 4:39PM Knight and Day, 6:54PM Killers, 9:00PM Home Alone 3, 11:04PM The Fast and the Furious
STAR GOLD
8:55AM Paa, 12:00PM Chandni Chowk to China, 3:10PM Naya Ajooba, 5:20PM Krrish, 9:00PM Force
FILMY
9:00AM 1947: Earth, 12:00PM Skystar, 12:30PM Hanuman, 3:30PM Meri Bhains Ko Anda Kyon Maara?, 4:00PM Vardaan, 7:30PM Meri Bhains Ko Anda Kyon Maara?, 8:00PM World's Greatest Magicians, 8:30PM Bhool Bhulaiya