UNDERSTANDING AIDS
The latest HIV drugs can contain the multiplication of the virus and hence minimise the attack on the body's immune system, thereby improving longevity and quality of life
Dr Sukarma S.S. Tanwar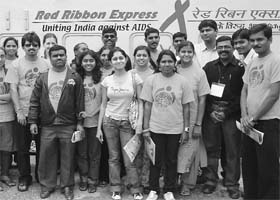 THE Acquired Immunodeficiency Syndrome (AIDS) was first described by clinicians in US in 1981 among men having sex with men (MSM). According to 2011 UNAIDS estimates, around 30.6 million adults and 3.4 million children are living with HIV/AIDS worldwide. Of these, approximately 2.4 million patients are in India and out of them nearly 1.5 million (including 97,800 children) patients are registered for HIV care at Government antiretrovial therapy (ART) centres across India. Out of these 0.5 million patients (28,000 children) are receiving antiretroviral therapy.

Exactly how the HIV was first transmitted to humans is not definite but a commonly accepted explanation lies in the African practice of hunting and butchering chimpanzees. Probably a form of virus not harmful to these non- human primates, simian immunodeficiency virus (SIV) was transferred to humans while hunting or dressing a kill, or by eating uncooked contaminated meat and then by multiple mutations over a period of years, it became infectious to humans and is now termed as Human Immunodeficiency Virus (HIV).

HIV is different from AIDS

HIV infection generally progresses through various stages and weakens the immune system significantly. The most severe stage is termed as Acquired Immunodeficiency Syndrome, or AIDS (the condition of lowered immunity caused by the virus). HIV is the virus that causes AIDS but this progression to AIDS may be preceded by a period during which the person may or may not have symptoms (average around eight to nine years for adults). The introduction of highly active antiretroviral therapy (HAART) halts the progression of HIV infection to AIDS stage. And it is now possible for someone with HIV infection receiving HAART to live for years without developing full-blown AIDS. The success of HAART has helped to destigmatise the HIV, and it has now come to be recognised as a chronic manageable disease.

How is it contracted

The highest concentration of the HIV in the body is found in blood, semen and vaginal secretions. So, any contact with these bodily fluids from an infected person may be a route of transmission. This includes heterosexual or same-sex contact with an infected person, as well as sharing of used needles. HIV is also present in sweat, saliva and tears but in very small concentration and there is no documented evidence of transmission through these body fluids. The most common modes of transmission of HIV are: unprotected sexual intercourse with an infected person, injecting drug (sharing needles), blood transfusion and mother-to-child transmission

Affects on the body

Patients recently infected with the HIV may experience symptoms of acute retroviral syndrome. Some of the common symptoms during this phase are fever or flu-like symptoms, rash, mucocutaneous ulcers, oropharyngeal candidiasis etc which will later settle down. The mean time from suspected exposure to appearance of these symptoms is two to four weeks. After this there is a long asymptomatic phase where a person may be totally healthy or may have certain mild illnesses. As the HIV infection progresses, it weakens a person's immune system and the person starts falling ill with diseases that a healthy person will be able to fight.

Diagnosis

A person has HIV if there are detectable levels of the virus on a blood test, or (with the exception of babies born to HIV-positive mothers) a positive blood test for antibodies (infection-fighting proteins) against the virus. The criteria for HIV diagnosis is slightly different in infants because HIV antibodies can be passed to the baby from mother before or during birth, but the infant may not actually be infected with the virus. The earliest time when the HIV status of a person can be ascertained is between seven and 12 days from the suspected date of exposure by fourth-generation enzyme linked immunosorbent assay (Elisa) test but should again be confirmed at three months through a rapid HIV test kit.

Symptoms

It is possible to live with HIV infection for years, without any significant related symptoms. Some of the more frequently seen symptoms are significant weight loss, prolonged fever, unexplained fatigue, recurrent diarrhoea in the absence of any other illness that may cause these symptoms. The two factors that indicate the severity of infection are; a decrease in the CD4 ((cluster of differentiation 4) cell count and the presence of one of the AIDS-defining illnesses. The most common are cryptococossis (fungal infections), TB, pneumonia, candidiasis, herpes etc.

Treatment

For HIV treatment, a combination of three or more antiretroviral drugs (ART) is given and the therapy is called highly active antiretroviral therapy (HAART). These drugs prevent the virus from multiplying inside our body. As a result, fewer CD4 cells are destroyed and the body's immune system is maintained. However, the virus also mutates quickly and becomes resistant to medicine. It is, thus, essential that the treatment regimen for HIV contains three or more drugs. Besides this, the adherence of more than 95 per cent is essential for the drugs to act optimally and prevent the emergence of resistant strains of HIV in the body. These drugs only contain the multiplication of the virus, and hence minimise the attack on the body's immune system thereby improving longevity and quality of life but not cure the HIV as the virus is known to persist in certain sanctuaries like lymph nodes and brain.

Side-effects

Some common side-effects of HAART are nausea, vomiting, diarrhoea and headache. Some drugs may also cause abnormal dreams and difficulty to concentrate. However, most of these are not serious and improve in the first one or two months.

First-line & second-line ART

The initial combination of ARV drugs taken to treat HIV is called first-line ART. When this combination of drugs is not able to contain the multiplication of the virus, then another combination of drugs is started (from different class) and this is called second-line ART. A person can be stable on first-line regimen for around eight to 10 years if taken as per instructions from the doctor (primarily adherence >95 per cent).

Post-exposure prophylaxis for HIV

Post-exposure prophylaxis (PEP) for HIV refers to measures taken to prevent infection in a person, who may have been exposed to HIV infection. The various measures include first-aid care, counselling and risk assessment, followed by initiation of short-course ART, if required. The PEP is a combination of two or three ARV drugs and should be initiated as soon as possible but definitely within 72 hours from the suspected time of exposure. The treatment has to continue for 28 days. During this period, the person may suffer from various side-effects like diarrhoea, vomiting, headache and myalgia.

Government initiative

The Government of India has set up around 9,500 integrated testing and counselling centres (ICTCs) across the country where free of charge HIV testing is done with confidentiality. Besides this, there are 340 ART centres (HIV treatment centres) across the country where investigations and ART is provided free of charge to all the patients. Currently 4,87,000 patients are receiving free ART at these centres.

— The writer is Senior Lecturer, Public Health Foundation of India, and Technical Consultant (Care, Support & Treatment), National AIDS Control Organisation, Government of India

Dr Sudhir Srivastava, writer of "When robot plays surgeon", is the Chairman, CEO and Managing Director, International Centre for Robotic Surgery, New Delhi. He is not the Chairman, CEO and Managing Director, Fortis Healthcare, as was inadvertently mentioned on April 25, 2012.



HIV is not transmitted by
Through air or by coughing and sneezing.
Through food or water.
Sharing cups, plates, and utensils with an infected person.
Touching & hugging an infected person.
Sharing clothes or shaking hands with an infected person.
Sharing toilets and bathrooms with an infected person.
Living with an infected person.
Mosquitoes, fleas, or other insects.
Healthy living
Make sure you have a healthcare provider who knows how to treat HIV.
Begin treatment promptly once your doctor tells you to and follow your doctor's instructions. Better the adherence (>95 per cent), better would be long-term response.
If you get side-effects from your medicine, visit your doctor for advice; don't make changes in your medicine on your own or because of advice from friends.
Get immunisation (shots) to prevent infections such as pneumonia and flu but only as per your doctor's advice.
Practise safe sex to reduce your risk of getting a sexually transmitted disease (STD) or another strain of HIV.
ART Centres in North India
IGMC, ARTC , Department of Medicine Opposite Blood Bank, Shimla
Room No 501, Regional Hospital, Hamirpur
Guru Nanak Dev College & Government Medical College, Amritsar
Civil Hospital, Near Pathology Lab, 1st Floor, Jalandhar city
OPD Complex, Govt Medical College & Rajindra Hospital, Patiala
Lord Mahavir Civil Hospital, Ludhiana
Civil Hospital, Pathankot
Civil Hospital, Bathinda
Room No 2021, New O.P.D.Complex, PGIMER., Chandigarh
Ward No 26, PGIMS, Rohtak
Dept of Medicine, Govt Medical College Bakshi Nagar, Jammu
Sher-i-Kashmir Institute of Medial Science, Soura, Srinagar