fifty fifty
My romance with Saadat Hasan Manto
Kishwar Desai

Sometimes it is possible to fall in love with someone whom you know you will never meet.
And that is exactly what happened with me and Saadat Hasan Manto. Had he lived he would have been 100 years old within a fortnight, but he died a year before I was born, and I never met him. Yet, for me, it was love at first read.
Thus, unsurprisingly, when I first read him, around 17 years ago, I simply could not stop myself. And I am sure there are many who continue to react the same way. I simply had to read everything he had ever written, and though I didn't quite succeed (as he was a prolific writer), I felt driven by an insane passion to devour every word. There was a thrill in discovering a brilliant and versatile writer who could articulate clearly and precisely everything that was both wonderful and crazy in our world — with a constant sense of humour, and often, dark satire. He was also a writer with complete mastery over so many different genres: short stories, radio plays, film scripts, essays…. even letters!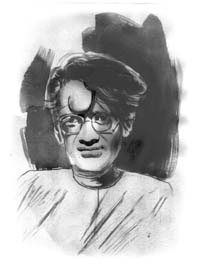 May 11, 1912-January 18, 1955
Illustration: Sandeep Joshi
He was both modern and self confident — someone who already knew that he was ahead of his time. But he knew he was a misfit and extremely controversial — dragged half a dozen times to court for his bold descriptions of sexuality: in men, women and even adolescents. He was reviled by the 'progressive' writers, envied by his contemporaries, never quite sure where he belonged — and he could spot hypocrisy a mile away. Yet he continued to be a rebel and lived his life according to his own, sometimes very painful, terms.
Seventeen years ago — because the 'young and trendy' in Delhi's literary circles had still not adopted him and made him into a 'rage' — I could enjoy my secret junoon in private, scouring all bookshops in Old Delhi to find any publication associated with him. And in fact, because I couldn't read Urdu, the only way I could access his writings was in the Hindi script. Perhaps that might have been a good way to be introduced to him initially, as the purity of his language was maintained, which some translators, however excellent, have still not been able to replicate in English. A story like Toba Tek Singh or Khol Do still resonates most vehemently when it is read in Manto's own words.
And because I had stumbled upon him quite by accident while researching another iconic figure, Ismat Chughtai, I wondered about those lost decades when he was not as celebrated as he is today. Was he forgotten in India because he had made the difficult choice of re-locating to Pakistan after Partition? Indeed, one only realises how difficult that decision must have been for him when one reads his accounts of his own mental and physical sense of dislocation. And how he felt that the decision was almost imposed upon him, following the uneasy situation which cropped up both in the film studios and on the streets of Bombay. He could not bear the burden of suspicion he felt he was regarded with, even by his closest friends. These are painful moments, vividly depicted. But as with everything else, Manto recorded his own angst with a brilliant sensitivity.
Ironically, while we in India for some time blithely disregarded one of our greatest writers (except for a few diehard fans), the astonishing part was that he went equally uncelebrated in Pakistan, especially during the decades following his death.
Perhaps there too, the painful history of his physical disintegration — his drinking and his incarceration in the Lahore asylum — made him persona non grata. Not to speak of the difficult subjects about which he wrote. There was much in his writing to make the status quo-ists in both India and Pakistan uncomfortable. Perhaps even more so when they encountered his special regard for the downtrodden and the marginalised. Much of his frankly provocative writing would have been viewed with alarm, with his Partition stories cutting close to the bone.
Thus it was exciting to 'stumble' upon him, however accidently. And then, because luckily I was participating in a playwriting workshop conducted by Mahesh Dattani, in Delhi, I decided to go public with my romance — and write a play on Manto. Once again, when I presented the idea to a room full of well-read and erudite people, it was with extreme nervousness because few had heard about the court cases he and Ismat Chughtai had to go through — though they had all heard of D.H. Lawrence's court case. And my whole play was set up like a court-room trial.
Fortunately for my all-too-ambitious plans, the play "Manto!" won the top prize in the workshop — and it was actually staged by Theatre Action Group at Kamani Theatre in Delhi, directed by the wonderful Barry John. My romance, thus, had a happy ending. I was able to pay a small tribute to a marvellous writer.
Later, I spoke to a very encouraging Khushwant Singh about my further desire to write a biography on my idol. With his blessings, I even went to Pakistan to track down his family, interviewing his daughters, his sister and his few remaining friends.
But my funniest memory in Pakistan is of visiting the mental hospital in Lahore where Manto had been kept to rid him of his alcoholism. I told the warden that I was writing a biography on Saadat Hasan Manto, and requested to see the cell where he had been kept.
The jailer looked puzzled. "I don't know about him, Madam. I don't think we have him in our records," he replied politely.
Then seeing my disappointment, but still eager to help, he quickly added, "But we have so many other lunatics. Why don't you choose to write about any one of them?"
It was truly an episode that Manto himself would have appreciated!
Kishwar Desai's new novel, Origins of Love, is scheduled to be published by Simon and Schuster by May-end