Govt: Swamy's charges against Chidambaram baseless
Our Political Correspondent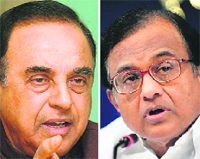 Subramanian Swamy (L) and P Chidambaram
New Delhi, April 28
Coming out in defence of Home Minister P Chidambaram, the government today brushed aside Janata Party chief Subramanian Swamy's allegations against the minister in connection with the Aircel-Maxis equity case.
"The allegations are totally baseless," a government release said here this evening.
The statement said the government had scrutinised the records of the Foreign Investment Promotion Board (FIPB) which clearly showed that there was no basis to Swamy's allegations. "It is unfortunate that baseless allegations should be made without verifying facts," the release underlined.
Three days ago, Swamy publicly declared that he had written a letter to Prime Minister Manmohan Singh in which he sought Chidambaram's resignation and asked him to direct the CBI to include the minister and his son Karti's names in the FIR on the Aircel-Maxis deal along with former telecommunications minister Murasoli Maran. Releasing documents in connection with the deal, the Janata Party chief alleged that there was a "dubious connection" between Aircel and a firm "controlled" by Karti.
This is not the first time that the Janata Party chief has targeted Chidambaram. Swamy is already pursuing a case in court against the Home Minister in which he has alleged there was collusion between Chidambaram and former telecom minister A Raja in the allocation of 2G spectrum.
While Karti has denied these allegations, he has also threatened legal action against Swamy.
The issue had rocked Lok Sabha yesterday when Opposition parties disrupted proceedings and demanded Chidmabaram's resignation.
The Congress core group, headed by party president Sonia Gandhi, also discussed the matter at its meeting yesterday. Chidambaram, it is learnt, carried a sheaf of documents to the meeting to say that there was no truth in Swamy's allegations.
The statement, which follows a series of deliberations at the highest level, said official records reveal that on January 1,2006 Global Communications Services Holdings (GCSH) acquired 26 per cent equity in Aircel through the automatic route.
On January 30,2006, the GCSH applied for enhancing its equity in Aircel Ltd from 26 to 73.99 per cent. It was stated that the application was processed in the normal course and the ministries and departments concerned took the normal time of four to six weeks to give their comments. The proposal was included in the agenda notes circulated on February 17,2006.
On March 7, the matter was placed before the FIPB meeting which recommended its approval on the same day and the file was moved by the deputy secretary on March 10. The formal letter of approval was issued by the finance ministry on March 20.
"From the facts stated above, it will be abundantly clear that there was no delay whatsoever," the statement added.