The series of decisions in the last few months for opening up trade between India and Pakistan, while holding promiseof easing tensions between the two neighbours, offer limitless economic opportunities for both Punjabs
An opportunity for two Punjabs
D S Jaspal
In his seminal work "The Competitive Advantage of Nations" the celebrated Harvard Business School Professor, Michael Porter, has illustrated through case studies how the competitive success of firms depends largely on the economic and cultural environments of countries in which they are based. Porter provides a great deal of analytical and conceptual insight into the complex mixture of regional synergies between competing firms within an industry, their clustering and unique supplier networks.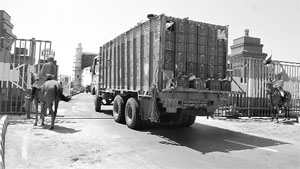 The gate opens to limitless possibilities: An Indian truck heads for Pakistan. Photo: Vishal Kumar
World renowned business strategist, Kenichi Ohmae, in his profoundly important book "The Death of the Nation State" has demonstrated how the new "region states", which he calls the new engines of prosperity, have emerged, for example, between San Diego and Tijuana; Singapore and parts of Malaysia and Indonesia; Silicon valley and the Bay Area; and Hong Kong and the adjacent portion of the Chinese mainland.
He describes how these region states, each inhabited by 5 to 20 million people, have closer links to other region states in the global economy than to their "host" nations. Ohmae concludes by observing that region-states are more important than national boundaries and that their primary linkages tend to be with the global economy than with their nation states:
"The dynamics of the global economy foreshadow that open borders are as imminent as they are imperative. If the price of patriotism is payment of higher costs for raw materials and inputs then such a nation state is destined for economic martyrdom sooner than later".
The series of decisions in the last few months for opening up trade between India and Pakistan, while holding promise of easing tensions between the two neighbors, offer limitless economic opportunities for both Punjabs
In particular, the decision by the Government of India to allow FDI from Pakistan can be a game changer for Punjab and transform the economic fortunes of this state in an unimaginable manner.
Because Pakistan is not an economic powerhouse does not imply negligible FDI from that country. On the contrary, the enterprising Punjabis across the border can leverage Pakistan's ties with the petro-dollar economies of the Middle East, and also China, to mobilise a surprising robust surge of investment into India.
For Pakistani entrepreneurs, Punjabis would be their natural business partners, provided Punjab is able to create the right investment climate to absorb the investment at the point of entry at Attari. It would be unfortunate if Pakistani FDI, searching for the right investment environment, ends up in Gujarat, or even further, South.
Punjab Deputy Chief Minister Sukhbir Singh Badal, who has the vision, ambition and political clout, has a task cut out for him. From the handicap of a land-locked State, Punjab could become a port State and if Sukhbir Badal can do what Lee Kuan Yew did in Singapore, Punjab could emerge as the economic powerhouse of the country.
If we look westwards towards our immediate and distant neighbours in South Asia and beyond we find a huge and hungry market waiting to be born. Apart from our immediate neighbour, Pakistan, this region includes Afghanistan, Iran and the CIS countries of the former Soviet Union: Turkmenistan, Tajikistan, Kazakhstan, Uzbekistan, Kyrgyzstan. Beyond, through Turkey, this region opens up to Europe.
The purchasing power of this region, flush with petro-dollars, is exponential. The specifications/standards of products required by this region are those which Indian industry can easily match. In case the gates at Attari-Wagah (as also Ferozepur, which in fact would be more appropriate for the movement of road cargo from New Delhi) are opened, Punjab would become a port State with the world's largest market literally at its doorstep– if not feet.
The proximity of the South Asian market to Punjab in particular and the north-western States—Haryana, Himachal, Rajasthan, Gujarat—in general has the potential of creating a powerful regional trading block given the presence of a unique existing network of rail and road linking North West Punjab to Zahedan in Iran, which is further connected to the CIS countries by excellent road infrastructure.
The road network (in km)
The comparative road distances ex-Punjab to Mumbai and Zahedan are given below:
New Delhi-Ambala-Ludhiana-Amritsar-Lahore: 507
New Delhi-Rohtak-Hisar-Sirsa-Fazilka-Kasur-Lahore: 484
Lahore-Muzzafargarh-Rohri-Quetta-Dalbandin-Mihaveh-Zahedan 1700
Zahedan-Akshabad (Gateway To Central Asia) 1455
Amritsar – Zahedan 1780
Amritsar-Mumbai 1854
Ludhiana-Mumbai 1720
New Delhi-Mumbai 1450
A cargo truck from Amritsar (or even Delhi) can reach Zahedan (Iran) in about the same time it takes to reach Mumbai for further shipment of cargo by sea to foreign ports.
Similarly, a 1,676-km broad guage railway line running through Amritsar-Quetta-Dalbandin-Mirhaveh extends up to Zahedan. Since the guage is uniform throughout, no transhipment is involved.
The challenge before the Punjab government is to create a conducive investment environment, the key attributes of which are:
* Economic stability
* Strategic location
* Access to markets & sources of supply
* Communication infrastructure
* Financial services infrastructure
* Professional & workforce skills
* Entrepreneurship
* Government facilitation
* Wages & prices
* Work culture & quality of life
Since it is not possible for any place to meet all these requirements an investor will be attracted to the destination which offers the right combination. In scouting for the right destination, an investor is in the position of an automobile buyer. He has to decide which of the features being offered are critical to his requirement. Thus, while he may reject some of the fancy features and gadgetry, he will also not settle for non-critical factors being below a certain threshold level. However, while settling for less than maximum levels, it is also true that an investor will not accept less than minimum levels except in absolutely non-critical areas.
With the industry becoming technology driven, infrastructure has become a determinate factor; infrastructure both physical—power, transport, communication links etc—as well as non-physical—financial services, share markets, legal system and government facilitation. In addition to infrastructure, access to sources of supply and markets are the critical factors in any investment decision.
Singapore has developed into an international trading hub because its leader Lee Kuan Yew had the vision to create world-class physical and service infrastructure which was able to exploit Singapore's unique strategic location. Location and infrastructure are thus inseparable and complement each other. Without one, the other is not of much use.
If we are to emulate Singapore, we should remember Lee Kuan Yew's advice in his autobiography "From Third World to First": "It is individuals who build institutions: institutions do not make individuals." Out of the 13 experts Lee Kuan Yew selected for creating world-class infrastructure institutions in Singapore, as many as seven were Indians – and they were not party functionaries — just the best brains.
In our part of the country we create institutions for individuals – be they failed politicians, retired bureaucrats etc.
Both Sukhbir Singh Badal and Pakistani Punjab Chief Minister Shahbaz Sharif have the historic opportunity of creating the most powerful economic entity – the "region state" of Kenichi Ohmae - in South Asia and take the people of Punjab towards the path of prosperity. The fulfilment of this dream requires bold decisions — the most important being dispensing with some of the feudal administrative legacies of the British Raj.

What needs to be done immediately
(i) Create world-class infrastructure and institutions
Attari port authority – To develop, maintain and manage world-class infrastructure and logistics handling at the border.
Amritsar development authority – To turn Amritsar into a Singapore and prevent from becoming a Bangalore.
Punjab- Punjab cooperation council – for cooperation between East and West Punjab in the economic, social and cultural spheres.
(ii) Decentralise/debureaucratise decision-making
The excessive over-centralisation in decision-making needs to be dispersed horizontally. This will not only help in speedy decision-making but also create multiple centers of responsibility, accountability and creativity.
(ii) Intervene to check retrogressive features of Indo-Pak trade-visa accord:
Proposed protocol makes Indo-Pak trade a preserve of big businesses:
The proposed protocol envisages Indo-Pakistan trade between existing big business groups on both sides of the border. There is no window of opportunity for individual entrepreneurs. Punjab stands to lose the most as the benefits of its infrastructure and proximity to Pakistan will be enjoyed by big businesses, which are located outside Punjab. The same will be the fate of Punjabis on the other side of the border.
Liberal visa regime only for big businesses:
The proposed 'liberal' visa regime is highly discriminatory and bad in law, as it considers only big businessmen to be non-inflammable material and therefore entitled to liberal visa privileges, while students, academicians, small entrepreneurs, farmers, etc will have to go through the usual grind to procure visas. Punjab must strongly protest. Punjabis should be able to shake hands when they are at handshaking distance
The writer is a retired senior civil servant of Punjab. Email:dsjaspal@sify.com