Fuel prices to fall in punjab
Fatehgarh Sahib, April 30
The Punjab government has decided to reduce the octroi on petrol and diesel by one percent so that the common man, particularly the farming community, may be benefited.
Man dies in road accident
Banur, April 30
One person was killed in a road accident near Banur today. The deceased was identified as Gurmakh Singh, resident of Fauji colony, Banur. As per the information, the accident occurred when a car (Maruti Swift) rammed into the motorcyclist on Kharar- Banur road. The victim died on the spot.
Woman commits suicide
Ambala, April 30
A married woman from Ambala allegedly committed suicide by hanging herself from a ceiling fan in her room today. The deceased was identified as Kamal alias Mona (27). However, her famil has alleged that their daughter was murdered. The cause of the death could not be ascertained so far. It is said that there was dispute between the husband and the wife over the selling of their house.
Man stages dharna against doctor's 'misbehaviour'
Ambala, April 30
Ramkesh Gorkha, a resident of Bichpari village, sat on a dharna in the middle of the old Delhi road close to the Ambala City Civil Hospital to protest against the misbehaviour of a doctor of the hospital this noon. His wife and his two children were also accompanying him on the dharna.


Court tells CBI to investigate
Chandigarh, April 30
Following allegations by a JE convicted in a graft case that the CBI had misplaced 191 documents pertaining to investment, the CBI court today directed the agency to probe the allegations and submit a detailed report in court in this regard.


Drunk policeman creates scene
Chandigarh, April 30
A head constable was suspended for being drunk on duty last night. Hardev Singh was found creating a ruckus in an inebriated state while on duty at Sector 34.
Heavy jewellery attracts thieves to NRI couple's house
Panchkula, April 30
The costly jewelry worn by an old NRI woman of Sector 11 had attracted the attention of a barber, who used to visit her house to shave her husband, luring him to plan a robbery at the old couple's house.
Peddler caught with drugs again
Chandigarh, April 30
The crime branch of the UT police today arrested a notorious drug peddler. He was out on bail, but was again caught with a huge quantity of drugs.
Accused attempts suicide in lock-up
Chandigarh, April 30
A 29-year-old accused attempted suicide in police lock-up at the Sector-39 police station in the wee hours today.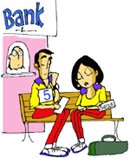 Players face official apathy
Chandigarh, April 30
Facing apathetic attitude of officials, players of Panjab University (PU) these days are running door-to-door carrying awarded scholarship cheques. Reason: The related bank (PU branch) is yet to receive the matching signatures of the present DSW (dean student welfare), Amrik Singh Ahluwalia. ccording to sources, signature of the DSW already exists with the bank but only valid for the poor student welfare scheme. And for these sports scholarships, the depository is yet to receive the counter signature of the official.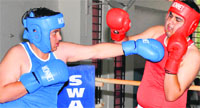 SD-32 pugilists hog limelight
Chandigarh, April 30
Pugilists of PML SD Public School, Sector 32, won laurels in the 35th Junior Boy's and 9th Junior Girls' State Boxing Championship held at the boxing centre of the Sports Complex, Sector 42, here today.

A boxing match in progress at the Sector 42 Sports Complex in Chandigarh on Monday.
Sharp Shooters, Shivalik Smashers record wins
Chandigarh, April 30
The cricket team of Laser Sharp Shooters, Sector 47, and Shivalik Smashers, Sector 41, won their respective matches of the ongoing Seven-a-Side Cricket Tournament being played to promote donation of body after death here today.
CAC outclass Air Headquarters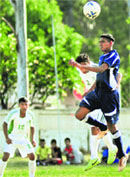 Chandigarh, April 30
Football teams of the Central Air Command (CAC) and Maintenance Command outclassed rivals during their respective matches of the ongoing Air Force Football Tournament being held at the 3BRD Station here today.






Players in action during a football match at the 3BRD Air Force Station in Chandigarh on Monday. Tribune photo: S Chandan
City lads get better of Yamunanagar
Chandigarh, April 30
In the first match of the Junior Inter-District Cricket Tournament, the local team defeated Yamunanagar at Government Model Senior Secondary School, Sector 19, here today.
St Xavier's lift overall trophy
Chandigarh, April 30
Table tennis players of St Xavier's Senior Secondary School, Sector 44, brought laurels after winning the overall trophy of the ICSE Inter-School Table Tennis Tournament for the third consecutive year here. The players won this year's edition at Tender Heart School earlier this month.
Vodafone thrash Quark Xpress
Chandigarh, April 30
In the ongoing CII KC Royal Park Corporate Cricket Cup being played at Guru Nanak Public School, Sector 36, the cricket team of Vodafone India Limited defeated Quark Xpress Publishing R&D India Private Limited here.