Players face official apathy
Bank yet to receive matching signature of DSW to encash cheques
Deepankar Sharda
Tribune News Service
Chandigarh, April 30
Facing apathetic attitude of officials, players of Panjab University (PU) these days are running door-to-door carrying awarded scholarship cheques. Reason: The related bank (PU branch) is yet to receive the matching signatures of the present DSW (dean student welfare), Amrik Singh Ahluwalia.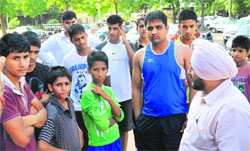 Players stand outside the boxing ring as one of the players raises objection, alleging that an outsider played a match during a boxing tournament in Chandigarh on Monday. Tribune photos: Pradeep Tewari
According to sources, signature of the DSW already exists with the bank but only valid for the poor student welfare scheme. And for these sports scholarships, the depository is yet to receive the counter signature of the official. The non-availability of the signature led the players to face a harrowing time in collecting the awarded money.
On the other hand, AS Ahluwalia denied the allegations made by the bank and made a counter attack while saying, "Till date I have not received any written notice by bank officials. I have signed all cheques on time and in case there is a problem, they must have informed me," said Ahluwalia. Adding further, "They have reverted two or three cheques, as they were not filled properly but never asked for the above mentioned requirement," said Ahluwalia, who took over as the new DSW last year.
A bank official on the basis of anonymity revealed that, "We receive around 30 queries each day. The bank has returned many cheques and many are still here. The DSW office was asked for the official's signature many times but a positive response is still awaited. We know that the players are in need of money but rules are meant to follow. Once, we receive the counter signature of AS Ahluwalia, we will distribute the amount in no time," said an official. However, the general manager of the bank hinted it as a minor problem.
Notably, the players are facing harassment after visiting the bank on daily basis in a hope to collect their hard-earned money. "We were happy after getting the awarded scholarship but from last 20 days, we are just getting the same reply.
The bank officials blame the DSW office, while the DSW office shrug their shoulder after mentioning that they have performed their duty after handing it over to the respective departments. We have no option but to drop certain plans and to wait for the cash in hand," said a group of players.