SGPC nod to Operation Bluestar memorial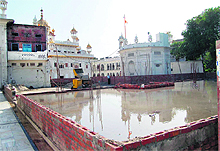 Amritsar, May 3
Twenty-eight years after the Army stormed into the Golden Temple complex to evict Sikh hardliners led by Jarnail Singh Bhindranwale, the SGPC executive at a meeting in Anandpur Sahib today approved Operation Bluestar Memorial.



A view of the Operation Bluestar Memorial site. Tribune photo: Vishal Kumar

Inquiry indicts former Patiala DC Garg
Chandigarh, May 3
Former Deputy Commissioner of Patiala Vikas Garg has been indicted for 'illegal' sale of 6,000 sq yards of government land worth about Rs 250 crore. An inquiry by Financial Commissioner (Revenue) Navreet Singh Kang has held him guilty of facilitating the sale of prime government land. The report has been submitted to Chief Minister Parkash Singh Badal. It says that recent revenue records make it abundantly clear that the prime property belonged to the government.
Cut down expenses, Centre tells Punjab
Chandigarh, May 3
Punjab, Kerala and West Bengal pressing for a fiscal package have been told by Union Finance Ministry officials to cut down expenditure and focus on revenue generation.
Terror alert has Punjab policemen on their toes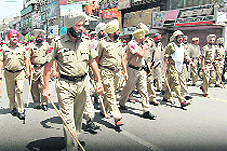 Patiala, May 3
Senior police officers in many districts of the state were on their toes in the evening following "certain intelligence inputs" pertaining to anti-social elements planning a major terror strike in the state.



Police personnel during a security drill. Tribune file photo

Coming: Cong's toll-free helpline for vendetta cases
Chandigarh, May 3
The Punjab Pradesh Congress Committee has decided to set up a toll-free helpline to compile data of "vendetta" cases allegedly being registered against its workers at the behest of the ruling SAD-BJP alliance.
Party finalises campaign panel
Chandigarh: The Punjab Congress today finalised its campaign and selection committee for the coming corporation elections.
Memorials dedicated to 'muktas' cry for care
Muktsar, May 3
The Shiromani Gurdwara Parbandhak Committee (SGPC) did not forget to commemorate the 307th martyrdom day of 40 'muktas' (liberated ones). It organised a three-day event that concluded at Gurdwara Shaheedganj today. But, what the top Sikh body failed to remember is initiating projects for revamping the memorials dedicated to muktas.
The Mukt-e-Minar
The memorial gate
The Mai Bhago park
The martyrs' memorial
Rape victim forced to marry offender alleges torture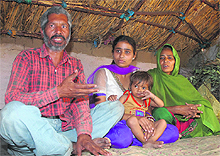 Narangpur (Jalandhar), May 3
Reena from Narangpur village, who was persuaded into marrying the man who had raped her, Palwinder Singh of nearby Jandhu Singh village, says she is being harassed by her husband and in-laws.



Reena Kumari along with her son, father and mother at Narangpur village in Jalandhar. Tribune photo: Malkiat Singh

Thapar University restores Punjab quota for now
Chandigarh, May 3
Thapar University has agreed to restore the 50 per cent quota for Punjab students for now and will take up the issue afresh in the next meeting of its Board of Governors (BOG).
Depot-holders protest cut in kerosene quota
Fatehgarh Sahib, May 3
Hundreds of ration depot holders under the banner of Federation of Punjab Ration Depot holders held a protest meeting here today. Members of the federation lashed out at the Union Government for reducing the kerosene oil quota and also demanded commission under the food security law.
Keep close liaison with Centre, officers told
Chandigarh, May 3
Cash-strapped Punjab Government today indicated to its senior officers that good public relations is needed to get centrally-sponsored schemes sanctioned for the state.
Sarna dares Badal to prove charges
New Delhi, May 3
Delhi Sikh Gurdwara Management Committee president Paramjit Singh Sarna today challenged Punjab Chief Minister Parkash Singh Badal to prove irregularities in the under-construction Guru Harkishan Hospital. He said he would resign from his post if Badal was able to do so. The hospital is located on the premises of Gurdwara Bala Sahib.
'Family dispute' drives Moga man to suicide
Moga, May 3
A 23-year-old man allegedly committed suicide by hanging himself two years after his marriage on Wednesday. The deceased, Jatinder Kumar of Bhim Nagar Camp, was summoned by the women cell of the district police for settlement of a family dispute yesterday, but he allegedly ended his life by hanging himself instead of facing the inquiry. The complaint was lodged by his wife.
SSP directs officers to wear uniform on duty
Patiala, May 3
The Patiala SSP has fixed responsibility of any crime in the district with the concerned gazetted officer and expressed his concern over rise in cases of thefts and snatchings.
British era water mill collapses into canal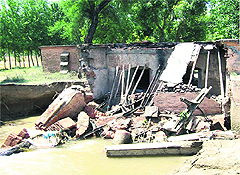 Moga, May 3
A 120-year-old 'gharat' (water mill) of the British era that was located on the Abohar Branch Canal on the outskirts of Samalsar village in Moga district collapsed into a water channel today. Sudden release of excess water in the channel, which has served it for decades, has been blamed for the collapse. Not only has this colonial heritage faded away, a 50-feet breach has been caused in the walls of the canal.

A collapsed portion of the water mill that dates back to the colonial period. A Tribune photo

Bibi challenges conviction
Chandigarh, May 3
Bibi Jagir Kaur has moved the Punjab and Haryana High Court challenging her conviction in an abduction case. Her appeal is expected to come up for hearing next week.
Court orders probe into misuse of school funds
Patiala, May 3
A local court today directed the police to investigate and submit the report within a month in the alleged misuse of funds by the president of the managing committee of Modern Senior Secondary School, Patiala.
418 kg of poppy husk seized
Hoshiarpur, May 3
The district police seized 418 kg of poppy husk and 2,76,750 ML of liquor of various brands last night. Addressing mediapersons here this evening, SP (D) Jagmohan Singh said the police, acting on a tipoff, intercepted a TATA 207 mini truck (HR-46E-1668) near Ajnoha and seized 400 kg of poppy husk packed in 20 gunny bags. One person was arrested.