'Internal security is shared responsibility'
Responding to the six-hour debate on Demands for Grants (2012-13) of Home Ministry, P Chidambaram, Union Home Minister, called on the states to do their bit, in terms of resources as well as cooperation on crucial initiatives such as the NCTC and the anti-Maoist drive. Excerpts from his reply in Parliament on Wednesday:
IN terms of terrorist violence, there was a time when every year we had five to six major terrorist attacks. Since Mumbai, we have had three major terrorist attacks and I am the first who wants to admit that the three are blots. But if you go back to 2001, every year we have had five to six major attacks, and in the run-up to Mumbai, we had an average of seven attacks a year. Now in the last three and a half years, we have had three terrorist attacks. No one can deny our capacity to deal with terror has increased.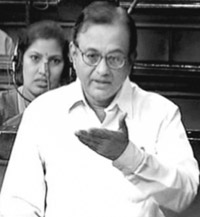 Home Minister P Chidambaram speaking in the Lok Sabha on Wednesday.
I believe security can be enhanced by enhancing our capacities in three areas. First is intelligence. Without intelligence there is no security. The second is capacity. We need more policemen, arms, equipment, vehicles, and schools to train them. The third is we must have a complete and common understanding that as a nation we are willing to take firm, pre-emptive steps to control any kind of threat to internal security.
On the first two there is no quarrel. We all agree that we need to expand our intelligence capabilities. Everybody has welcomed MAC [Multi-Agency Centre]; everybody has welcomed State MAC. It is MAC and SMAC which seamlessly share intelligence 24x7 with every important functionary in the Intelligence Establishment that has given us this capacity to deal with terror. Every Chief Minister has acknowledged that MAC and SMAC have made a remarkable difference to our intelligence capacity.
Do it together
On capacity, honourable Members tell me do this and do that. But who should do this and who should do that? There are 5 lakh vacancies in the state constabulary today, against a total sanctioned strength of 20 lakh. Who should fill them? Who should appoint policemen and acquire weapons?
I am willing to take the responsibility. But do I have the capacity to take this responsibility? What about the responsibility of the state governments? You tell me take all these responsibilities, roll back National Investigation Agency (NIA); roll back National Intelligence Grid (NATGRID); roll back National Counter-Terrorism Centre (NCTC). What I am trying to say is that this Hamletian dilemma must go. Remember the famous words of Hamlet: "To be or not to be". What do we want to be? In this troubled neighbourhood, in the year 2012, internal security of this country is a shared responsibility. The states must come forward to accept their share.
The Constitution says in List-II that law and order and public order are the responsibility of the state governments. It also says, in Article 355, that it is the responsibility of the Central government to protect every state against external aggression and internal threat. We have to read these provisions together.
Last year, the Government of India spent Rs 40,000 crore on police. All states put together spent Rs 60,000 crore. I have repeatedly urged the Chief Ministers, saying, "You point to my share of the Budget and look at your share for police in your Budget." Unless we accept the principle of shared responsibility, it cannot develop the capacity to deal with threats to internal security.
The NIA [National Investigation Agency] is a fledgling organisation. In three years, we have entrusted [it] with 40 cases, out of which 22 have already been charge- sheeted. I cannot recall any other fledgling organisation which has hit the ground running.
The NIA makes no distinction between a terrorist belonging to one religion or another religion. It makes no distinction between a terrorist belonging to one faith or another faith, one caste or another caste, one language or another language. The NIA has registered cases against those who call themselves "jihadi" terrorists. There are 12 cases. NIA has also registered cases against those who mistakenly believe in some kind of a right-wing fundamentalism. There are nine cases like that.
Let us not run down the NIA. NIA's track record has been the best among the new organisations.
Then, there is a myth India cannot deal with terrorist attacks whereas the US has had no terrorist attacks since 9/11. At least half a dozen Members said this.
Let us disabuse ourselves of this wrong notion. It is only a tribute to the successful propaganda machinery of the US. There were three actual terrorist attacks in the US. The Los Angeles Airport shooting was on July 4, 2002, in which three were dead and four were injured. Little Rock Recruiting Office shooting was on June 1, 2009, in which one was dead and one was injured. Fort Hood shooting was on November 5, 2009, in which 13 were dead and 30 were injured. There were three merely successful terrorist attacks. The shoe bomber was on December 21, 2001, the underwear bomber was on December 25, 2009, and the Times Square bomb on May 1, 2010.
I am not taking any sense of satisfaction. All I am saying is every country is vulnerable today. But do not be under the misapprehension that India is more vulnerable than other countries. I say India is no more vulnerable, but India is no less vulnerable than any other country.
Some questions were raised about the BSF Amendment Act and the NCTC [National Counter-Terrorism Centre]. But I do not know whether this was the right time for me to speak extensively on NCTC because there is a Chief Ministers' meeting coming up on the 5th of May. There was some question about the BSF Amendment, which is now before the Rajya Sabha.
Let us take the BSF Amendment Act. Section 139 confers powers upon the BSF. Whatever powers are there are there. That section is not being amended. All that we are doing is this: The Preamble to the Act made long ago says that the BSF can be deployed in the border. Today, I am forced to deploy the BSF in the interior districts of two states: Odisha and Chhattisgarh. There are 30 companies of the BSF in Odisha and 30 in Chhattisgarh. The Act does not allow me to deploy them. Therefore, we ask you to amend the Preamble, amend the Section which says "border areas" to "any other area in the State". The BSF cannot be deployed unless the Chief Minister wants it to be deployed. When I deploy it on the border, the power is there. When I deploy it in an interior district, it should not be a sort of same power. Not a single additional power is being given.
The same is with the NCTC. Section 2(e) of the UAPA [Unlawful Activities Prevention Act] was made in 2004, long before I became the Home Minister, which introduced "designated agency". We amended the UAPA Act in December, 2008. The Lok Sabha added Section 43 (a) to 43 (f). Section 43(a) refers to designated agency. It says "designated agency may, under certain circumstances, counter terrorism, arrest and seize articles." But the moment you arrest, you must hand them over to the nearest police station. This is a law made by Parliament. In fact, some of you should have asked me: "We passed the law in 2008. What were you doing for three years?" But when I finally get a consensus within the government and we have an NCTC, you turn around and say that I am encroaching upon the states' powers.
What power am I encroaching upon? When a counter-terrorism operation is undertaken, the first police officer there would have to arrest, and the next Section 43(b) says when you arrest, you will hand him over to the nearest police station. Please tell me, where is the encroachment on states' powers?
TACKLING MAOISTS
I want to conclude [with] what our government considers the gravest threat to internal security: the CPI (Maoist).
A number of Members say hold talks. I have no objection. Just tell me, who should I talk to? When we hold talks, should there be violence, should there not be violence? I am on record having offered to the CPI (Maoist), please say that you will not indulge in violence during the period when we hold talks and I will immediately fix talks. In the North-East, we impose more stringent conditions: You must lay down arms; you must surrender; your cadres must move into camps.... Only then we will hold talks. With Naxalites, we only say, during the period we hold talks there should be no violence. There has been no response to this. In the absence of a response, I have to pursue my two-pronged strategy. One prong is security action, the other is development work.
Under the IAP, we have spent Rs 3,300 in the last 18 months and 66,000 works have been completed in 60 districts. Yet, the CPI (Maoist) targets – two principle targets are school buildings and roads. Police are not put by me in school buildings. It is because the state government, which leads the operation, has no other accommodation, puts the policemen in the school building. I ask Chief Ministers to build infrastructure, to give barracks.... I don't blame you. You have difficulty with money and resources. But the point is, school buildings are targets; roads are targeted. Why? The CPI (Maoist) does not want the children to go to schools; does not want roads to be built. If roads are built, the whole hinterland will be opened up. Be that as it may, I have no objection to talking to the Maoists.
Let us not have any illusion about what the CPI (Maoist) want. They are not unclear as we are unclear about them. They are very clear about their objective... that the parliamentary system of democracy must be overthrown through an armed rebellion. That is their record, that is their document, and that is their interview. Power must be seized through the barrel of a gun.
We can talk to them about grievances, poverty, illiteracy, lack of development. But please tell me, as to whether we can talk to them about overthrowing of the parliamentary system through an armed rebellion? Let us not have any illusions. They know their goal. We are the ones who are misunderstanding their goals. Civil society organisations, many of them, have completely misunderstood their goals and objectives, which is why some hon. Members call them misguided. They are not misguided. They are guided by their objectives. We are misguiding ourselves by misreading their objectives. Nevertheless, I make the offer once again. The government is willing to talk to the CPI (Maoist), provided they abjure violence during the period of talks.