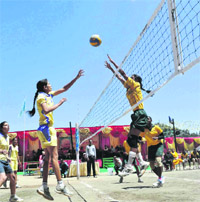 Players in action during the 15th All-India Dr Yashwant Singh Parmar Memorial Volleyball Championship at the ice skating rink in Shimla
on Thursday. Photo: Amit Kanwar
Traffic blocked over poor road
Palampur, May 3
Villagers blocked vehicular traffic on the Paproal-Andreta highway for four hours today in protest against the PWD failure to maintain the 8-km road serving over 100 villages in Palampur and Baijnath subdivisions. This road is in bad shape and needs immediate repairs.
Shimla MC Poll
6-member Cong panel formed
Shimla, May 3
PCC chief Kaul Singh has set up a six-member committee in consultation with AICC General Secretary Birender Singh for the coming Shimla Municipal Corporation elections.
Rajgir BJP MLA gheraoed
Palampur, May 3
Captain Atma Ram, BJP MLA from Rajgir, was gheraoed by agitated villagers at Kailashpur, about 30 km from here, last evening. The MLA, who had gone to the village to inaugurate a building of Ayurvedic Bhavan, was
Proposed Sites for International Airport
AAI seeks meteorological data to undertake study
Shimla, May 3
The Airport Authority of India (AAI) has sought meteorological data for the past five consecutive years for the two proposed sites in Kangra and Solan district for setting up of an international airport for which it will be undertaking a pre-feasibility study.
220 co-op bank pensioners await benefits
Kangra, May 3
Nearly 220 pensioners of the Kangra Central Cooperative Bank (KCCB), which included 45 widows, had been moving from pillar to post to get their pension as the contributory pension scheme was disbanded under the pretext of non-availability of adequate funds.
Encroachments
Mandi MC seeks help from Revenue Dept
Mandi, May 3
The 18-member Mandi Municipal Council (MMC) took up 47 cases of encroachment and unauthorised constructions in the town, but asked the revenue authorities to take action in the matter since the council had no land in its name in the town. The house, however, decided to issue notices to owners of unauthorised houses.
Vet team to check cattle disease
Chamba, May 3
Consequent upon reports of breaking out a mysterious disease among livestock of the distant Kilod area in Salooni tehsil of Chamba district, a team of veterinarians and the allied staff of the Department of Animal Husbandry have rushed to the affected site.
Rojgar Mela today
Hamirpur, May 3
Rajinder Singh Thakur,Deputy Commissioner, Hamirpur, has appealed to all unemployed persons to participate in a Rojgar Mela being organised by the Labour and Employment Department in the local Townhall on May 4.
Jobs on fake degrees
HC hands over case to CBI
Shimla , May 3
The HP High Court has handed over the inquiry into the case of jobs on fake degrees to the CBI.
Ex-panchayat chief booked for embezzlement
Nurpur, May 3
Following the order of the judicial court here, the police lodged a criminal case of embezzlement of public funds and breach of trust last evening against Janda Singh and Swaran Singh, the former pradhan and the then panchayat secretary (2007-2011), respectively, of the nearby Bhadwar panchayat.
2 children burnt alive
Solan, May 3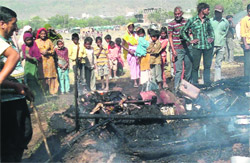 Two children, Kaif (3) and Sana (5), were burnt alive when a jhuggi they were sleeping in, along with their elder sister, suddenly caught fire at Lakkar Depot on the Barotiwala-Baddi road this afternoon. Their sister, however, had a miraculous escape.




The remnants of a burnt jhuggi along the Barotiwala-Baddi road. A Tribune photograph
12 hurt as bus tyre bursts
Bilaspur, May 3
Twelve passengers of a private bus, which was on its way from Bilaspur to Ghumarwin, were injured after it turned turtle as its right rear wheel suddenly burst near Government Senior Secondary School, Kandraur, about 8 km from here, this afternoon.