Hoshiarpur kidnapping-cum-murder case
Convict moves Supreme Court for stay on execution
New Delhi, May 1
Vikram Singh, who was sentenced to death in the kidnapping-cum-and murder of Abhi Verma, a 16-year-old student of DAV School, Hoshiarpur, in February 2005, today pleaded with the Supreme Court to stay his execution, citing the delay over his mercy petition and challenging the law under which he was convicted.



Bains brothers back with SAD
Chandigarh, May 1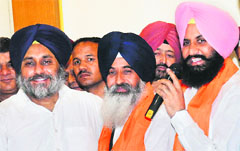 Balwinder Singh Bains and his brother Simarjit Singh Bains, both Independent MLAs from Ludhiana, who were expelled from the SAD for turning rebels just prior to the last assembly elections, were taken back to the party fold today. "We are happy to be back home," they told SAD president Sukhbir Badal.


Deputy Chief Minister Sukhbir Badal with Balwinder Bains and Simarjit Bains in Chandigarh. Tribune photo: Manoj Mahajan

Sukhbir: No decision yet on VP nominee
Chandigarh, May 1
The Shiromani Akali Dal (SAD) has not received any formal communication from the National Democratic Alliance (NDA) leadership on Chief Minister Parkash Singh Badal's name as it's Vice-Presidential candidate. Even the name of AJP Abdul Kalam for President's post has been suggested by the BJP and not the NDA, said SAD president Sukhbir Singh Badal.
It's official: Candidates spent Rs 1.17 crore on paid news
Chandigarh, May 1
Fears of the Chief Election Commission of India on the misuse of media in the form of paid news have come true. Candidates inserted news worth Rs 1.17 crore in various newspapers during th assembly elections in Punjab, despite the model code of conduct banning the practice.
Sodhi takes up border farmers' cause with PM
Ferozepur, May 1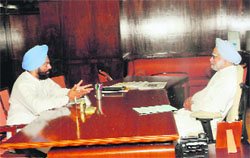 Congress MLA from Guruharsahai Rana Gurmeet Singh Sodhi took up the issue of compensation to farmers with land-holding across the border fence with Prime Minister Dr Manmohan Singh during a meeting with him yesterday.




Guruharsahai MLA Rana Gurmeet Singh Sodhi with Prime Minister Dr Manmohan Singh in New Delhi. A Tribune photo


Presidential polls
SAD to support BJP, says Badal
Nabha, May 1
Punjab Chief Minister Parkash Singh Badal has made it clear that the Shiromani Akali Dal (SAD) will support the BJP on whatever decision the alliance partner will take on the issue of presidential polls.
Parkash Singh Badal
Rapid transport project hits roadblock
Amritsar, May 1
The state government's ambitious ULTra personal rapid transport system that is to be introduced in the holy city is unlikely to meet its 2014 deadline. For, the congested and narrow streets of Amritsar have compelled the authorities to implement need-based changes in the original model.



A narrow lane between the Golden Temple and Bus Stand that is posing a challenge to the authorities(left) Deputy Chief Minister Sukhbir Badal had laid the foundation stone (middle) and the concept is based on the pattern of magnetic pods (right) at Heathrow Airport. Photos: Vishal Kumar
Ferozepur Paddy Scam
Investigation back with crime branch
Moga, May 1
The crime branch of the Punjab Police will continue investigation in the Rs 8-crore paddy scam. Unearthed in December 2009 in the border district of Ferozepur, it also has roots in Faridkot and Moga districts.An accused in the case, Gurbhej Singh, had met former DGP Anil Kaushik on February 28 after which the case investigation was transferred from the crime branch to the Ferozepur SP (D).
Lifting Ban on Cotton Exports
It's too late, say farmers
Bathinda, May 1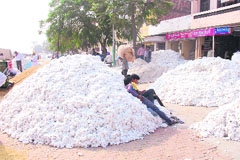 The Centre's decision allowing cotton export has failed to bring cheer to farmers who say the decision will primarily benefit traders and exporters. District president, BKU Ekta (Ugraha), Shingara Singh Mann, said farmers had nothing to gain from the government's move. "The ban on exports should have been lifted in September-October to provide farmers an opportunity to sell their produce for exports in the open market. Under globalisation, the rich alone are being empowered," Mann said.
Villagers block road against police inaction
Sahnewal, May 1
Residents of Katani Kalan village today blocked the Ludhiana-Chandigarh road for nearly three hours in protest against the lackadaisical attitude of the police in nabbing a hit-and-run accused.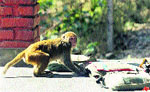 Nabha school battles monkey menace
Nabha, May 1
Punjab Public School (PPS), Nabha, which is waiting for its alumnus Lieut Gen Bikram Singh to take over the reins of the Indian Army on May 31, is battling monkey menace, which has assumed alarming proportions in the area.
Bitta flays Thapar varsity for scrapping quota
Patiala, May 1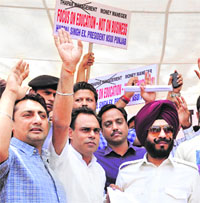 Chairman of the All-India Anti-Terrorist Front Maninderjeet Singh Bitta met student leader Harpal Singh, sitting on an indefinite hunger strike against Thapar University's decision to scrap 50 per cent quota for Punjab students, outside university campus today. Bitta assured the student leader that he would take up the matter with the Punjab Governor, Chief Minister, Deputy Chief Minister and meet HRD Ministry and Vice President of India to get the quota restored.




All-India Anti-Terrorist Front chairman Maninderjeet Singh Bitta in Patiala on Tuesday. A Tribune photograph
Teachers gherao Minister's house
Patiala, May 1
Intensifying their agitation against the Punjab Government for allegedly delaying the notification of their revised pay scales, Sarva Shiksha Abhiyan, Rashtriya Madhyamik Shiksha Abhiyan and CSS Teachers today gheraoed the house of Rural Development and Panchayat Minister Surjit Singh Rakhra.
Pandove elected electricity sports board chief
Patiala, May 1
The Punjab State Power Corporation Limited (PSPCL) chief administrator, RP Pandove, has been unanimously elected as president of the All-India Electricity Sports Control Board (AIESCB) for the next four years.
2-day Punjabi conference ends
Patiala, May 1
The fifth All-India Punjabi Conference concluded on the Punjabi University campus here today with experts and delegates emphasising on the need of making conscious, cooperative and consistent efforts to promote Punjabi in its entirety.


Four get life term for killing player
Moga, May 1
Additional District and Sessions' Judge Harpal Singh has sentenced four youths to life imprisonment after they were found guilty of murdering a budding kabaddi player.
Court declines Pepsi Foods plea
Chandigarh, May 1
A petition filed by Pepsi Foods Limited against the State of Punjab asking it to pay market fee, rural development fee and penalty has failed to find favour with the Punjab and Haryana High Court.
HC cracks whip on schools hiking fee irrationally
Chandigarh, May 1
Opening the chapter of fairness in school education, a Division Bench of the Punjab and Haryana High Court today prohibited schools in this part of the region from hiking fee without prior permission from the boards and councils these were affiliated to.
...seeks info on status of RTE Act
Chandigarh, May 1
The Punjab and Haryana High Court wants to know from the Central Board of Secondary Education, Punjab School Education Board and the Indian Certificate of Secondary Education whether the provisions of the Right to Education Act were being complied with by the schools affiliated to it.


Kidnapped Tarn Taran boy found murdered
Tarn Taran, May 1
The police today recovered the body of 14-year-old Jagjit, who was kidnapped for ransom on Saturday, from the outskirts of Bhuchar Khurd village, 16 km from his native village Narla.