PUNJAB

HARYANA

JAMMU & KASHMIR

HIMACHAL

REGIONAL BRIEFS

NATION

OPINIONS

LETTERS

BUSINESS

SPORTS

WORLD


J A L A N D H A R E D I T I O N

Man held with 3 cobras in Shahkot
Nikhil Bhardwaj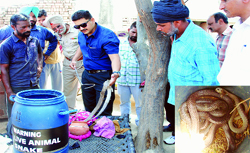 A team of the forest department shows the recovered cobras in Meawal Araiyan village in Shahkot on Saturday. Photo by writer
Shahkot, April 28
A team of the district forest department today conducted a raid at Meawal Araiyan village near here and arrested a man with three cobra snakes.
The raid was conducted follwong a tip-off. A team led by Nikhil Sengar, honorary wildlife warden, Nawanshehar, and range officer Rajinder Kumar, laid a trap in the village and nabbed the accused.
The accused has been identified as Balkar Singh. He was reportedly using the reptiles to entertain people in marriage functions.
Meanwhile, a court has ordered the forest team to release the cobras in the forest.
Jharkhand couple rescued
April 28, 2012

DC suspends sugar mill GM, promises job to kin
April 27, 2012
Youth 'consumes' poison, dies
April 26, 2012
Makkar: Will file case against Gikki's father
April 25, 2012
137 permanent posts sanctioned
April 24, 2012
Night watchman found murdered
April 23, 2012
Year on, justice is his family's only hope
April 22, 2012
Hope for Pak Hindus seeking Indian citizenship
April 21, 2012
Cong leaders stand by 'polluting' hotel
April 20, 2012