House of the People is older, wiser


Agriculturists & not lawyers have dominated Parliament


Youth have progressively distanced themselves from politics
Aditi Tandon/TNS
New Delhi, May 12
The Parliament of India has grown older and wiser in the 60 years it has lived and flourished. Constituted on May 13, 1952 after the first ever General Elections were held on the basis of adult suffrage, the Lok Sabha, House of the People, has undergone a massive transition — from young to old; little read to well read and elitist to egalitarian.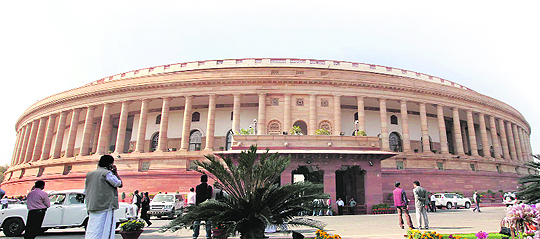 Where the first Lok Sabha was the youngest with the highest representation of 25 to 35 year olds and the most elitist comprising the maximum numbers of former princes and lawyers, progressive Houses were represented more by farmers and agriculturists.
Educationally, Lok Sabhas have increasingly welcomed well-educated MPs. The strength of under matriculates has declined from 23.48% in the first House to 4.12% in the incumbent 15th LS. In all Lok Sabhas so far, members with at least graduation as the basic level have registered more representation than the under matriculates and under graduates. As against 58.08% members with graduation (and higher degrees) in the first House, the present one has 78.34%.
As the Parliament readies to commemorate the 60th year of its sitting on Sunday, here's a glimpse into its transformation.
Youngsters shy away
The Lok Sabha now looks much older than in its hey day. The first House (May 13, 1952 to December 22, 1956) had 499 members. Of these, 82 were youngsters representing a battered but hopeful India. The youngest member of any LS was Subodh Hasda of the first LS; in the same House was 28-year-old Sardar Bahadur Singh representing Ferozepur-Ludhiana reserve constituency.
Parliament's archives bear testimony to how youngsters divorced from politics as years went by. The percentage of 25 to 35 year olds declined steeply from one election to another - 16.4% (1st LS), 14.6% (2nd LS), 8.9% (3rd LS), 11.2% (4th LS); 8.4% (5th LS), 8% (6th LS), 9.5% (7th LS), 7.9% (8th LS), 5.8% (9th LS), 7.8% (10th LS) 6% (11th LS), 6.2% (12th LS), 5.3% (13th LS), 3.8% (14th LS) and 4% (15th LS).
Contrastingly, MPs aged 46 to 55 outnumbered other categories in these 60 years and remained dominant on an average; MPs aged 56 to 65 also registered a gradual increase. This group formed 16. 45 pc of the membership in the first LS; today it forms 30.83%.
In the 15th LS, only 22 MPs out of 545 are under 35. No wonder the average age of the House rose from 46.5 years in 1952 to 54 years today (perhaps also due to increased life expectancy).
The oldest member of any LS was Prof NG Ranga (89 years) in the ninth LS. Among women members, Vijayraje Scindia was the oldest (79 years; 12th LS) and Vedkumari Mothey the youngest (25 years; 2nd Lok Sabha).
Education matters
Under matriculate, higher secondary and intermediate certificate holders had 18.44% representation in the first Lok Sabha. For the first time, this percentage showed a decline in the seventh Lok Sabha, peaking to 20.23 in the 12th LS. Today, it is 14.6% (80 MPs out of 545).
Category-wise, number of postgraduates has increased marginally from 17.82% in 1952 to 20% today. But the combined category (graduates, PGs, doctorates) has seen a huge jump in percentage terms — 78% today as against 58% in 1952 to 1957.
Commoners welcome
Lawyers outnumbered other professional categories until the second LS. Now, they comprise just 15.14% representation as against 35.42% in the first House. The rise of agriculturists and farmers has been formidable from 22.45% in the first LS to 41% today. This is indicative of the House of People increasingly welcoming commoners.
The percentage of writers and journalists has declined from 10.45 in 1952 to 2.1 now and that of businessmen has risen from 12 to 16%. The presence of educationists has dipped also from 9% in the first Lok Sabha to 4.7% currently.
Interestingly, diplomats, economists and pilots first made their presence in the 9th LS; businessmen, scientists and sportspersons in the 10th LS, management consultants in the 11th; and judges, chartered accountants and veterinarians in the 12th.
The LS originally had just six occupational categories and comprised 153 lawyers, 97 agriculturists, 45 writers; 21 doctors; 16 civil, military officers and five former rulers in 1952. Today, there are 24 occupational categories representing the inclusiveness of Indian democracy.
Too few Women
As against 22 women MPs in a House of 499 (4.4%) in the first Lok Sabha, today women make up 11% of the House (60 members out of 545). That is the highest ever but hardly a solace considering the global average of 14.5% representation of women in Parliaments.