Off-screen reality
In Chandigarh, actor Prabhleen Sandhu talks about her upcoming film and what she hopes will improve in the Punjabi film industry


Just a few films old and Prabhleen Sandhu believes she has deciphered the functioning of the Punjabi film industry pretty well, "The industry isn't professional enough, it doesn't pay much attention to promoting a film and sincerity is missing." Whatever negative impression she has of the industry, don't blame her entirely for it. Experiences lead to opinions; at times, to being opinionated. In Chandigarh, to promote her film, Rahe Chardi Kala Punjab Di, she talks about her film and the stark difference between Bollywood and the Punjabi film industry.
Muscle power
Virender Singh Ghuman, who has created waves by becoming the first Asian to make it to Arnold Schwarzenneger's Classic Europe, is all set to take
Punjabi industry by storm
The last Punjabi actor that we remember who had muscle, we mean doley sholey, was our wrestling king Dara Singh. Rest of the muscle-making machines are placed in Bollywood—Salman Khan and Hrithik Roshan to name a few. But now we have our very own Punjab da gabru to talk about—Virender Singh Ghuman from Gurdaspur district Punjab, who is the first Indian and the first Asian to make it to the top line of Arnold Schwarzenneger's Classic Europe, an international body building championship.
Song of the Soul
For singer Seema Anil Sehgal music is a social commitment


We had to inch really close to hear her soft, hardly-audible voice. Sitting in the far end of the sofa, petite looking Seema Anil Sehgal has to lift the mike each time she has to say something. And the minute she talks about the poet Faiz Ahmed Faiz, the revolutionary poet who has touched her life in a huge way, the faint voice suddenly springs with energy.
first-day-first show
Departmental goof-up

Alarmed at the hitherto unseen escalation in underworld criminal activities, some top officials including the home secretary, the home minister, and the director general of police, hold a secret meeting in which they take a decision to create a new unit which is unofficially referred to as The Department.
A still from the movie Department
coming soon
Musical spin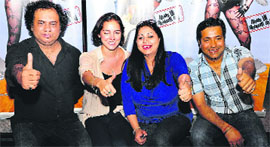 Every second youngster you meet will flaunt a handset loaded with music of almost all genres; ipod plugged in the ears is nothing uncommon these days. Global music is the new language, but since it is still being scripted, this new language is yet to gain popularity.
L-R: Gurjit Budwal, Prashant Sharma, Flora Baker and Rachana Budwal
Child-like passion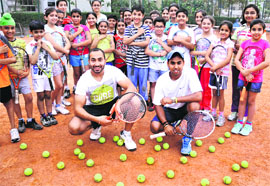 It's not easy to give up the razzle-dazzle of the glamour world and work with children. We find out a few who are driven by the sole purpose of bringing joy to children's life
Whether it is the corporate world or the service industry, the economic sector is brimming with job opportunities today. There are only a few, apart from the teaching fraternity, who can resist the lure of the hi-flying corporate world and work with the younger lot.
Big screen calling
Vishal Karwal, the winner of MTV reality show Roadies and the face of popular TV series Dwarkadheesh, comes to Chandigarh to promote his debut Punjabi film Appan Pher Milange. So, all talks of working in TV have taken a back seat as he shares, "I want to concentrate on Punjabi films as an actor.
Sonu Sood's fitness tips


Sonu Sood has been a fitness fanatic even before he entered tinsel-town. In fact, his tough physique helped him become a model and then an actor. The original fitness fanatic showed off his super-fit physique in the blockbuster Dabangg. He will be seen in Shootout At Wadala next and some more movies. He shares his fitness tips with us.
Sonakshi takes on Salman and Akshay!


"Frenemies" seems to be the growing trend in Bollywood these days. While some in the industry use their friendship to aid a co-star in distress others use it to make "tongue-in-cheek" remarks against their fellow actors. And this time, it is none other than the tall and beautiful Sonakshi Sinha who chose to pass some intentional remarks!
right moves: Sonakshi Sinha
Charlize Theron hated saying iconic Snow White line


Hollywood star Charlize Theron hated saying the line 'mirror mirror, on the wall, who's the fairest of them all' when she starred as the evil queen in Snow White and the Huntsman.
Enemy dialogue: Charlize Theron

Morgan Freeman's comedy act
Veteran Hollywood actor Morgan Freeman is in negotiations to star in a comedy film Last Vegas. The 74-year-old Oscar-winning actor will join actors Michael Douglas and Robert De Niro in the Jon Turtletaub-directed comedy, reported a publication.
Homourous act: Morgan Freeman
Kabir has nothing against Pakistan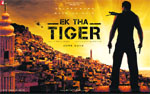 Salman Khan has a huge fan following in Pakistani and they have been equally excited about his upcoming film Ek Tha Tiger. The film tells the story of a Trinity College scientist suspected of selling missile technology secrets to Pakistan. And after the release of Ek Tha Tiger, director Kabir Khan has been flooded with questions if the film is against Pakistan.
Shahid nostalgic about Allah Jaane


Sufi songs and qawallis are the flavour of the season. Shahid has his first sufi qawalli in the movie Teri Meri Kahaani. Shahid has been feeling nostalgic whenever he hears the song from his upcoming film Teri meri Kahaani. The song has been shot in a dargah with Shahid. Shahid says he almost went back to his roots when director Kunal Kohli shot the song at the dargah. 
To my hubby, with love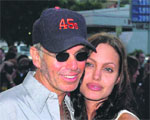 Hollywood star Angelina Jolie says his ex-husband Billy Bob Thornton has a big beautiful heart. The 36-year-old actress, who divorced Thornton almost ten years ago, has penned a foreward for his new book, The Billy Bob Tapes: A Cave Full of Ghosts, reported a website.
Old memories: Billy Bob and Angelina Jolie
chatter box
Brief encounter, big impact


Mohit Mitoo (Bitoo of Zee TV's Mrs Kaushik Ki Paanch Bahuein) is all smiles these days after his brief encounter with the legendary actor Amitabh Bachchan. They shot together for an advertisement, directed by R Balki.
Meeting the star: Mohit Mitoo and Abitabh Bachchan
Bring it on


Both on professional or personal front, it has been quite a challenging year for actor Ronit Roy. As not only has his courtroom drama Adaalat completed one and half years, but he has shot three films in the same time. Ronit talks about Adaalat, his fans and films and more…
Great going: Ronit Roy
The year ahead
If your birthday is May 19...
You might not accept anything on face value as June begins, which can lead to the identification of some very important issues. Still, you might want to downplay the fact that you are questioning everything. Your frustration could ruin your health if you keep thinking about past events.
Astro Turf
ARIES: A hazardous day. Keep your mind on the job. Be sure to get to the bank before it closes. Romance could be an anticlimax. Be tactful in your criticism as emotions will be easily aroused. Tarot message: Health of elderly member at home will need looking after.

Inner truth
Bipasha Basu is sexy and she knows it.  However, we think it is tacky to show off your lingerie unless you are walking at the Victoria's Secret Fashion Show! We like the colours she has worn but showing your innerwear, especially when it is white, is just not happening!
wrong pick: Bipasha Basu


Comparative study
Priyanka Chopra and Parineeti Chopra are the only actresses in their families. PC senior had to struggle but PC junior has had no struggle and her life looks like a fairy-tale. Comparisons are happening between them and that is unfair. All we will say is that both of them are superbly talented actresses.
Priyanka Chopra
Kahaani on DVD
The DVD of the super-hit movie Kahaani was launched by Sujoy Ghosh and Vidya Balan at the Diesel store in suburban Mumbai. Vidya looked gorgeous in her saree. The movie is a must-watch!
Yellow fever
Sonakshi Sinha loves yellow which is perfect for the summer. She has yellow tees, yellow footwear, yellow accessories, and yellow bags too! Okay, you are a bubbly girl but all this yellow must not be worn at once!
right moves: Sonakshi Sinha

Spa-cial treat
Jacqueline Fernandez is training hard for her role in Race 2 as she has to do stunts. So, she pampers herself and rejuvenates by visiting the spa after training is over.
Stunt woman: Jacqueline Fernandez
True star
Salman Khan shot an item song for one his buddies in the industry and he shot it according to his own time and convenience. Moreover, he has attended a wedding in Pune not as a performer but as a star guest!
Crush on Kareena
Ansh Bagri is a Delhi-based model seen in the new soft drink ad with Kareena Kapoor. He is a big fan of hers and found it difficult to mouth his lines in front of her because he was so awestruck by her beauty and presence. He considers her his role model.
Bad boy turns good
A devotional episode took over the hearts of the judges and audience in Star Plus' Jo Jeeta Wohi Superstar Season 2. Contestants sang devotional songs to impress one and all present. However, after his amazing performance, Swanand Kirkire, a judge on the show commented, "Sharib's bad boy image may be well known, but from within he is a very nice human being." Sharib was beaming with joy when he heard this.